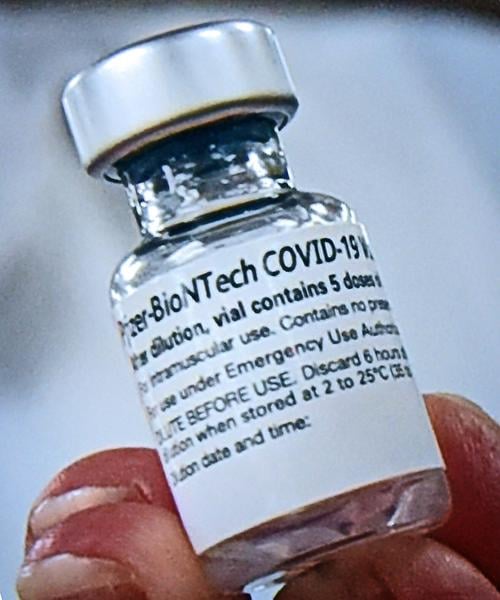 The vast majority of the 529 people who have died from COVID-19 since April 1 in Alabama were unvaccinated, according to the Alabama Department of Public Health.
Of those deaths, 20 people were fully vaccinated; 509 – or 96.2% – were not.
"COVID-19 vaccines are our best defense in preventing serious disease as well as deaths, and this is especially important as the highly transmissible Delta variant spreads," State Health Officer Dr. Scott Harris said in a Tuesday news release. "While it is possible to get any strain of the virus, infected people are much less likely to experience complications or hospitalizations if fully vaccinated."
In Alabama, nearly 1.6 million people are fully vaccinated but the state still has one of the lowest vaccination rates in the country. As the pandemic loosened its grip, demand decreased for COVID-19 vaccinations even with the expansion of those eligible to receive the vaccine.
News that Johnson & Johnson's one-shot vaccine is possibly linked to the rare neurological disorder Guillain-Barré syndrome could create more hesitancy among those unvaccinated. The J&J vaccine was previously linked to blood clots in some women.
Dr. Karen Landers, an area health officer with the Alabama Department of Public Health (ADPH), said the risk of COVID-19 still far outweighs the potential side effects of vaccines.
"We have to look at this data on these deaths and recognize that over 96% of the deaths were in unvaccinated people," Landers said. "I mean, literally, that is astounding information and absolutely indicates that we have a much better chance of people surviving if they're vaccinated against this disease."
Landers points out that the latest J&J warning deals with 100 cases out of millions of doses of vaccine and the possible link has not been fully reviewed. Landers said she's more concerned about the cardiac risks for people with COVID-19, including children.
"I think if you look at the data, what people are only hearing is a very small risk and making a decision on a very small risk as opposed to the very large risk of dying and also the very large risk of having long COVID or complications from COVID as a result of the disease," Landers said.
Nationally, the daily number of new COVID-19 cases has doubled in the last three weeks, attributed to the Delta variant, lagging vaccination rates and Fourth of July gatherings. The numbers of cases, deaths or hospitalizations across the country are still far below numbers when the pandemic hit its peak this past winter.
After hitting their lowest levels since the pandemic began in Alabama, hospitalizations started going up again earlier this month. The percentage of positive cases in the state will increase from 4.8% to 7.8% when the ADPH dashboard next updates, Landers said.
On Tuesday, there were 18 COVID-19 patients hospitalized at Southeast Health in Dothan – a number that dropped to one patient several weeks ago.
Fort Rucker's commanding general has passed a new order for military personnel. Soldiers not wearing masks will have to show vaccination cards under an order from Maj. Gen. David Francis. Showing proof of vaccination status does not apply to civilian or contract employees. Fully vaccinated soldiers are permitted to go without masks while unvaccinated soldiers are required to wear masks both on and off post and are restricted from going to off-post bars, nightclubs, tattoo parlors and massage parlors.
Only three Wiregrass counties – Geneva, Barbour and Covington – are listed as low risk for spread of COVID-19, according to the ADPH online dashboard. The rest are considered very high risk or high risk.
In all Wiregrass counties, less than 30% of eligible people are fully vaccinated. Henry County has the highest rate with 29.99% fully vaccinated. Dale County is the lowest with only 23.16% fully vaccinated.
Landers said even when the pandemic reached its peak in the winter there were people hesitant about getting vaccinated. And despite all the messages encouraging vaccinations, the hesitancy needle hasn't moved much.
Houston County, she said, currently has a 7.29% positive rate in new cases combined with only 28.75% of eligible people being fully vaccinated.
"So, you've got a lot of disease in Houston County and a fairly low level of vaccinations," Landers said. "I really think it's very, very important for people to be aware that this data is starting to go in a bad direction again and yet we have vaccine everywhere and people just need to take advantage of it."
Peggy Ussery is a Dothan Eagle staff writer and can be reached at aussery@dothaneagle.com or 334-712-7963. Support her work and that of other Eagle journalists by purchasing a digital subscription today at dothaneagle.com.