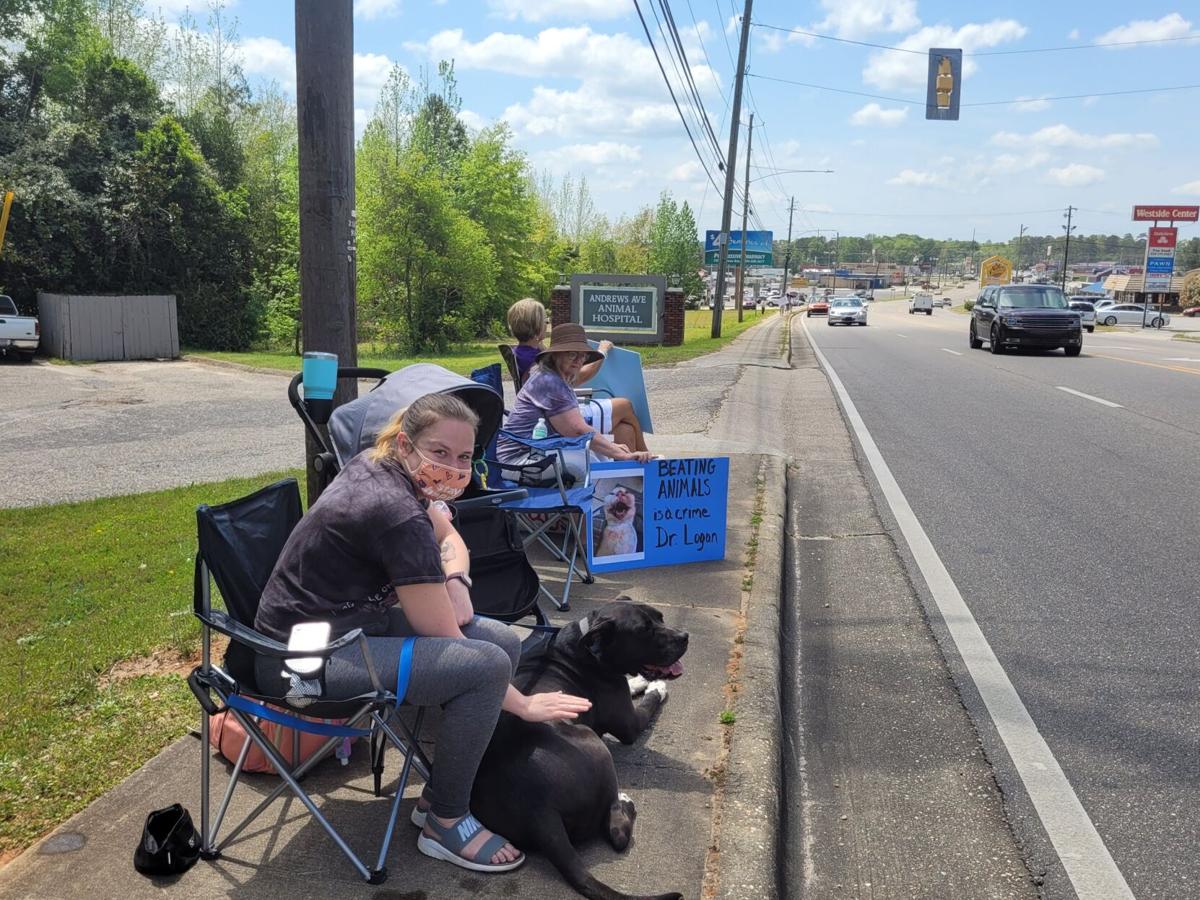 OZARK — The Alabama State Board of Veterinary Medical Examiners and Ozark Police Department are investigating complaints it has received about an Ozark veterinarian as a viral video stoked public outrage.
A video depicting Dr. Tim Richard Logan of Andrews Avenue Animal Hospital handling a cat in an exam room and several pictures showing the cat bloodied with a swollen mouth went viral on Facebook on Monday and Tuesday. The Facebook user who originally uploaded the disturbing images did so anonymously.
The post has created public backlash against Logan and the clinic. Over a dozen people stood on public sidewalks in front of his office on Wednesday holding signs decrying his practice.
"We're hoping for awareness, first of all, of animal abuse and we're hoping that Dr. Logan will lose his license," Rhonda Eller, Kitty Kottage volunteer and cat owner, said. "There should not be veterinarians that don't love animals and care for animals. Obviously, they should choose a different profession."
Numerous cars that drove past the protestors honked their horns and gave thumbs up, apparently in support of the cause.
Janet Ridgeway, a professed animal lover and cat owner, said she was there to show support to the Ozark community over the "travesty" and "horrific acts" she said were portrayed in the video.
One protestor said she had been taking her pets to the clinic for over a decade. Michele Brown said she felt deeply betrayed after the video surfaced online.
"I've been coming here so long, leaving my animals overnight for a week when he said they needed it," Brown said. "What has happened to my animals while they were here and I never knew it?"
Andrews Avenue Animal Hospital's Facebook account has recently been disabled, but the office was open on Wednesday.
Celia Dixon, a licensure and regulatory field compliance officer with ASBVA, said she is aware of the videos and understands that the Ozark Police Department is still investigating as of Wednesday morning. She added that the ASBVA investigates complaints concerning Alabama veterinarians, but said she could not comment on active investigations.
Dale/Geneva County District Attorney Kirke Adams said the DA's office was made aware of the video concerning a local veterinarian on Monday morning.
"After review, this office advised the Ozark Police Department to contact the Alabama Veterinarian Licensing Board to have a full and joint investigation conducted," Adams said in a statement on Wednesday. "This office takes all animal abuse cases seriously and this is no exception. It is my understanding that this video was taken in November but just now released.
"This office will be able to prosecute this case after a full investigation by proper authorities. While this video is deeply concerning, I would like to implore people to have the same concern over child victim crimes and gun violence. If people witness animal abuse, they should contact law enforcement immediately.
"Apparently the speed of this investigation is not quick enough for some people. Patience is needed to make sure the case is properly and thoroughly investigated. The Ozark Police Department has been very active interviewing witnesses and preparing a case. Let them finish their work.
"There is also no truth to the rumor that this video was ever presented to this Office prior to Monday or that this office has refused to prosecute this case. Social media does have a few good uses but the rumors about police and this office are all false."
Ozark Police Chief Marlos Walker was not immediately available for comment on Wednesday.
Content depicted in the video may be sensitive for some viewers and can be found on the Facebook page of Tim Roots.
Sable Riley is a Dothan Eagle staff writer and can be reached at sriley@dothaneagle.com or 334.712.7915. Support her work and that of other Eagle journalists by purchasing a digital subscription today at dothaneagle.com.