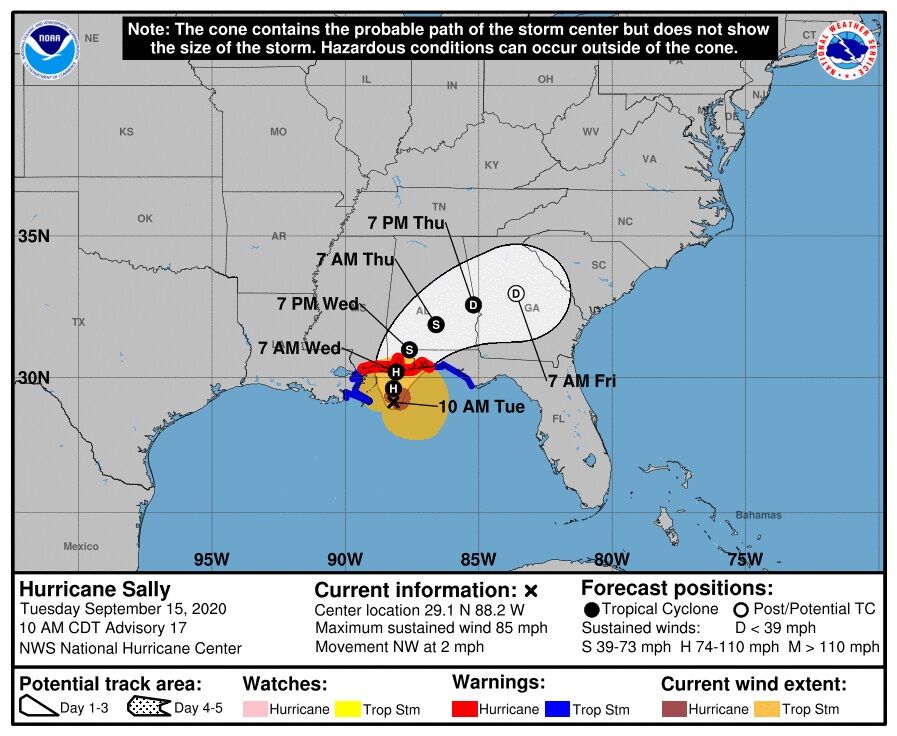 Hurricane Sally has been difficult to predict as it makes its way toward the Gulf Coast, but one thing forecasters agree on is the storm will bring torrential rain once it makes landfall.
On Tuesday, the storm turned more eastward, with a projected landfall between Mobile and Pensacola, sometime late Tuesday or early Wednesday. Once on land, the storm is projected to move east across central and south Alabama.
With Sally's uncertainty, Dothan-Houston County EMA Director Chris Judah said Sally has the potential to deliver heavy rainfall and flooding to parts of the Wiregrass, and emergency officials are taking precautions, including the announcement of school closings.
As of Tuesday at noon, most area schools announced they will be closed on Wednesday and many have extended the closure through Thursday. Some schools are also planning to hold classes remotely. Additionally, many daycares and after-school programs in the Wiregrass have announced closures.
Early Tuesday the storm stalled in the Gulf of Mexico with winds decreasing and the storm was downgraded to Category 1.
"As of Tuesday morning, the hurricane had shifted more eastward," Judah said. "The hurricane has slowed down to a crawl and we are looking at massive rainfall amounts for this area. We are expecting flash floods in low roadways. There is also the possibility for severe weather Wednesday. I want the community to be prepared for thunderstorms and power outages."
According to the National Weather Service in Tallahassee, the flash flood threat continues to increase and heavier rain moves in. Roughly 10 to 15 inches of rain is possible through Thursday across the DeFuniak Springs, Florida area to Southeast Alabama. Dothan is predicted to receive three to four inches of rainfall. Higher isolated amounts are possible throughout the Wiregrass.
"Right now we are monitoring this hurricane," Judah said. "We are expecting heavy rainfall throughout Tuesday and Wednesday which could lead to flooding in many areas. We could also have damaging winds and tornadoes. Everyone needs to be careful when driving in this storm. If you don't have to be on the roadways, don't. Stay home."
Judah reminds everyone to stay alert on weather conditions throughout the day Wednesday.
"I urge everyone to pay close attention to all media outlets for updates on the storm," Judah said.
Judah is predicting flooding issues in certain areas throughout the county.
"If you see a road that is covered in water, stop and turn around," Judah said. "If a road has been closed by barricade, do not attempt to move the barricade. Seek an alternate route."
The city of Dothan has been implementing preparedness plans since Monday, ensuring that emergency personnel have enough fuel for their vehicles and equipment and making sure that equipment is operational to respond to incidents as they arise.
"We have all the staff and equipment we need ready to go," City Manager Kevin Cowper said. "So we'll be watching the storm… we'll be ready to meet whatever needs come up."
The city has sent six Dothan Utilities workers with some equipment to Riviera Utilities in Foley near the Gulf Coast, which is expected to be severely impacted by Hurricane Sally. Those workers can be recalled immediately to Dothan if needed.
Earlier Tuesday, Houston and Henry County schools and Dothan's Coleman Center announced they would close at 1 p.m. Tuesday and remain closed Wednesday and Thursday. Geneva City Schools will not have after-school activities Tuesday, but will conduct school virtually on Wednesday and make a decision about Thursday's classes by noon on Wednesday.
Geneva and Dale county schools and Daleville City Schools will close Wednesday and decide about Thursday classes at a later time. Ozark City Schools is only offering remote learning opportunities on Wednesday and Thursday.
Dothan City Schools is cancelling all after-schools activities Tuesday and is cancelling school Wednesday and Thursday. 
Later in the day, Troy University announced all in-person instruction was canceled on Alabama campuses starting Tuesday at 5 p.m. through Thursday.
Regarding school closings, Cowper said it's better to be safe than sorry given the amount of rain expected.
Dothan's after-school program will be closed Tuesday through Thursday. The feeding program will serve supper Tuesday and meals will be served at lunch on Wednesday and Thursday.
Other local closures and cancellations include: 
Rose Hill Senior Center meal service
Westgate Competition Pool
All Dothan Leisure Services athletic events
Forever Wild Trails
Get local news delivered to your inbox!
Subscribe to our Daily Headlines newsletter.