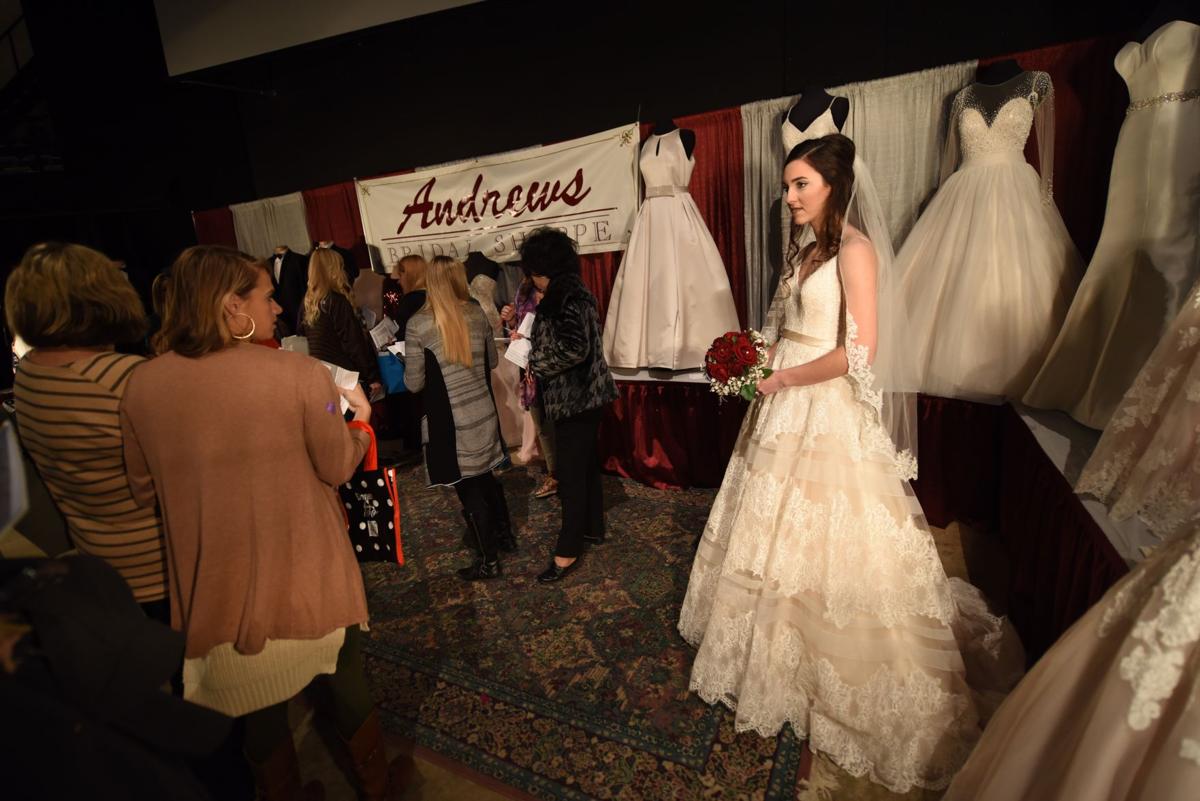 Weddings have a lot of moving parts. Putting them together can be a chore, but being proactive makes the work less stressful.
Mary Andrews said girls planning a wedding went to Sunday's 19th annual Dothan Eagle Bridal Extravaganza looking for information.
Some have done bookings and already purchased things they will need, she said, but many haven't done much yet and came to see what was available.
Dozens of vendors involved in the wedding trade offered advice and services to the hundreds who attended the event at the Dothan Civic Center.
"I think that they are pleasantly overwhelmed by what they are seeing here because there's a lot to look at, a lot of people to talk to, a lot of collective knowledge at this show," Andrews said.
Andrews knows the wedding business. She and her husband Max opened Andrews Bridal Shoppe in 1968.
Back then, wedding dresses were sold in Dothan at stores like Blumberg's and Van Ritch. Their shop was the first in town to specialize in wedding attire.
Nine months to a year is a comfortable cushion for planning a wedding, and the dress needs to be one of the first items on the list.
"The rest of the attire for the whole wedding party is keyed off of that dress," Andrews said. The wedding is built around the dress style and the venue.
Moving on other priority items like the guest list, caterer, decorating, makeup, photographer and budget makes the process easier on everyone.
How the bride and the rest of the bridal party look at the event often comes down to preparation.
"When they're a bride they don't want their makeup overpowering," Millicent Buie with Mary Kay Cosmetics said. "They just want it to look light and fresh, soft and natural, and just look beautiful."
Jennifer Ham, also with Mary Kay, said the first thing they focus on is skin care. Mary Kay offers two free sessions to the bride, one a skin care appointment and the other a glamour appointment.
If the bride has problems with her skin, such as acne or allergies, they work with her to bring her skin into balance.
"Then we're going to teach them different makeup tricks and techniques and get them on trend with everything that's going on," Ham said. "We like to see the brides way prior to the weddings so we can get their skin all cleared up with our skin care line and then get them started on the cosmetics."
While women may go bolder with their eye makeup or their lips for every day, Buie said they need to go a little softer on their wedding day.
Feeding the wedding party and guests shouldn't be a pain. Amanda Driver, event coordinator for The Cellar, said options for the rehearsal dinner and reception include on-site or off-site catering.
"We will go to their venue or they can come to ours," Driver said.
She said The Cellar offers a large menu to meet all kinds of budgets.
"If you want a nice plated meal with steak and chicken and fish we can absolutely do that. If you want a more laid-back kind of buffet-style where they serve themselves we can do that as well," Driver said.
Most of the wedding groups she has dealt with have been happy with the menu. "I really haven't had many want to go outside of what we offer but we will," she said. "If you want shrimp cocktails we'll do that."
People hire a caterer to eliminate worries. Driver said wedding guests should have a good time and not worry about cleanup. "Nobody wants to stay an hour or so after," she said.
Andrews said some things have changed but others have stayed the same. She's seeing a lot more venue weddings yet brides are still loving lace.
"Lace is never going to go out of style," Andrews said. "It's always been wedding dress material and I think it always will be. It is just so beautiful."
Tuxedos are made of worsted wool and hold up through the dry cleaning process, but bridal gowns are more delicate. "It's just not conducive to a rental product," she said.
Andrews said most of the time brides want to buy their own dress, but some families bring in a dress wanting a new veil and other changes.
"By and large the styles stay traditional in many ways with modern twists to them," she said. "There'll be little updates or a little something different about them that makes them a current style, but it's still a timelessness to wedding dresses that they're not as trendy as daywear."
A lot of the styling that was popular in the 1960s is evident today, Andrews said.
"It's still the classic look that endures," she said. "When you have a classic look, your wedding pictures never go out of style."
Get local news delivered to your inbox!
Subscribe to our Daily Headlines newsletter.