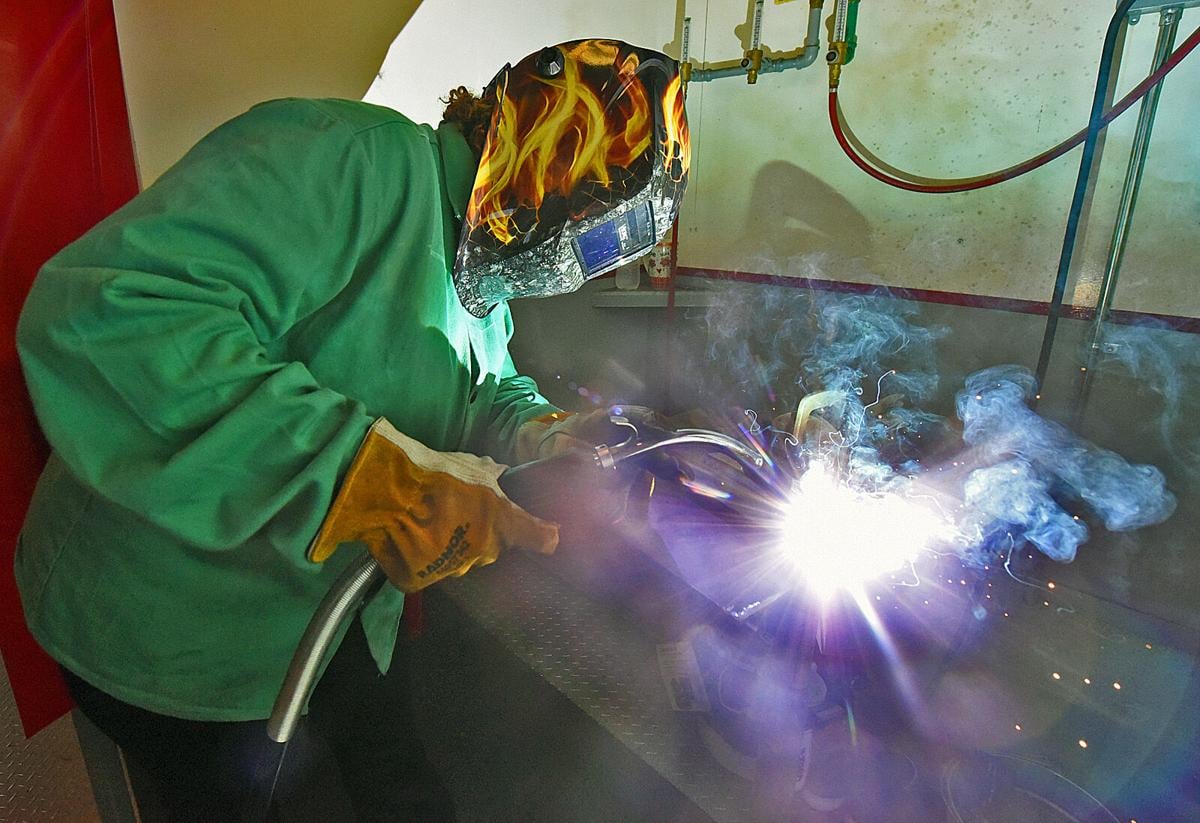 Lushando Wingard likes the idea of using her welding skills to help build roads and bridges.
"I just thought that would be cool to be riding over a bridge one day and tell my kids 'I helped weld that bridge'," Wingard said. "I just thought that would be something to do to help the world, to help Dothan."
Her previous work experience involved doing hair, nails, and private in-home care. She moved to the Wiregrass from Wisconsin with her family and with plans to start a catfish farm.
Wingard is attending an eight-week welding course through Wallace Community College and the Alfred Saliba Family Services Center.
"I actually came in to use the computers because my laptop has been giving me problems," she said. "I saw a sign that they were offering a welding class."
But Wingard and the other students didn't have to drive out to the main Wallace campus near Midland City. Instead, the college's mobile welding unit came to the Saliba Center, located near the center of downtown Dothan.
The welding lab is an enclosed tractor trailer bed equipped with welding stations and simulators. Moving it is not as simple as hooking it up to a truck. The lab was moved to the Alfred Saliba Family Services Center at no charge by Coleman Worldwide Moving. The City of Dothan has picked up the cost of utilities to operate the lab.
Having the mobile welding unit downtown removes transportation obstacles students may have to attend classes at the main campus.
"It actually gives them the ability to have a career and mostly to have a living wage," said Sonja Lyles, the career center coordinator with the Alfred Saliba Family Services Center. "That is really our focus, to make sure that we're placing individuals in jobs where they're making a good income where they're able to support their families. This welding program will give all of these students the opportunity to do that."
Lyles said the current wage offered by local employers for entry-level welders is $14 to $17 an hour or more.
"They have the opportunity as they learn and grow to make a much higher income," Lyles said.
Students attend classes for eight weeks in the mobile lab – Monday through Thursday from 8 a.m. to 12:30 p.m. The current class will graduate Aug. 5, and a new class will begin Oct. 4. The mobile lab can accommodate up to six students. For more information, call Amber Dunlap at 334-556-2208 or email adunlap@wallace.edu.
To attend the downtown welding class, students have to go through an intake process at the family services center in order to become a consumer and qualify for programs. The center will than connect potential students to the Alabama Career Center, where they can qualify for scholarships based on income. The Alfred Saliba Family Services Center currently has a grant that covers costs for students. Upon successful completion of the course, students will get to keep their welding equipment and a full tool kit. The family services center also helps with purchases of clothing to wear when welding.
Sophia Battle signed up for the course after taking a free welding workshop series for women offered by Wallace Community College. She loves the hands-on nature of welding and the workshop gave her an introduction.
"I loved that it was all women, just women coming together trying to weld," Battle said. "It was a short class but it was hands-on. We did our safety and then we did our hands-on – that's my favorite part."
Peggy Ussery is a Dothan Eagle staff writer and can be reached at aussery@dothaneagle.com or 334-712-7963. Support her work and that of other Eagle journalists by purchasing a digital subscription today at dothaneagle.com.