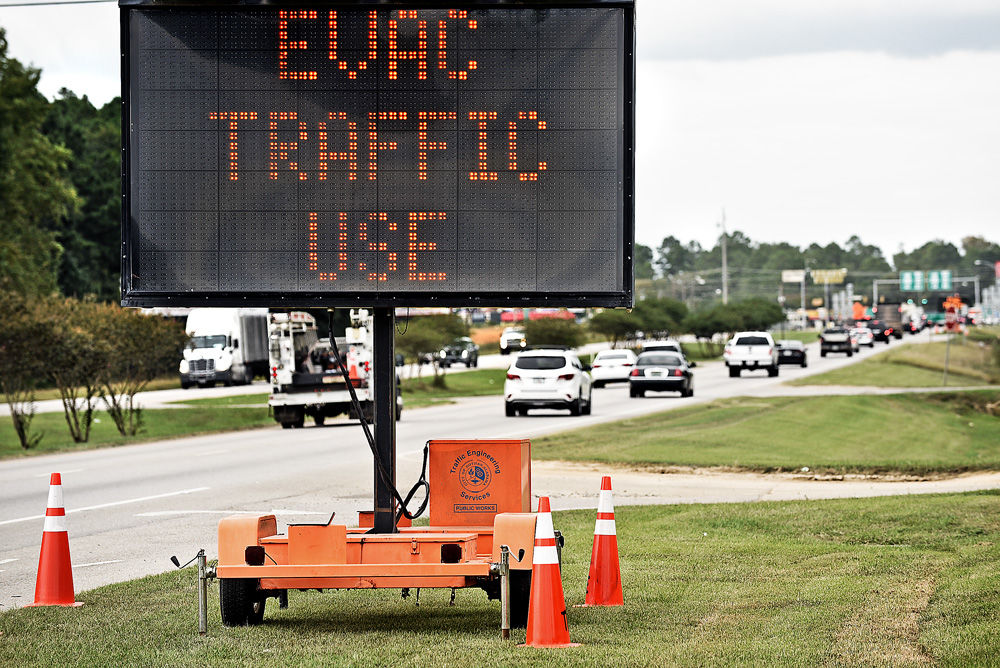 Wiregrass residents headed to grocery stores, some school officials announced closings and local emergency responders began preparations for what could be a strong hurricane expected to make landfall anywhere from near Destin to Florida's Big Bend Wednesday morning.
At the least, Hurricane Michael is expected to bring significant rain and winds to the Wiregrass, and officials are urging residents to take precautions to prepare for prolonged power outages. Much of the area was placed under a hurricane warning Monday afternoon.
Hurricane Michael is strengthening as it travels north toward the Florida Panhandle and Big Bend area. A turn to the northeast is predicted, although it is unclear when that turn will take place. It could take place before landfall, mitigating some impacts to the Wiregrass. However, if the storm remains on a northern track at landfall, the Wiregrass will feel a stronger impact.
Gov. Kay Ivey issued a state of emergency Monday ahead of the storm.
"The Wiregrass area will start to feel the effects of Hurricane Michael late Tuesday evening and through Wednesday," Dothan/Houston County EMA Director Chris Judah said. "Now is the time to get prepared for the storm. Don't wait until Tuesday night to get needed supplies get them now. There is no need to panic, but it always good to be prepared.
The following school systems informed the Dothan Eagle of closing plans Monday:
» Dothan City Schools will release at 1 p.m., Tuesday, Oct. 9. Parents should make arrangements to receive their children early. All Dothan City Schools will be closed Wednesday for students and employees. All extra-curricular activities and/ or after school programs are cancelled. Head Start/Preschool buses will not run Tuesday, Oct. 9.
» Houston County Schools will close Tuesday at noon and remain closed Wednesday, Oct. 10 for all students and employees. All extra-curricular activities and/or after school programs are cancelled.
» All Henry County Schools will be closed Wednesday and operate on normal hours Tuesday.
» Providence Christian School and First Presbyterian Preschool and Childcare will be closed Wednesday. Tuesday will be regular operating hours.
» Wallace Community College, Dothan and Eufaula campuses, will close Tuesday at noon and remain closed Wednesday. Both campuses will resume normal hours Thursday.
» Troy University's Dothan campus will close at noon Tuesday and open again Thursday at 8 a.m. if weather permits.
» The Alabama College of Osteopathic Medicine will close Wednesday. OMS I and II students, faculty and staff do not have to report for work on this day. A Thursday decision will be made later.
» Jackson County, Fla. schools will be closed Tuesday and Wednesday. A decision on Thursday classes will be made later.
Dothan City School officials said Monday it was best to be cautious as the unpredictable storm approached.
"Our number one priority is keeping our students and staff safe, so we have decided to lean on the side of caution regarding Hurricane Michael," said Scott Faulk, director of safety, security and attendance at Dothan City Schools.
Judah said that while it is too early to be certain about Wiregrass impacts, residents should be prepared.
"Be aware of the weather," Judah said. "We could see downed power lines, downed trees and flooded roads. If you see a downed power line, call 911 to report it, and if you see a flooded road, do not try to cross it. Remember, this storm is unpredictable. It has already changed paths several times, and it could change its path even more as the day continues."
Wiregrass 2-1-1 will serve as the area's information station for local shelters and available hotels and motels in the area.
"We have our plan in place, and ready to provide information to those in need as the storm approaches the area," said Wiregrass 2-1-1 Executive Director David Duke."
People inside Alabama can dial 2-1-1 for information pertaining to available hotels and motels in the area, as well as local shelters. People traveling outside of Alabama may dial 888-421-1266.
The Houston County Voluntary Organization against Disasters (HCVOAD) is also working with the Red Cross, the Salvation Army, and Wiregrass 2-1-1 to help assist those with shelter needs as Hurricane Michael approaches the area.
According to Gary Griffin with Cornerstone Church and the chairman of HCVOAD, the group is working nonstop in making sure once the word is given for shelters to open in the area, the group will start directing those needing assistance to open shelters and temporary safe havens.
"If we receive word a shelter is needed, First Church of the Nazarene will open," Griffin said. "As other shelters are needed, we will reach out to local churches asking for their services. That's the goal of the HCVOAD is to make sure we have a heads-up on what churches will serve as shelters or safe havens, as well as see what churches and organizations will assist with food and supplies during the storm."
Churches that wish to serve as shelters or safe havens, or churches and organizations that wish to donate supplies as the shelters open, may call 334-400-7230 for additional information.