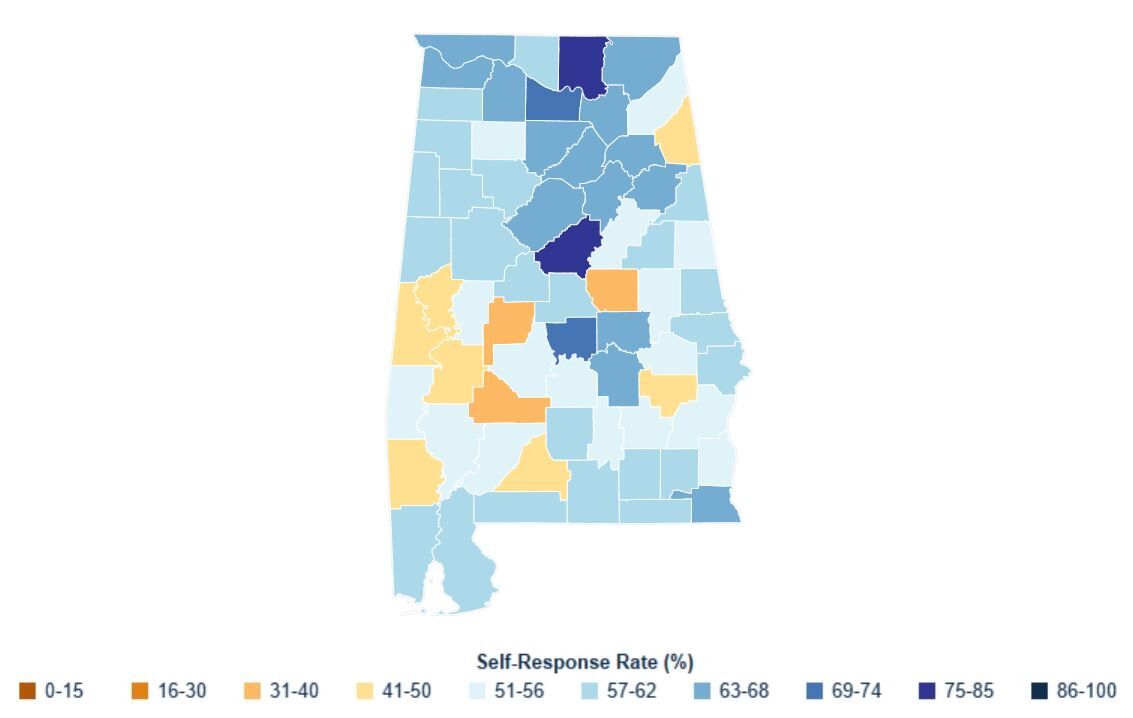 Time is almost up for Alabama residents to respond to the 2020 Census. As the Sept. 30 deadline for census response ticks down, state and local officials continue to underline the goal of mass participation: federal funding and state representation.
"There is $13 billion in funding that helps education, helps children, as well as highway infrastructure," Alabama Counts! Census Chairman Kenneth Boswell said. "We don't want to lose any of that. That's why it's so urgent."
Boswell also pointed out that U.S. representatives are valuable voices to advocate for Alabamians in Washington, D.C., and losing a seat due to low census response would lessen the chances for federal monies, projects, and programs to come to Alabama.
The low response rate, which as of Friday was at 91.1%, has put Alabama behind every other state in 2020 Census participation.
The process in Alabama began three years ago, with many on-site visits planned and grants to promote the census. When in-person events were stopped by COVID earlier this year, census leaders pivoted to virtual promotions via email and social media, texting, newspaper ads and billboard ads to spread the message of the importance of being counted. Boswell said these means are not as effective as in-person meetings, in his opinion.
Hurricane Sally, which battered Alabama's southern coastal cities earlier this month, exacerbated the lack of attention paid to the census as people were more occupied with their own personal safety and wellbeing.
Census workers, who have been trained to wear PPE and practice social distancing, have been authorized to go door-to-door in Alabama for the last few weeks to enumerate citizens who have not already self-responded to the census.
Boswell assures citizens that census-takers will only ask basic information about people living in the household, like name and birth dates. They will not ask about Social Security numbers or financial information.
"We still have time to pull the numbers up if people will get enthusiastic and realize what's at stake," Boswell said. "It's nothing new."
The census started in the U.S. in 1790 and has occurred every 10 years since. Before that, in other kingdoms and jurisdictions around the world, country leaders have had different ways of counting their populations for over a thousand years.
"The participation rate means a great deal to all," Boswell said. "It's nothing more than getting our fair portion of our federal tax dollars back to our state that we pay out of our paychecks."
In an appeal to all Alabama residents, Boswell insists that everyone reaps the benefits of responding to the census: "Don't you want your children to have the same opportunity you had in your lifetime? If you don't fill it out for yourself, fill it out for children and grandchildren and to avoid higher tax rates. If you don't fill it out, you have no one else to blame."
Alabama is far below the national average of a 97% response rate, and several points behind the U.S.'s 66.3% self-response rate.
In the Wiregrass, self-response percentages are climbing slowly. As of Friday, the rates for local counties are as follows:
• Covington County, 58.7%
The easiest way to respond to the census is by filling out the questionnaire at 2020census.gov. Many local libraries and tag offices also have iPads for residents to fill out the census on-site.
Get local news delivered to your inbox!
Subscribe to our Daily Headlines newsletter.