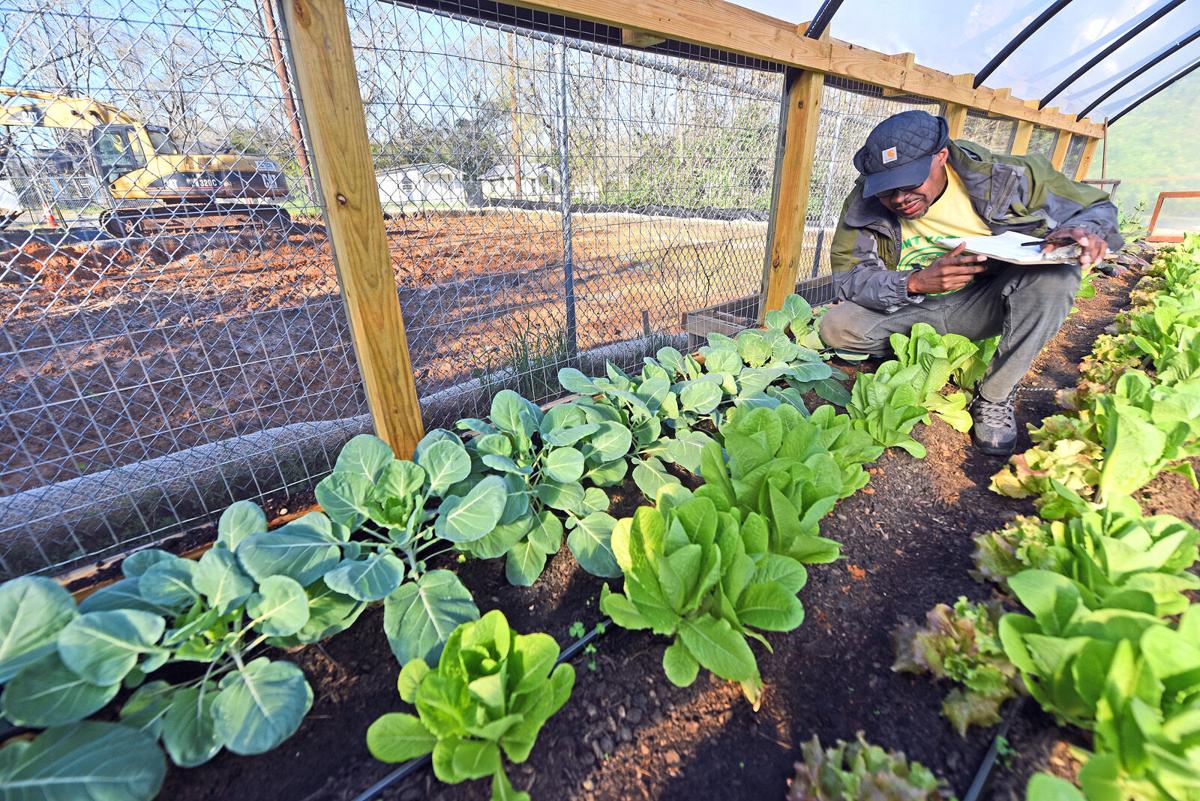 Shovels are in the ground next to Aunt Katie's Community Garden this week – a culmination of a five-year effort to rid the property of environmental hazards in order to donate the lot for the garden's planned expansion.
Executive Director Michael Jackson previously told the Dothan Eagle he plans to use the additional quarter-acre of land for two new large high-tunnel houses with internal drip irrigation that would allow the garden to grow produce year-round. He's also planning to add another apiary, an artificial beehive, on the newly-remediated land.
The expansion will allow the nonprofit to increase the production of fruit, vegetables, and honey for donation and commercial sales. The urban garden helps provide healthy food and education and wellness programs to low-income families in that area.
City of Dothan Senior Planner Bob Wilkerson expects the city will be ready to hand over the property to Aunt Katie's in around a month.
City of Dothan contractors started digging up the arsenic-contaminated dirt on Monday and are continuing the project for the next one to two weeks, depending on weather conditions.
Two feet of existing topsoil is being removed from the quarter-acre lot to be replaced by clean topsoil over a plastic barrier. The removed dirt will be disposed of at the city's landfill – a move approved by the Alabama Department of Environmental Management.
Then, testing will be done again to ensure that the new soil is not contaminated so that it's suitable for growing produce.
The project was mostly funded by a Brownfields grant worth $297,000 awarded to Dothan by the U.S. Environmental Protection Agency in May 2020. Dothan paid a 20% local match for the project.
"It's seen as a very valuable revitalization investment," Wilkerson said. "There's a great deal of scientific testing required by EPA and ADEM so all of these various steps need to be taken. A lot of documentation has to be developed and presented to the various agencies involved for their approval. It's a very high level of work and the process just demands that those things be done so it's a matter of us complying with that and it equates to an expensive process."
Previously, the lot was an Alabama Power electrical substation that operated in the 1950s. At some point, Dothan Utilities bought all of the Alabama Power-owned electrical substations in the city, but never used the site.
With a previous Brownfields grant administered in 2017, consultants assessed the cause of contamination at the abandoned lot at Linden and Whiddon streets and found an unacceptable level of arsenic they believed was caused by large amounts of herbicides or pesticides used to keep the substation free of overgrown vegetation and rodents.
Wilkerson said Dothan has applied to participate in ADEM's Volunteer Cleanup Program, which will allow ADEM to give its stamp-of-approval on the property after it's remediated and absolve Aunt Katie's of future potential liability concerns.
City leaders believe the project is a commitment to continued revitalization of the Baptist Bottom neighborhood, where the first city-led "Love Dothan" cleanup project was completed in August of 2020.
Wilkerson said the project will help Aunt Katie's be self-sustaining as it can bring in more income with year-round harvesting.
Sable Riley is a Dothan Eagle staff writer and can be reached at sriley@dothaneagle.com or 334.712.7915. Support her work and that of other Eagle journalists by purchasing a digital subscription today at dothaneagle.com.