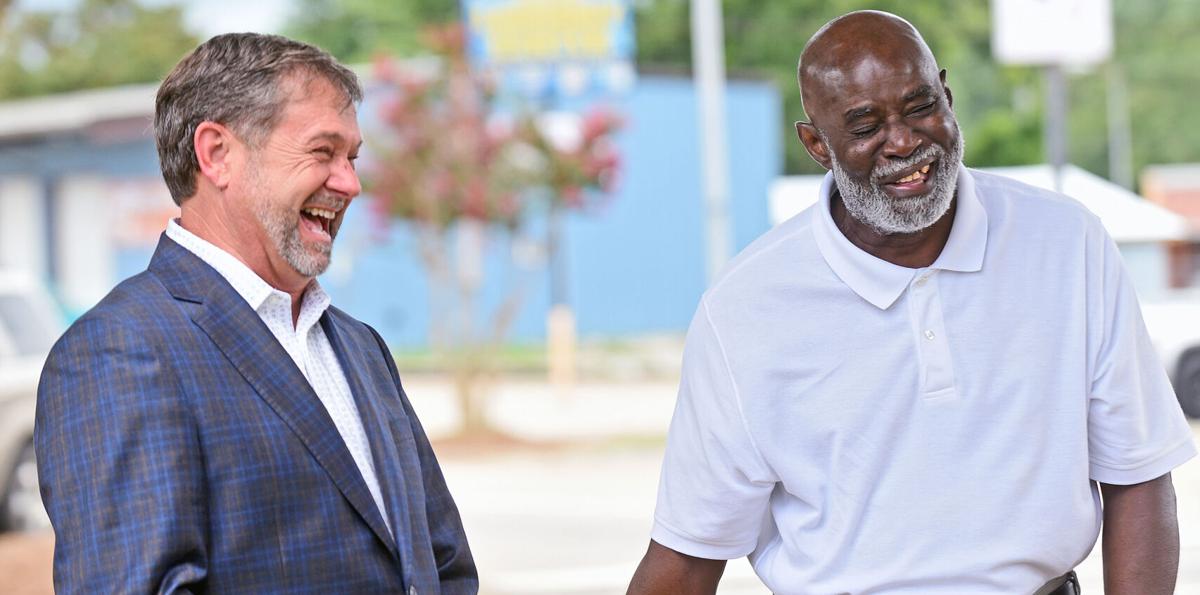 OZARK – With the official dedication of a mural spanning the side of a building in downtown Ozark still likely a few weeks away, former University of Alabama and NFL star Wilbur Jackson is starting to get a little more curious about the painting depicting his playing career.
"I've taken a peek, but as far as just standing there and taking a real good look and dissecting it and seeing how it looks – I haven't done that yet," Jackson said. "But today I might leave here and go by there and take a look."
The mural, which is the work of Dothan artist Wes Hardin, is near completion and displays several action shots of Jackson in his football attire along with a portrait of his likeness. There are also logos for Carroll High School, the University of Alabama and the San Francisco 49ers and Washington Redskins – the two NFL clubs he played for during an 8-year professional career as a running back. The words "OZARK HOMETOWN HERO" are painted alongside the edge of the mural.
Also prominently featured on the mural is legendary Alabama football coach Paul "Bear" Bryant, who signed Jackson as the first African American to receive a football scholarship for the Crimson Tide 50 years ago.
"There are two things everybody can get behind," Ozark mayor Mark Blankenship said. "Sports is one of them and of course somebody like Wilbur. Everybody loves Wilbur."
The 26-foot tall, 86-foot long mural had a price tag of just more than $45,000, which is being paid for by donations and grants. The Dale County Republican Committee presented a check towards that amount during a press conference on Wednesday.
The project is the brainchild of Blankenship, who set the wheels in motion shortly after going into office last November as the city's new mayor.
"For years, I have thought that would be something great to do, but of course I was never in the position to really try to pull it off," Blankenship said. "After I won the mayor's race, I said this is the prime time to jump in here and try to do it."
He knew going directly to Jackson for permission would be met with rejection. Jackson is a humble individual who rather avoid attention of his past achievements.
Blankenship decided to first reach out to Jackson's daughter, Emily.
"She was not on board to start with," Blankenship said. "She said, 'Daddy didn't want any more recognition – he didn't want to go to anything or do anything.' I said, 'What I'm wanting to do, he doesn't' have to get out of his recliner.' I said, 'I want to do a mural of your daddy.' She said, 'Oh, OK.'"
As the work began, Jackson would receive updates almost anywhere he went throughout the city. He tried to avoid taking a look himself, instead wanting to wait until the completion.
"It was kind of strange, you know?" Jackson said. "Everybody was telling me about it. Going to Walmart, or the post office, or any place, somebody was telling me about it. How is it looking; how is it coming along?
"I've seen a little glance. I went into CVS one day to get some stamps and I stopped and looked back there."
Jackson is very appreciative, but said he would have likely said no if he had been approached initially about the project.
"I'm sure I would have," Jackson said. "This wasn't something that had to be done, but I do appreciate it.
"Emily was telling them, 'Daddy is not going to go for that.' Then Mark convinced her, then he called me finally to tell me that they were going to do it. He said, 'You're not going to have to do anything – just sit in your recliner, that's all you have to do.'
"So I was joking him a minute ago and said, 'When they do a dedication, I might just bring my pickup (truck) and my recliner on the back and just sit right there,'" Jackson added with a chuckle.
Ozark has always been special to Jackson, and in turn, Jackson is special to Ozark.
"This town, you know, I've been here my entire life," Jackson said. "I went away and always came back in the offseason.