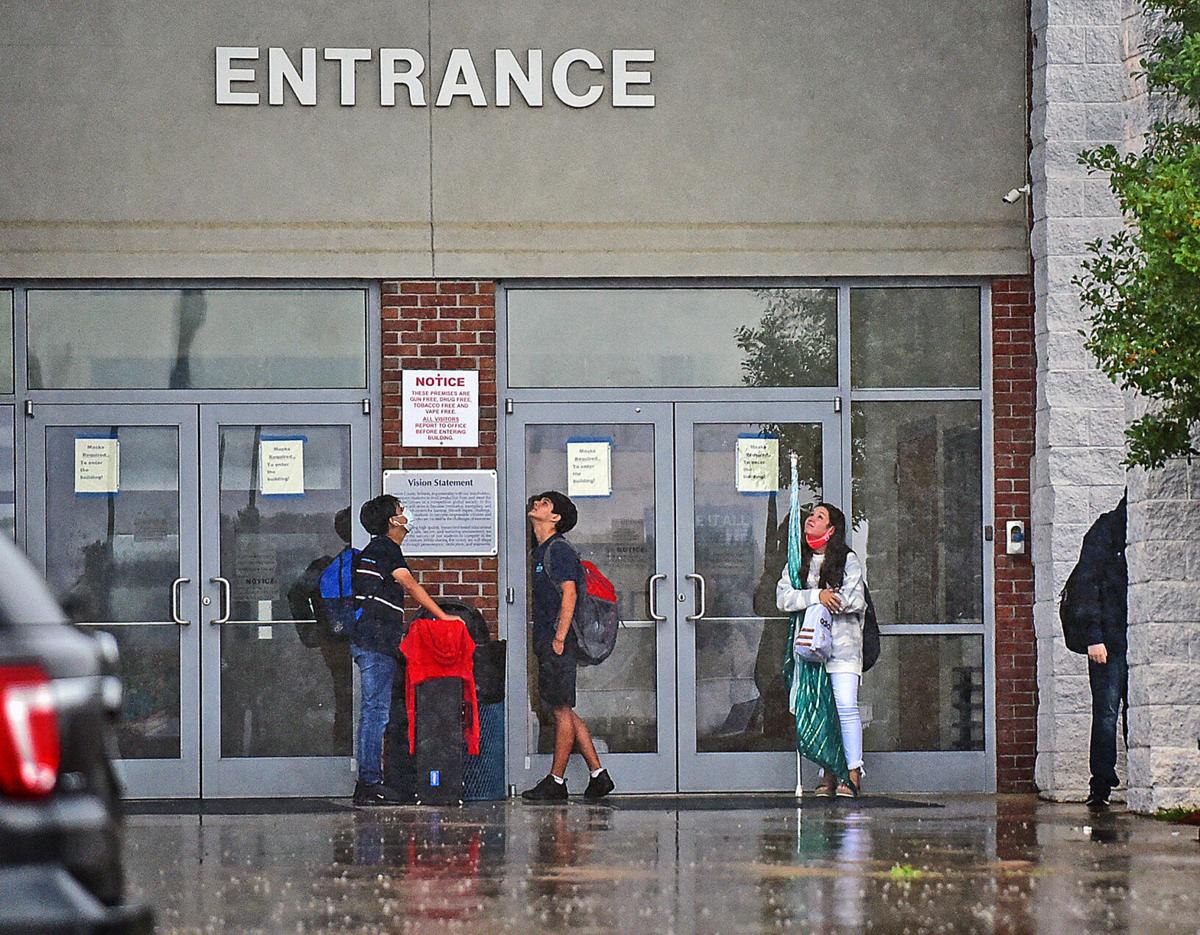 Hurricane Sally blasted ashore Wednesday near Gulf Shores as a Category 2 storm, shoving a surge of ocean water onto the coast and hurling torrential rain that forecasters said would cause dangerous flooding from the Florida Panhandle to Mississippi and well inland in the days ahead.
Moving at an agonizingly slow 3 mph, the center of the hurricane made landfall at 4:45 a.m. local time with top winds of 105 mph (165 kmh), the National Hurricane Center said. Sally's northern eyewall had raked the Gulf Coast with hurricane-force winds and rain from Pensacola Beach, Florida, westward to Dauphin Island for hours before its center finally hit land.
Trees were bending over and flailing around as the rain blew sideways in the howling winds. In downtown Pensacola, car alarms were triggered, setting off honking horns and flashing lights that illuminated floodwaters up to the bumpers of parked cars. Street lights were snuffed out in downtown Mobile, Alabama, where a stoplight snapped, swinging wildly on its cable.
Nearly 500,000 homes and businesses had lost electricity by early Wednesday, according to the poweroutage.us site.
In the Wiregrass area, EMA officials said the heavy rain that has been steady Wednesday morning will continue through Thursday.
Dothan-Houston County EMA Director Chris Judah said Houston County residents need to stay off the roads if possible. Some minor street flooding has already slowed traffic around Dothan and other areas.
"We are already receiving a large amount of rain as of Wednesday morning, and as the day continues more bands will come through our area bringing more rain and heavy downfalls at times," Judah said. "If you don't have to be on the roadways, don't. Stay home. Right now is not the time for sightseeing."
A flash flood warning was issued by the National Weather Service Wednesday morning for the area. According to Judah, the EMA is constantly monitoring all low-lying roadways and Dothan's downtown streets for flooding. 
"We have several county roads and streets located downtown that typically flood with tremendous rainfall," Judah said. " We don't want to put our EMS and firefighters in any more danger than they already are. If you see standing water on the roadway turn around for your safety. Do not attempt to cross."
The weather service also issued a tornado watch for the area until 6 p.m., Wednesday, and that could be extended.
Sally's motion remains very slow and is now drifting north/northeast. The potential for tropical storm force winds further inland into the Panhandle and southeast Alabama do exist. Slight shifts east are possible.
"I want people to understand the land was already wet before the storm, and with the storm bringing additional heavy rainfall, the potential for down trees should not be overlooked, especially with strong wind gusts of 50 to 60 mph expected this afternoon and throughout the evening," he said.
Judah urges all residents to be prepared for flash flooding, possible tornadic activity and power outages.
Ahead of the storm, area schools and daycares closed for Wednesday and many will remain closed on Thursday. Additionally, there are some schools that are continuing classes remotely.
Stacy Stewart, a senior specialist with the hurricane center, told The Associated Press said the rainfall will be "catastrophic and life threatening" over portions of the Gulf Coast, Florida panhandle and southeastern Alabama.
The storm's top sustained winds had dropped to 81 mph (130 kph) just over an hour after it struck land. 
Sally was a rare storm that could make history, said Ed Rappaport, deputy director of the hurricane center.
"Sally has a characteristic that isn't often seen and that's a slow forward speed and that's going to exacerbate the flooding," Rappaport told the AP.
He likened the storm's slow progression to that of Hurricane Harvey, which swamped Houston in 2017. Up to 30 inches (76 centimeters) of rain could fall in some spots, and "that would be record-setting in some locations," Rappaport said.
Sally's impact was felt all along the northern Gulf Coast. Low lying properties in southeast Louisiana were swamped by the surge. Water covered Mississippi beaches and parts of the highway that runs parallel to them. Two large casino boats broke loose from a dock where they were undergoing construction work in Alabama.
As Sally's outer bands reached the Gulf Coast, the manager of an alligator ranch in Moss Point, Mississippi, was hoping he wouldn't see a repeat of what happened at the gator farm in 2005, when about 250 alligators escaped their enclosures during Hurricane Katrina's storm surge.
Gulf Coast Gator Ranch & Tours Manager Tim Parker says Sally has been a stressful storm because forecasters were predicting a storm surge of as much as 9 feet in his area. He felt some relief after surge predictions shifted.
President Donald Trump issued emergency declarations for parts of Florida, Alabama, Mississippi and Louisiana.
Sally hit just shy of three weeks after Hurricane Laura pummeled southwestern Louisiana on Aug. 27, Lingering damage from that storm accounted for many of the 60,000 power outages in that state.
Meanwhile, Tropical Storm Teddy has now become a hurricane with maximum sustained winds of 100 mph (160 kph) the National Hurricane Center said early Wednesday.
Teddy is located about 820 miles (1,335 km) east of the Lesser Antilles. Hurricane-force winds extend outward up to 25 miles (40 km) from the center and tropical-storm-force winds extend outward up to 175 miles (281 km).
Some strengthening is forecast during the next few days, and Teddy is likely to become a major hurricane later Wednesday and could reach Category 4 strength on Thursday.
Be the first to know
Get local news delivered to your inbox!