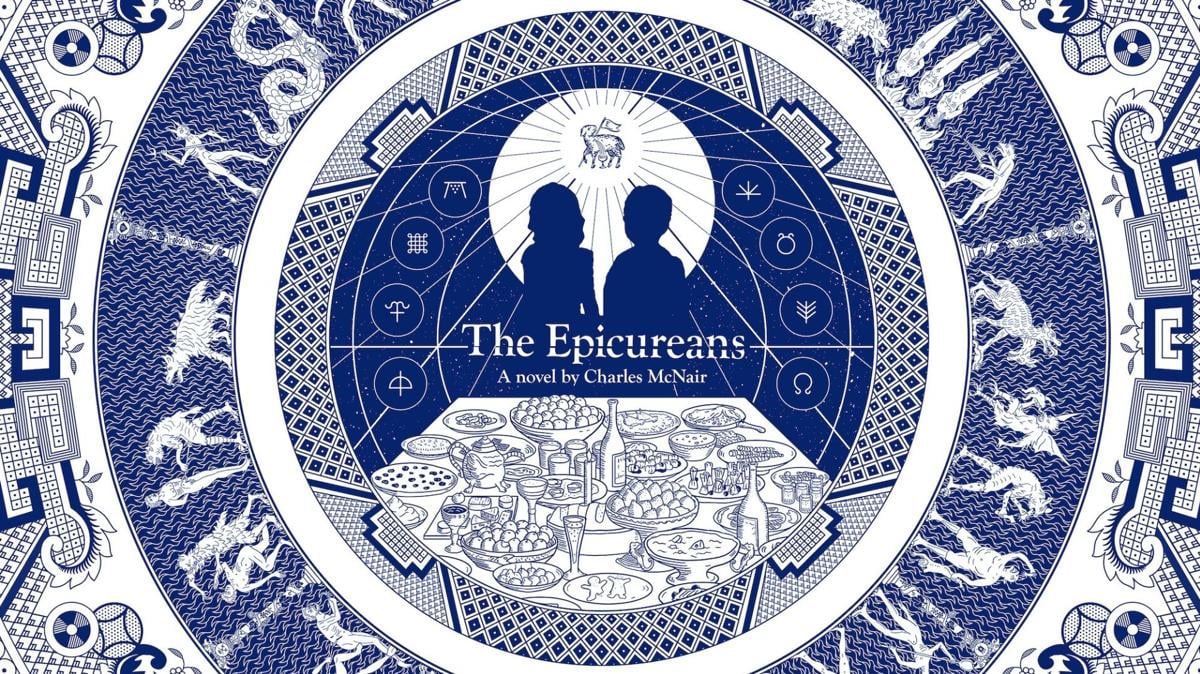 Charles McNair and I were at a loss. We stood beneath a majestic oak tree in the front yard of his parents' West Main Street home looking for inspiration. I held a Nikon; Charles gripped a copy of his first novel, the Pulitzer Prize-nominated Land O'Goshen (St. Martin's Press 1994), and we'd just wrapped up an interview for the Eagle. Now we needed a photograph to accompany the piece — something quirky to telegraph the outsized personality of a guy who accompanied another novelist, Mark Childress, and another college buddy on an Elvis "research" pilgrimage that involved scaling the Graceland gate under cover of darkness and being tossed from the King's Tupelo birthplace for asking the wrong question.
I talked him into climbing into the oak tree, and photographed him with the new novel. It might not have conveyed his personality, but it did suggest a Southern background.
Our paths hadn't crossed before that day, but two of his five siblings had been schoolmates. Now we've been fast friends for almost 30 years. Charles kept his keyboard hot, producing a second novel, Pickett's Charge, (Livingston Press 2013), and a history of Sam Massell, Atlanta's first and only Jewish mayor, and has generated reams of written material for an array of clients and served as book editor for the popular entertainment publication PASTE.
Recently I got an email from a publishing house in Dublin, Ireland, pitching a Kickstarter campaign for The Epicureans, a new novel by Charles McNair. I bought in without hesitation, and soon caught up with Charles.
The Epicureans, he said, "are members of a global billionaire dining club that meets each year on the winter solstice to consume an unholy feast. With the next solstice coming, its host eyes the two beautiful young children of a struggling Alabama family. Can the fragile Rogers family escape this unimaginable evil … without even knowing it's there?"
The upcoming work is a departure from the literary style of his first novels.
"Every writer learns best from writing, and two previous novels taught me the craft," he said. "The Epicureans is an experiment, though – my first suspense novel. The first two novels were literary. The Epicureans is written as a page-turner, for a broader audience. I set out to write a book no reader will ever forget, one that keeps her or him turning pages into the night — the long, long night."
Now living in Bogota, Colombia, with his wife, Adela, and family, Charles is never too far from the American South or his native Alabama, which works its way into the settings of his fiction.
"Dothan held all the lessons I needed to discover and enjoy the world. The 100 acres of woods behind our house on Parrish Street, the adventures at Cloverdale Elementary and Young Junior and Dothan High School, the baseball diamonds, Lafayette Methodist Church – the stories from those places stay with me always," he said.
"I've had great adventures in 66 years of life. I played baseball in Italy. I hitchhiked across Texas and back. I fell in love with a beautiful Colombian ophthalmologist (Dra. Castro is easy on the eyes) and moved to the high Andes, where I now live and work. Even so, every one of my novels is set in Alabama … and I think the ones I write in the future will be too."
The Epicureans is available through a Kickstarter campaign. Publishing has changed a great deal since the publication of Land O'Goshen. The Epicureans was first serialized — much like the works of authors like Dickens, Tolstoy, and James Joyce — appearing in The Bitter Southerner (bittersoutherner.com) in 40 installments.
"Tune & Fairweather, a publishing start-up based in Dublin, Ireland, spotted that serialization and asked to publish a physical book – the house's first-ever fiction," McNair said. "Jason Killingsworth, the founder of Tune & Fairweather, then designed the most gorgeous book you've ever seen. The Epicureans looks collectible, like an art work. The story inside is memorable, too."
If I were to photograph Charles today, I'd have him at a dining table, gripping knife and fork over Blue Willow china, echoing the visual theme of The Epicureans' artwork. I don't think either of us could get up into that tree these days.
Catch the latest in Opinion
Get opinion pieces, letters and editorials sent directly to your inbox weekly!