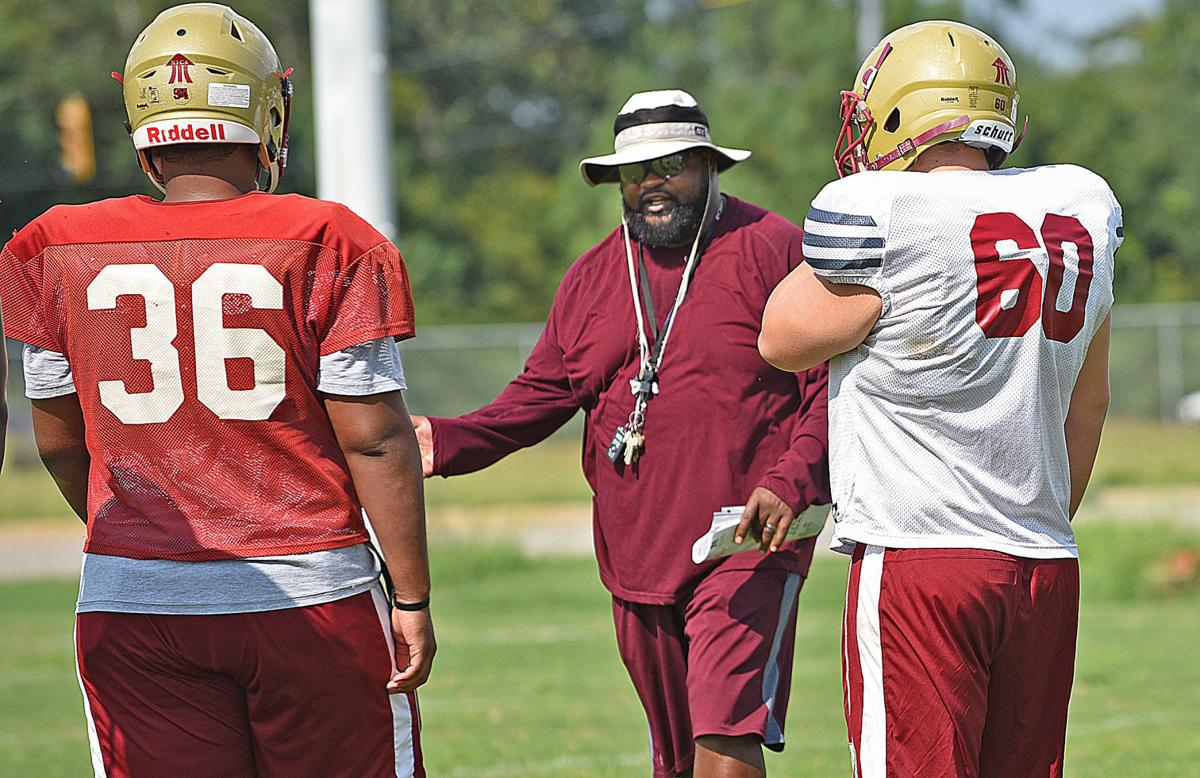 LaBrian Stewart is back as a high school head football coach.
Jonathan Deveridge is back as a boys basketball coach.
Stewart and Deveridge were hired Monday night by the Henry County School Board to fill voids at Abbeville.
Stewart was hired as the Yellow Jackets' football coach and Deveridge as the AHS boys basketball coach. Stewart replaces Robin Tyra, who left in early June to become Ashford's head football coach. Deveridge replaces Anthony Carter, who was let go by the school in May.
Stewart, who guided Northview from 2011-16, is back as a varsity coach after leading Dothan's Beverlye Middle School and Dothan Prep Academy the last three years. Deveridge, who had a successful run as Eufaula girls basketball coach from 2012-17, has been Zion Chapel's girls coach the last two years. He coached boys teams for eight years at five different schools from 2004-12.
Stewart's return to a varsity head coach position comes at a program that is coming off 27 wins in 35 games over the last three playoff seasons, including a 10-win season two seasons ago.
"To be able to be back in that situation as a head varsity coach is a blessing," Stewart said. "That is my dream and aspiration. This was a perfect fit.
"This is a program that is already established and has been winning. So it was program that was in need of a coach and a coach that was in need of a varsity team. It was a Godsend.
"It is a great program. They have a lot of great athletes. They have a lot of recent success. The players know how to win. It is a great job. I am blessed to be the new head coach."
Deveridge, a Troy native who played at Charles Henderson High School, said the opportunity to coach the Abbeville boys was one he couldn't pass up and allows him to return to his 'heart.'
"To be honest, I am excited for several reasons," Deveridge said. "I had a good run coaching girls. I enjoyed it more than I thought, but my heart has always been in boys. That is what I started out doing.
"Also, being from Troy, I am very aware of the rich tradition that Abbeville has in boys basketball. I am along the same age as some of those guys that were on that 1996 state championship team, so being from the area as well as coaching at (nearby) Eufaula, I am aware of the tradition. I am just excited to hopefully go in there and build on it."
Abbeville principal Darryl Brooks was "elated" at the hires, especially since there was little time left before the start of the academic year.
"I was very elated to get both hires," Brooks said. "I thank the board members for cooperating and allowing me to get both of the new hires. They both will be assets to our (athletic) program and are two teachers who will be assets to our school."
Stewart will be a physical education teacher and Deveridge a career tech teacher.
Stewart coached at Northview for five seasons, finishing with a 16-35 record, including 0-10 in his final season in 2016. He had two 5-5 seasons (2012 and 2014) and guided the program to the playoffs for the first time in 15 years in 2015, though the team went 4-7 overall. None of his five teams finished above .500.
Also a former assistant coach at Northview in 2007, Stewart was a head coach at Bullock County from 2004-06, going 3-27. In eight years as a head coach overall, he has a 19-62 career record.
He came to Northvew in 2012 after serving as an offensive line coach for four years at Prattville where he was on staff for two state championship teams and a state runner-up team. He was an all-state lineman at Tallassee and played college ball at Tuskegee University.
He was an assistant coach at Horseshoe Bend in 2002 and at his alma mater, Tallassee, in 2003 before taking the head job at Bullock County.
He plans to meet with Yellow Jacket players Tuesday.
"Offensively, I like to be very multiple, but the main thing is we want to pound the rock (run the football)," Stewart said. "Defensively, it depends on what we have personnel-wise, but we will probably start off as a 4-3 team, but we might have to be 3-4 or whatever. Traditionally, I am a 4-3 guy. Offensively, we want to establish the run, but we will pass it too."
Deveridge is known mostly for a strong run as Eufaula's girls basketball coach, leading the Tigers to a 77-33 record over four seasons, including a 27-3 record in 2016-17.
The 1999 Charles Henderson graduate has led the Zion Chapel girls basketball team the last two years. After the program won only three games the year before his arrival, the Rebels went 6-18 and 7-17 in his two seasons.
Before his two girls basketball positions, Deveridge coached boys basketball teams from 2004-05 to 2011-12, including leading the Goshen boys basketball program from 2007-10. He was also an assistant coach for Barbour County boys state championship basketball team in 2011-12.
He said he was not necessarily looking to return to boys basketball, but the right job came open that interested him.
"Basketball is basketball, whether it is boys or girls," Deveridge said. "When this opportunity came up and with tradition that I know Abbeville has in boys basketball, I was very intrigued by it."
Deveridge said he builds his teams around defense and speeding the game up.
"I am a firm believer in pressure defense," Deveridge said. "I believe in using all 94 feet of the court. I am very defensive minded coach.
"My teams at Eufaula, we utilized several different full-court presses and halfcourt traps. I like to dictate the game on the defensive end. I am a firm believer that if you play great defense, the offense will come."
Deveridge began his coaching career as a junior varsity boys head coach and assistant varsity coach at Smiths Station (2004-05) and at Beulah (2005-07). He then served boys' head coach at Goshen for three years (2007-10) and was an assistant varsity boys' coach and junior varsity boys' coach at Madison County in Huntsville for one year (2010-11) before coaching at Barbour County, Eufaula and Zion Chapel.
After graduating from Charles Henderson, he played college basketball at Alabama State University.
Brooks said he has known both Stewart and Deveridge for some time.
"He was a team player who worked well with students," Brooks said of Stewart when the two worked together at Northview. "He always had the best interest of the student at heart. He held them to a high standard, so I am looking forward to all the things he can bring to the table to help continue to move our program in the right direction.
"Coach Deveridge is a good, young man who works hard. I am looking forward to seeing the old-school style basketball that Abbeville High School is used to doing — pressing and running all over the court. I think that is one of the things he brings to the table that we haven't had here in a while."
David is sports writer for Dothan Eagle.
Be the first to know
Get local news delivered to your inbox!