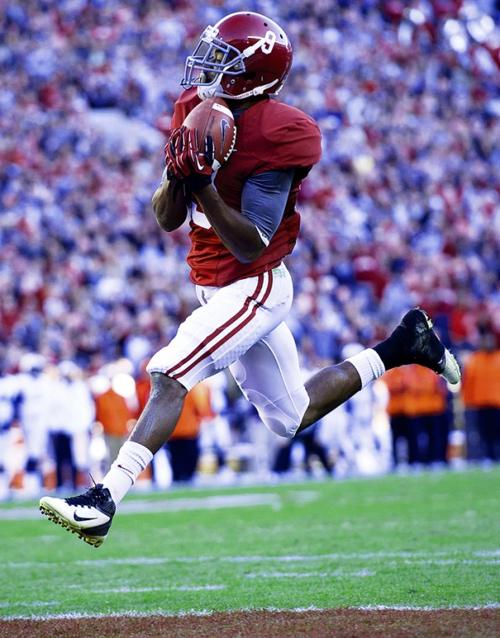 TUSCALOOSA – Stop if you've seen this before: Alabama steamed to a 21-0 lead over arch-rival Auburn less than 18 minutes into Saturday's game.
Well, the Crimson Tide had seen it before. This time, it didn't stop.
Instead, running backs Eddie Lacy and T.J. Yeldon got more yards after contact than a Snapper dealer, quarterback AJ McCarron had his pick of receivers on a number of routes and the defense played with a nasty chip on its shoulder for 60 minutes.
Alabama crushed Auburn 49-0 at Bryant-Denny Stadium, scoring touchdowns on each of its first seven possessions. The Crimson Tide (11-1, 7-1 SEC) clinched its first SEC West title in three years. Alabama will play Georgia next Saturday in Atlantafor the league championship and almost certainly an opportunity to play for the national championship Jan. 7 in Miami. Auburn finished its season 3-9 overall and 0-8 in the SEC.
This game was historically one-sided. OnlyAlabama's 55-0 victory in 1948 was worse in the 76 previous meetings between the schools. The Crimson Tide's 42-0 halftime lead on Saturday was the largest halftime lead in series history. Auburn led 34-0 at the half in the Tigers' 40-0 victory in 1957.
"This was a great team victory. Everybody contributed," Alabama coach Nick Saban said. "We asked for everyone to play their best game today. When you make a commitment to something, it comes from the heart, and I really thought our players did that."
Embattled Auburn coach Gene Chizik saw the game differently from his side of the field.
"Obviously, that was a very disappointing and embarrassing loss to our in-state rivals," Chizik said. "… It was a sad performance and the Auburn fans and the Auburn alumni don't deserve that."
On the Tigers' last trip to Bryant-Denny Stadium, they pulled off the greatest comeback in school history, erasing a 24-0 deficit to take a 28-27 victory on their way to a national championship.
That was not going to happen Saturday. Alabama converted all 11 of its third downs into first downs through the first three quarters. The Crimson Tide won the turnover battle – getting two interceptions and recovering a fumble while losing a fumble in the red zone in the second half.
The Alabama offense was exceptionally balanced. The Crimson Tide rushed for 267 yards and McCarron threw for 216 more.
Lacy finished with 131 yards and two touchdowns on 18 carries. Yeldon gained 38 yards on eight attempts and scored a touchdown. Kenyan Drake rushed 10 times for 67 yards. McCarron completed 15 of 22 passes, including two touchdown passes each to Amari Cooper and Kevin Norwood.
"For the first time this season I think we actually came out and we had fun," said Lacy, who scored on a 2-yard run to cap the game's first drive. He added a 1-yard run late in the second period to make it 35-0.
"When you have fun out there it brings your game to a whole other level. … I think this was the best game that we've played all season."
It was obvious that Lacy was fresh and not feeling the effects of turf toe and other nagging injuries that have slowed him at various times over the past two seasons. He fell forward on nearly every attempt, carrying two or more Tigers with him.
"Coach talked about being physical on both sides of the ball," Lacy said when asked about his yards after contact. "Just because you're on offense doesn't mean you can't deliver a blow. That's the mindset we came into the game with offensively. We were able to break tackles and get extra yards."
That wasn't limited to running backs, either. Cooper caught five passes for 109 yards – including touchdown receptions of 37 and 29 yards.
On Cooper's second touchdown, he caught a deep slant as Auburn's Jake Holland, Jermaine Whitehead and Jonathan Mincy all converged on him at the same time. Cooper took the shot from all sides, was able to keep his balance and raced the final 10 or 15 yards for the touchdown as the three Tigers were on the ground, looking like toppled bowling pins.
Norwood also caught five passes for 65 yards, with touchdowns of 7 and 38 yards from McCarron.
Saban said his quarterback put Alabama in the right play throughout the time he was in the game.
"We were trying to go at a particular look – two high safeties, safety down or whatever it is," Saban said. "Sometimes it's run-to-run or sometimes it's run-to-pass, but he is a pretty bright guy and he did a pretty good job."
McCarron, whose four touchdown passes brought his single-season total to 25 and his career touchdown total to 44 – just three behind John Parker Wilson's school record – said the opponent didn't matter to him.
"It doesn't matter to me who we were playing," McCarron said. "A victory is a victory to me."
Chizik admitted Saturday wasn't the type of performance Auburn fans deserved, not in the one game they anticipate 365 days year round. Asked what case he would make to the fans in support of him retaining his job, Chizik halted.
"I don't have to make a case," the coach who makes $3.5 million per year said. "You all saw what you saw out there tonight. Again, I'm just very disappointed for our fans. We've been in tough times before and we've got to come back and continue to work to try to fix everything that's kind of spiraled downward. That's where we're at."