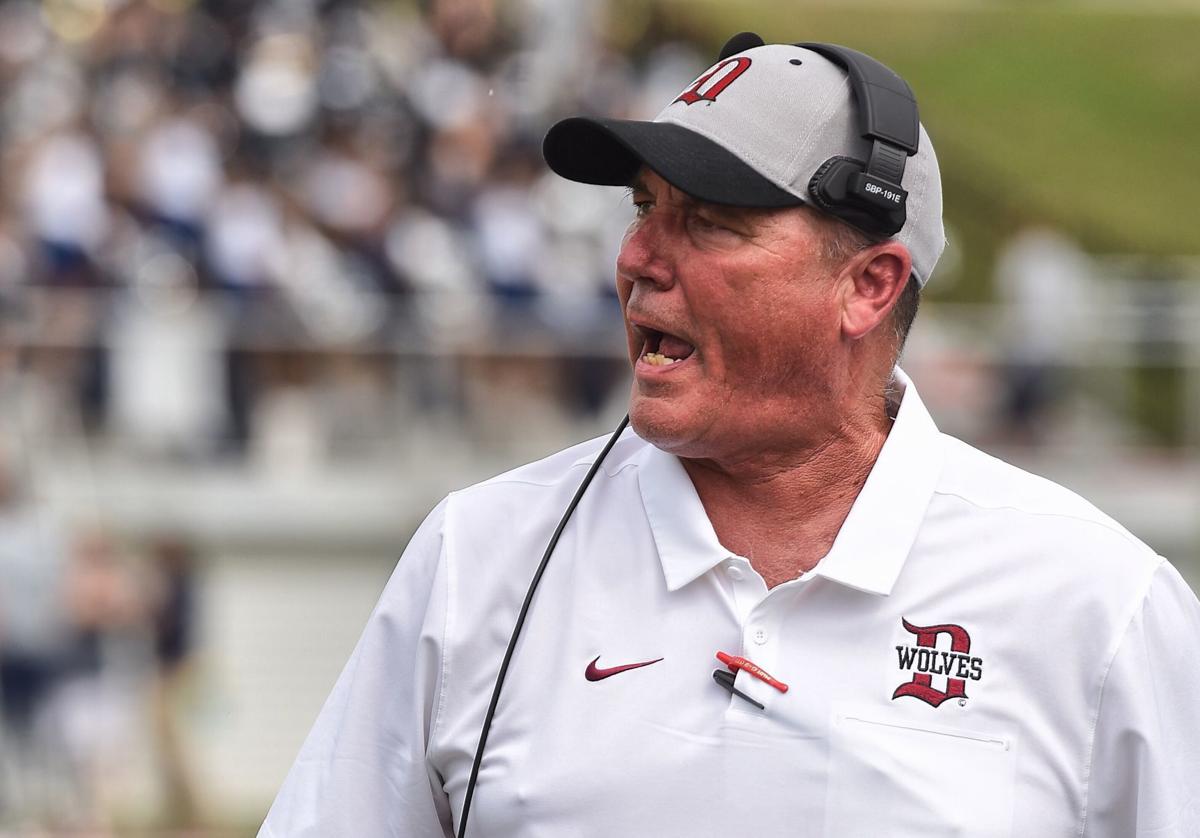 Dothan head football coach Smitty Grider said enforcing the new AHSAA health guidelines for workouts has become a full-time job.
Abbeville Christian Academy head coach Ashley Carlisle has turned a part of the serious task into a fun game.
Welcome to the new world of high school football workouts in 2020 where body temperatures, face masks and staying out of another person's space have become as common as a long pass by a quarterback, a quick toss back to a running back or a sprint by a defensive player toward a spot in the offensive team's backfield.
Area teams, like all in the state of Alabama, have been holding non-mandatory workouts on the football field and in the weight room since June 1, helping to fill the void of missed spring practices and workouts caused by COVID-19 pandemic shutdowns, while also preparing for the upcoming season.
AHSAA Executive Director Steve Savarese has expressed confidence that fall sports, including football, will start on time. First official practices are two weeks from Monday (July 27) and the season openers for all fall sports are just 38 days away on Aug. 20.
Teams in the state have been busy since June 1 in workouts, but doing so under health protocols that include players and coaches being six feet apart as part of social distancing guidelines.
It hasn't always been easy, said Grider during Friday's Dothan Eagle/Encore Coaches Media Day event at the Dothan Country Club.
"That is full-time," Grider of making sure the guidelines are followed. "We do more of that than we do coaching. 'Spread out. Put your mask on.'
"I have said spread out more in the last month or so than I probably have said in my whole life as well as the term social distance. I don't know who invented that (social distance phrase), but it has become part of the vernacular."
Most Wiregrass prep coaches have said they are taking players' temperature before practice to make sure they are good health-wise to participate in workouts.
Carlisle said so far none of ACA's athletes in football and volleyball have had a spiked temperature. He added he has tried to take a light-hearted approach to the serious situation
"The running joke is I've got the touchless thermometer and I'll ask them (the players), 'What do you think you are today?' I'm trying to hit (guess) a number," Carlisle said.
"I've got these sheets down that have nothing but temperatures of boys and girls for the last four weeks. Luckily, I haven't had one I've had to turn away."
Carlisle said he has done so many temperature readings that he feels like he is as efficient with it as Kansas City Chiefs MVP Patrick Mahomes is at quarterback in a game.
"If there was a pro league for a touchless thermometer operator I might be sitting on Mahomes' level right now," joked Carlisle.
Most coaches said they are encouraging parents to keep the kids at home even if they have a slight elevated temperature.
"I hammer to the parents every week that if your child has a fever, do not send him," Slocomb head coach Richard Tisdale said. "We had a kid with a 99 fever, which is probably nothing really, but I told the mom to keep him at home."
In addition to the temperature checks, making sure kids space out as well as wear face masks, coaches are making sure players are bringing their own drinks to the workouts.
"We take their temperature every day and they bring their own water bottles," Wicksburg head coach Josh Cox said. "We have not had anybody pop with a high temperature."
Measures are also being implemented in the weight room.
"We set stations around the gym and at each station we've got Lysol or some kind of wipe," Abbeville Christian Carlisle said. "Between each rep we'll wipe down. We'll go about 50 seconds and clean for 10."
All the precautions are part of steps to help ensure the COVID-19 doesn't spread among the student-athletes, while also keeping players healthy as possible to allow a season to be conducted.
"If we can do it safely, I want us out there doing it," Tisdale said.
David is sports writer for Dothan Eagle.
Be the first to know
Get local news delivered to your inbox!