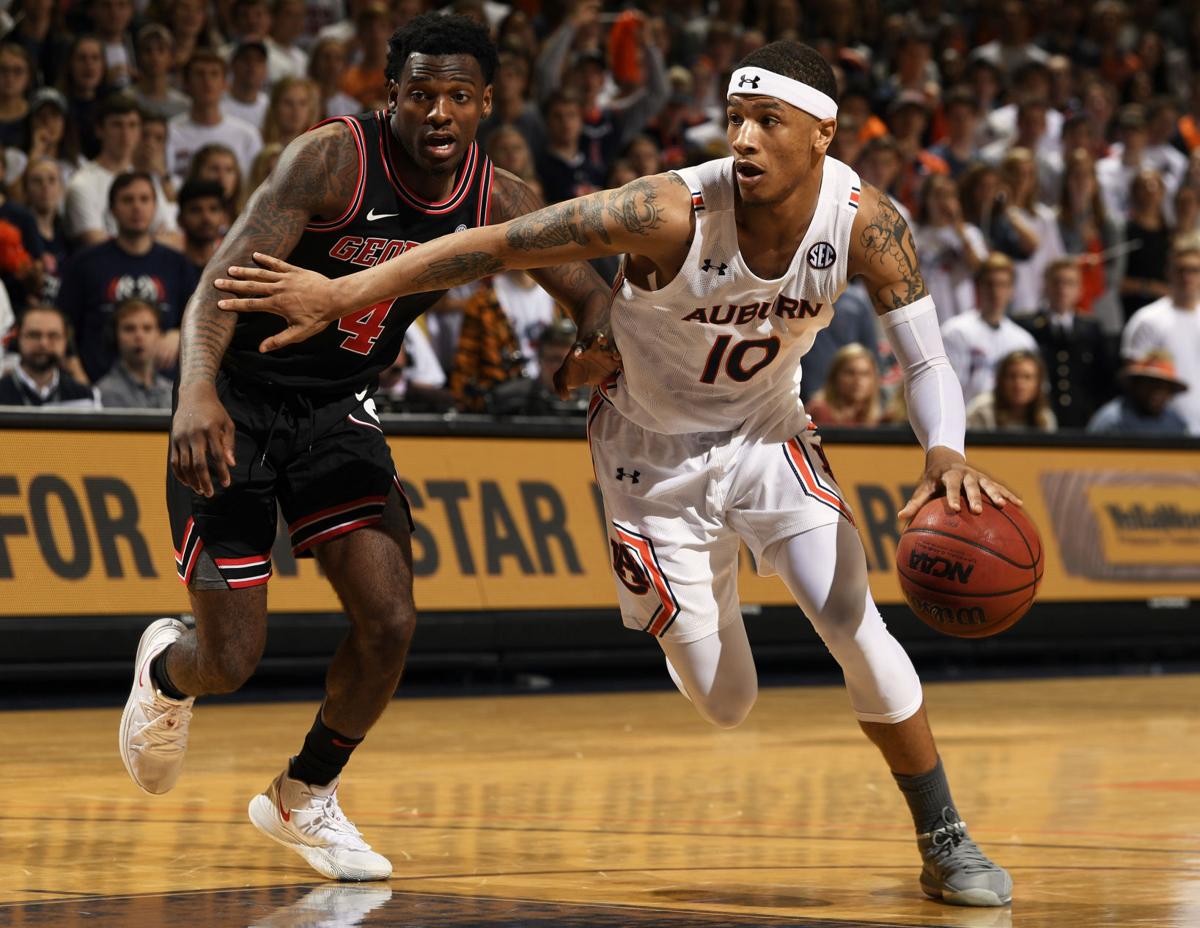 AUBURN --- The Tigers soared, Auburn Arena roared, and the Auburn men's basketball team rolled over rival Georgia 82-60 on Saturday on the Plains.
Take notice all around. The nation's fifth-ranked team is playing up to its billing. That team is Auburn, and on Saturday it charged on to 15-0 to the delight of the home fans.
Samir Doughty scored 17 points for Auburn. Anfernee McLemore and Allen Flanigan both scored 12 points off the bench.
It was an all-hands-on-deck effort for Auburn. And all cylinders were firing.
"It was a great win for our ballclub," head coach Bruce Pearl said simply after the win.
The Tigers moved to 3-0 in the SEC after blasting their rival. Georgia fell to 10-5 and 0-2. Danjel Purifoy threw down a highlight-reel dunk to put Auburn up 23 at 65-42 with 8:25 left, as the fans leapt out of their seats. The Tigers ultimately led by as many as 26 points. In the jubilant locker room, Purifoy counted up Auburn's wins on his fingers in a video Auburn released on social media.
"You don't have enough fingers for that," McLemore chimed in, lending another five. "15-0."
Auburn led 35-24 at the break and cracked open a 20-point lead early in the second half. The Tigers knocked down 3-pointers, poked away steals in the backcourt, and converted on opportunities at the free-throw line while spreading the scoring throughout their lineup. Auburn scored 34 bench points, its second-most this season behind only a blowout win over Cal State Northridge back in November.
J'Von McCormick scored nine points, while Purifoy and Isaac Okoro both scored seven.
Okoro had another one of those rim-rocking second-half dunks. The freshman sensation Okoro won the head-to-head matchup with Georgia's own NBA prospect from the Peach State, Anthony Edwards.
Edwards scored 18 points as Georgia's star, but was frustrated on the way. He missed his first six 3-point shots and started 1-for-8 at the foul line. He still led Georgia in scoring, but he flung his arms to his side and looked to the bench in exasperation after one of those missed free throws in the second half, all while Auburn pulled away. It was just that kind of day of Georgia.
Auburn made it so, with feisty defense and a raucous environment boosted by a packed student section that turned up loud despite the early tipoff. Auburn's game was originally scheduled for 5 p.m. before Friday it was decided it would move to 11 a.m. in preparation for severe weather entering the area.
The building topped its volume in the second half when the Tigers was throwing down dunks and the 20-point lead turned the game into a celebration.
"It's always a big rivalry, so it's always a lot of fun," said McLemore, from Warwick, Ga. "I know a couple of those guys on the team over there, and every time we play them it's a lot of fun."
Auburn started sluggish before taking control. Georgia led 14-6 early before AU revved up, outscoring the Bulldogs 29-6 over the next stretch to lead by as many as 15 points in the first half at 35-20.
"Look, any time you beat Georgia and you're the coach at Auburn, it matters," Pearl said.
It was a more complete effort for Auburn in that bench players made the most of their opportunities and shined two games after the team mustered only two bench points on the road at Mississippi State. On top of McLemore's reliable play as the team's sixth man, the freshman Flanigan and transfer Jamal Johnson both knocked down two 3-pointers each off the bench.
"Anfernee and Allen and Jamal were terrific," Pearl said. "And when they start playing like that, that bench starts playing like that, we've got a chance to be a very good ballclub."
The team won't celebrate for long. Rivalry row continues as Auburn puts its undefeated record on the line Wednesday at Alabama.
Be the first to know
Get local news delivered to your inbox!