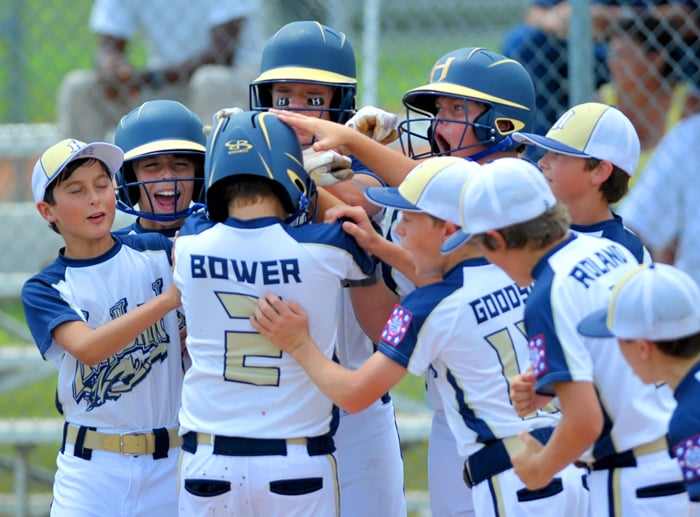 Josh Bower hit two more home runs and Headland remained unbeaten after two days with a 12-2 victory over Beauregard in the Dixie Youth Majors baseball tournament (ages 11-12) at Douglas Park on Monday.
Bower hit a three-run homer in the first inning and connected on another three-run blast in the second inning as Headland built a 8-0 lead after two innings.
Bower, a catcher, hit a two-run homer on Sunday in the first day of the tournament en route to Headland's 4-1 opening game win over defending champion Alexandria on Sunday.
"He's on fire right now," Headland coach Greg Wilkerson said. "He's got a hot bat. That's crucial, because we've got some really good hitters, so sometimes they try to pitch around a few, and the other ones are picking each other up."
Headland got strong pitching for the second day in a row as Beauregard managed just two hits – singles off the bats of Trent Clark and Wade Cash – during the game called after four innings due to the 10-run mercy rule.
Coleman Wright started on the mound for Headland and pitched three innings, giving up two hits. Matthew Sherrill entered in the fourth and didn't allow a hit, but Headland got a bit sloppy in the field as Beauregard scored two unearned runs.
"Great pitching," Wilkerson said. "Three great innings from Wright and a great inning for Sherrill."
Besides Bower's three-run shot in the top of the first, Jake Milanowski contributed an RBI single to give Headland the early 4-0 lead.
"Getting off to fast starts in the first inning. That's what it's all about," Wilkerson said.
In the second, Seth Goodson was hit by a pitch to lead off the inning, and Max Roland doubled to put runners at second and third. Sherrill reached on an infield hit to bring in the fifth run.
Two batters later, it was Bower again connecting on a three-run homer to make it an 8-0 advantage. It tied the record for most home runs in a game by a player during a Dixie Youth Majors state tournament.
Headland plated four more runs in the third to put it away for good. Milanowski scored on a wild pitch, Will Griffin scored when Chase Wilkerson walked with the bases loaded, Roland scored when Bower was hit by a pitch with the bases loaded and Sherrill scored when Ryan Rose walked with the bases loaded.
It will be determined this morning whether Headland will play again tonight, or have to wait until Wednesday night to return to action. Rain washed out the scheduled first day of the tournament on Saturday, so the schedule for the rest of the week is being adjusted depending on weather conditions.
Monroe County 9, Ariton 4: The other Wiregrass representative in the tournament, Ariton, was eliminated after losing for the second straight game.
Down 9-3 going to the final inning, Ariton made some noise as Hayes McDaniel drove in a run with a single to right field with two outs to make it a five-run game. Blake Carroll was then hit by a pitch and Gage Knighten singled to load the bases before a strikeout ended the game. Bryson Peavy and Josh Sullivan also had RBIs for Ariton in the game.
Monroe County got solo home runs from Colby Higdon and Marcus Owens during the game.
Alexandria 5, Crenshaw County 4: The defending champions rallied in the bottom of the sixth to pull out the victory.
Down 4-3 going to the final inning, Skyler Payne, Stone Huie and Noah Primm all singled to load the bases with one out. Adam Young then came up with the big hit with a single into right field to score the two game-winning runs.
Thomasville 4, Greenville 2: Bryce Carlisle hit a two-run homer in extra innings to win it for Thomasville. The game was tied 2-2 after six innings, setting up the dramatic one-out homer in the bottom of the eighth.
Follow Jon Johnson on Twitter @eaglesportsed