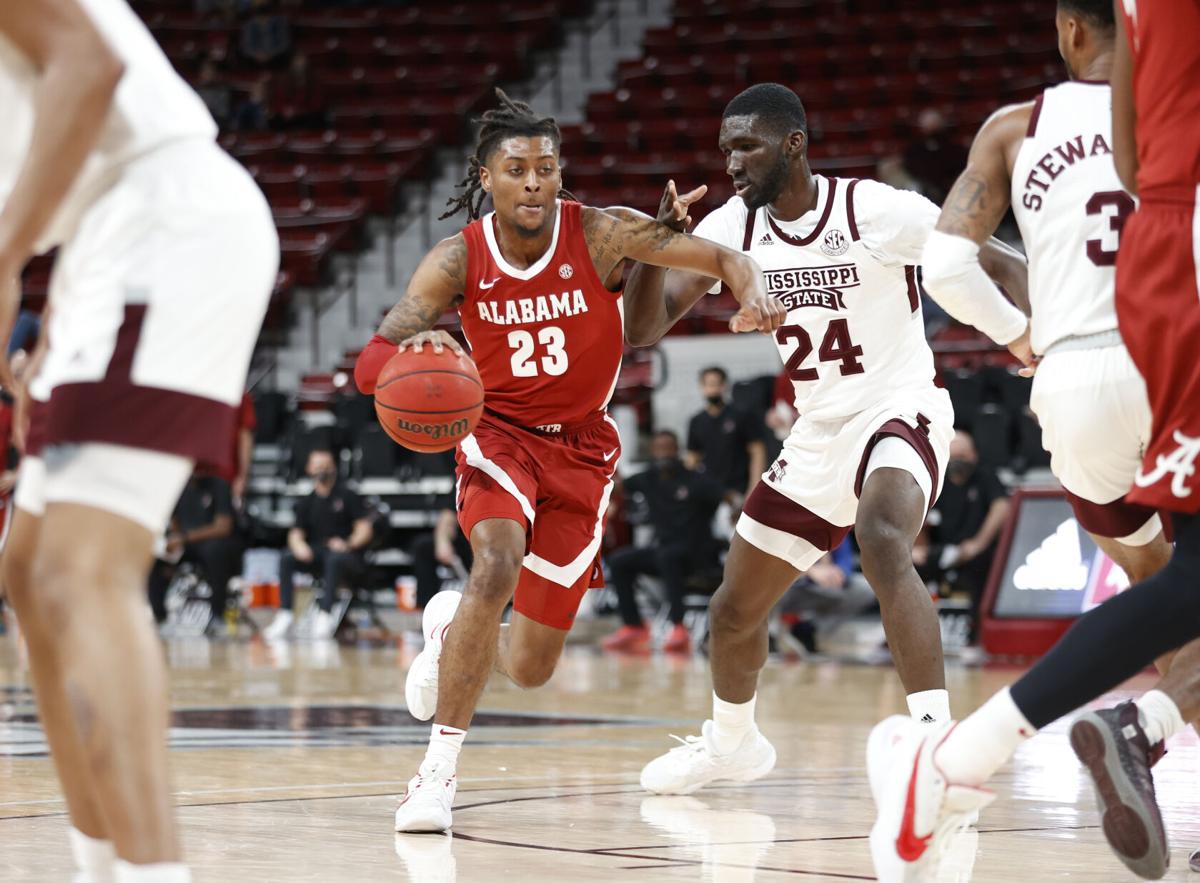 STARKVILLE, Miss. — Alabama clinched its first SEC regular-season basketball championship since 2002 on Saturday with a 64-59 win at Mississippi State.
The Alabama victory was its 14th SEC win of the season. The Crimson Tide can finish no worse than 14-4, while second-place Arkansas, which defeated LSU on Saturday, can finish no better than 13-4 as the SEC schedule does not allow the Razorbacks to play a second COVID-19 makeup game.
The 14 regular-season SEC wins are Alabama's most since the 1987 Crimson Tide went 16-2 in league play.
"We've been talking about this since the summer," senior John Petty Jr. said in an SEC Network interview after the game. "We knew what kind of team we had and knew what we could do."
As the top seed in the SEC Tournament at Bridgestone Arena in Nashville, Alabama will receive a double bye and open play at 11 a.m. Friday, March 12, pending any further changes to the current tournament schedule. Alabama would play the winner of the Thursday, March 11 game (participants yet to be determined.)
Alabama guard Jaden Shackleford scored 10 of his 15 points in the second half as the Crimson Tide held on down the stretch.
The Crimson Tide (19-6, 14-2) led by double digits for much of the game before the Bulldogs (13-12, 7-9) closed to 56-53 on Iverson Molinar's layup with 4:17 left.
Mississippi State had a chance to draw even closer over the next three minutes, but Alabama came up with a couple big stops and James Rojas drained a 3 from the right corner to make it 59-53 with 43 seconds left.
D.J. Stewart Jr. made four free throws for MSU in the final minute, but Alabama went 5 for 6 at the line down the stretch, including two successful attempts for Petty with 11.9 left.
Jahvon Quinerly had 19 points for Alabama, including 15 before halftime that helped the Tide snap out of a cold shooting start. Herbert Jones grabbed 14 rebounds as Alabama enjoyed a 45-40 rebounding advantage.
Stewart scored 15 points for the Bulldogs, who had won their past two games. Deivon Smith had 12 points and 13 rebounds, and Molinar scored 11 points.
Alabama: Quinerly's scoring provided a huge boost for the Crimson Tide, who started 3 of 16 from the field and were 1 of 10 during one first-half stretch. They went cold for a while in the second but came up with several key offensive rebounds to maintain possession and run down the clock before Rojas' big 3.
Mississippi State: The Bulldogs had plenty of good looks in the first half that just didn't fall. The second half began much better and they were able to get close, but couldn't get that one key basket or stop Alabama on the glass.