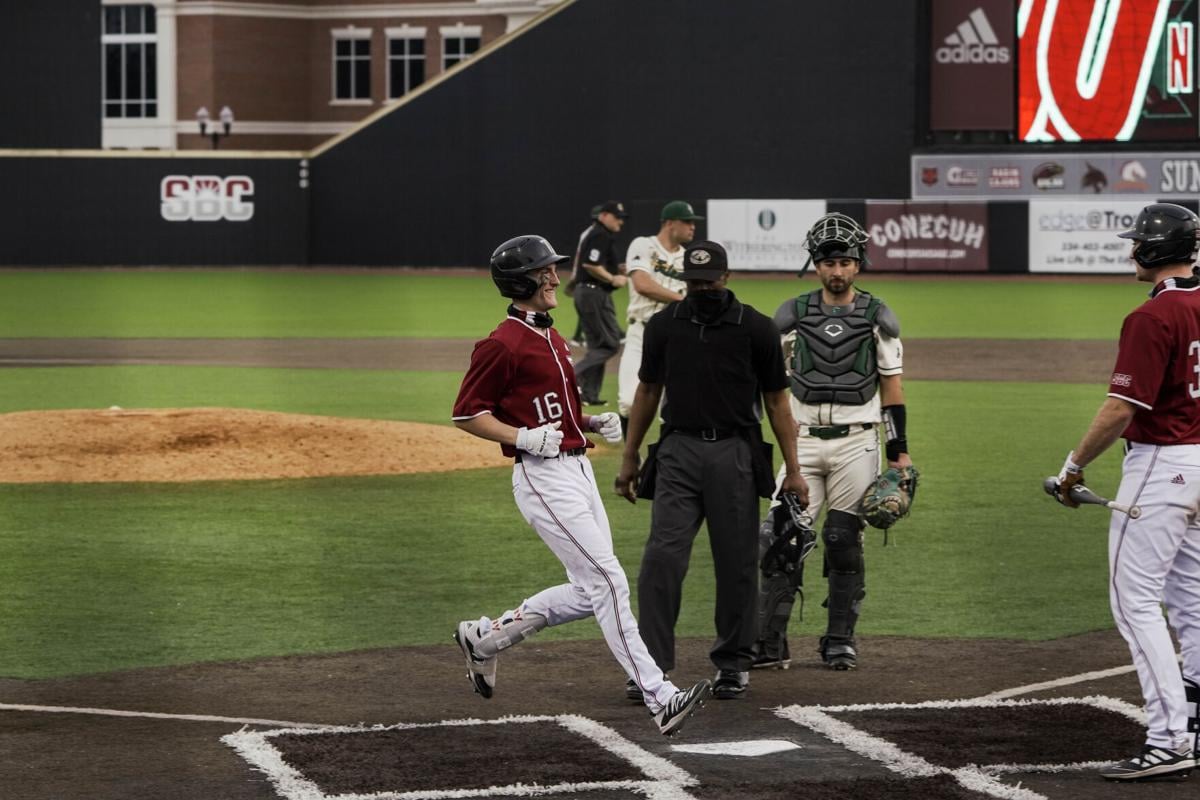 The wait is over for Troy baseball standout Logan Cerny.
After waiting four plus hours, Cerny was chosen in the MLB Draft late Monday afternoon.
The junior outfielder was taken in the 10th round by the Philadelphia Phillies, the 295th pick overall in the three-day draft that continues Tuesday.
The Troy star wasn't the only state player taken Monday.
Four players from Alabama plus three from Auburn and two from South Alabama were selected. Two others with state ties, both college players at Mississippi State, including this year's SEC Player of the Year, were also chosen Monday, which featured rounds 2-10.
The draft continues Tuesday with rounds 11-20, starting at noon central time.
Dothan High pitching standout Chase Allsup, an Auburn signee, was not selected on Monday.
The Alabama players chosen Monday were second baseman Peyton Wilson, pitcher Dylan Smith, pitcher Chase Lee and catcher Sam Praytor.
Alabama's four picks through the first six rounds were the most in program history and tie with the 1983 team for the most picks through the first 10 rounds of any MLB Draft.
The Auburn players taken Monday were shortstop Ryan Bliss, pitcher Richard Fitts and third baseman Tyler Miller.
The two South Alabama players selected were outfielder Ethan Wilson of nearby Andalusia and outfielder Michael Sandle.
The two other players with state ties were Mississippi State's Tanner Allen, this year's SEC Player of the Year who played high school at UMS-Wright in Mobile, and Christian MacLeod, a Huntsville native.
Allen was the second former UMS player to be drafted in 24 hours. Left-handed pitcher Maddux Bruns, the state's Mr. Baseball winner this past spring, was picked in Sunday's first round by the Los Angeles Dodgers, the 29th overall pick.
Cerny, who was selected to participate in the inaugural MLB Draft Combine earlier this month, earned All-Sun Belt and All-District first team honors this past season after he batted .332 with 17 doubles, four triples, 15 home runs and 47 RBIs. The Lawrenceville, Ga., native finished the year with a 1.118 OPS and led the Sun Belt Conference in slugging percentage, doubles and triples while ranking second in home runs and total bases.
He also ranked seventh in batting average, fourth in on-base percentage (.424), fourth in runs scored (49), eighth in hits (64), fourth in RBIs and 11th in stolen bases (11).
Auburn's Bliss was the first state player taken off the board Monday, tabbed in the second round by the Arizona Diamondbacks, the 42nd pick overall. The LaGrange, Ga., native led Auburn this spring in at-bats (211), batting average (.365), hits (77), doubles (14), runs scored (50), total bases (138) and slugging percentage (.654) as the Tigers' primary leadoff hitter. Defensively, the shortstop posted a .957 fielding percentage and helped the Tigers turn 29 double plays.
In his three years at Auburn, he posted a .328 batting average with 176 hits, 32 doubles, 20 home runs and 99 RBIs. He had a career .972 fielding percentage. He became only the fourth two-time All-American selection in Auburn program history.
Seven picks after Bliss, Andalusia's Wilson was taken by the Philadelphia Phillies. Wilson, a first-team All-Sun Belt Conference pick, batted .318 with 13 doubles, four triples, eight home runs and 34 RBIs despite playing through a painful ankle injury much of the year He helped the Jaguars to the Sun Belt Conference regular-season and tournament championships and to the championship game of the NCAA's Gainesville Regional.
Late in the second round, Alabama's Wilson was chosen by the Kansas City Royals as the 66th pick, becoming the Crimson Tide's highest-drafted second baseman in program history and highest selected infielder since 2015 when Mikey White went 63rd overall to the Oakland Athletics.
A fourth-year sophomore, he started in all 58 games, batting .290 (72-248) with 13 doubles, a triple and nine home runs while posting 31 RBI and 46 runs scored. He led the Tide in hits, doubles, runs and stolen bases (10) while having a team co-high 21 multi-hit games.
Smith was next, taken by the Detroit Tigers in the third round, becoming the Tide's first pitcher selected in the top three rounds since Spencer Turnbull went in the second round in 2014, also to the Tigers.
Smith finished this season as Alabama's leader in innings pitched (98.1) and strikeouts (113), a number that ranks third on the Tide's single-season list for punch outs. He had a 3.84 earned run average. He finished with a 2-8 record as his offense averaged just 2.75 runs per 9.0 innings during his time on the mound in 2021.
Mobile's Allen, who helped lead Mississippi State to this year's NCAA title, was the next Alabama tie to be chosen as Miami Marlins picked the outfielder in the fourth round, the 118th overall pick. Allen hit .383 with 11 homers, 66 RBIs and 72 runs scored for the Bulldogs this past season.
Mississippi State MacLeod, a pitcher, was selected by the Minnesota Twins in the fifth round, the No. 159 overall pick. He played his high school ball at Huntsville High.
MacLeod went 6-6 with a 5.23 ERA and 113 strikeouts in 82 2/3 innings in 2021, helping the Bulldogs to the College World Series championship. He was MSU's No. 2 starter much of the year behind Will Bednar, the No. 14 overall pick by the San Francisco Giants on Sunday.
Lee, a right-handed relief pitcher, was taken by the Texas Rangers in the sixth round (164 pick), becoming Alabama's highest reliever chosen since 2014 when Thomas Burrows went in fourth round to the Seattle Mariners.
Originally a walk-on, Lee finished with a 1.87 career ERA and a 9-0 record with nine saves in 40 career outings. This season, he was 7-0 with seven saves and a 1.33 ERA (6 ER/40.2 IP) in 22 relief appearances with 51 strikeouts.
Praytor was taken 15 picks later in the sixth round (179), going to the Marlins. He started 122 games as the Tide's catcher in his career. The Helena native hit .285 with 25 homers, 19 doubles, 85 RBI, 78 runs and 63 walks, including .277 with 14 home runs and 48 RBI this past season.
Auburn's Fitts, also a native of Helena, was taken four spots later at 183 by the New York Yankees. Fighting through a toe injury, Fitts appeared in 41.1 innings and posted a 1-3 record with one save, 38 hits, 31 runs, 15 walks, 41 strikeouts and a 5.88 ERA.
Auburn's Miller was chosen in the ninth round by the Boston Red Sox, the 236 pick overall, led the SEC with 61 RBI during the regular season and paced Auburn with 16 home runs. Miller ranked third on the team with a .313 batting average and was second in runs (38), total bases (125) and slugging percentage (.601).