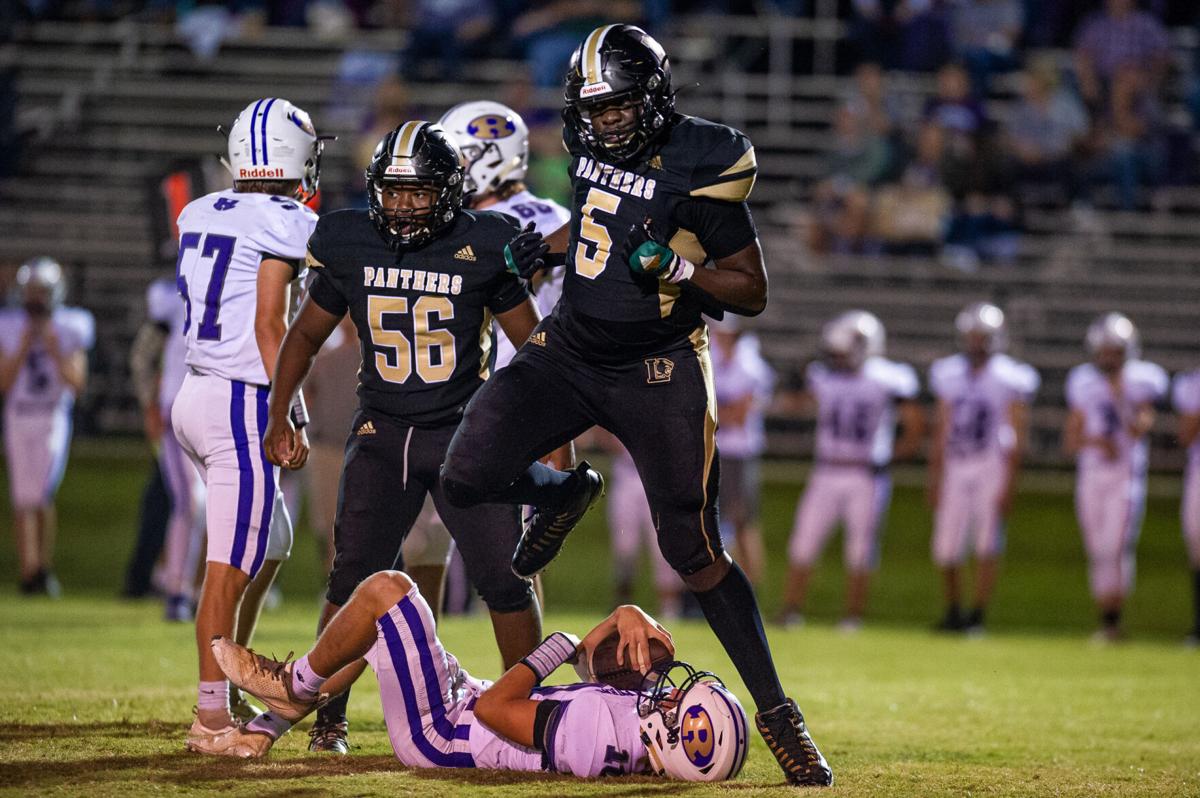 Lanett defensive lineman Caden Story will be playing college football just down the road from his hometown.
Story announced his commitment to Auburn on Sunday, choosing the Tigers over UCF. The 6-foot-4, 265-pound rising senior stands as the Tigers' eighth commit in the 2022 class and their second in the last week.
"The thing that separated [Auburn], it was just how the coaching staff – they're real exciting. There's a lot of energy, and it felt like home when I went," Story said. "I'm very excited. I'm just ready to get down there and play football. It's something I've dreamed of. I'm just ready to get to it, especially for my home state."
Story spoke highly of Auburn defensive line coach Nick Eason, saying Eason brings a lot of energy. Story explained he's bought into Eason's coaching mentality of being "demanding but not demeaning," and their relationship was an important one when Story was weighing his options.
Story is considered a four-star recruit per 247 Sports' composite ratings. Per the same metrics, he is the 10th-best player in the state of Alabama and the 30th-best defensive lineman in the 2022 class.
Caden, who grew up playing quarterback like older brothers Tre and Kristian, has only spent the last few years focusing primarily on the defensive line, but his play in 2020 was that of a veteran. He racked up big plays game after game and ended the year with 58 total tackles, 26 quarterback hurries, 18 tackles for loss and 15 sacks on a defense that only surrendered 7.8 points per game.
For Clifford Story, Caden's father and Lanett's head coach, having his youngest son on the defensive line has been monumental for the Panthers' overall play.
"Caden grew up playing a whole lot of quarterback, so it made his athleticism superior – especially at the d-line position. Now, he's got to grow into it. He's really raw," Clifford said. "You know as well as I do he has not played a lot of d-line, but he was beginning to come into his own last year as far as technique-wise, using his hands, getting off blocks and being able to track the quarterback. He has matured a lot in that area, but he has not touched near what he can be at that position. His ceiling is still really high."
One of the most intriguing parts of Caden's commitment is the family ramifications given Kristian is entering his redshirt freshman year at Alabama.
Caden said once he told Kristian he was going to Auburn his older brother simply told him to be ready. Clifford and his wife Krisse welcomed the unique experience of being on both sides of the Iron Bowl rivalry, with Clifford adding no one is picking sides once that Saturday in November arrives.
"We're not going to use the term 'house divided.' We're going to be house united," Clifford said. "I know Kristian's going to support [Caden] and he's going to support Kristian except when they play. The mom and I, we're going to stay neutral at that game. We've just got to start looking and finding stuff that we're going to be able to wear so we can support both programs.
"It's going to be interesting. It's going to be a lot of fun – especially for our family. We have large families, and it's going to be great Iron Bowls when they play."
Caden made sure to use Sunday's announcement as a chance to appreciate all the hard work, dedication and sacrifices he and his family have made to reach this moment. He also made sure the moment wasn't just about himself by honoring close friend and former Lanett teammate Quae Houston, who died one year ago Sunday.
When it comes to his future at Auburn, Caden said the Tigers will be getting a leader, a hard worker and someone who is eager to get better every single day.
As for his senior year of high school, Caden is working to ensure he goes out a champion like Kristian and the Panthers' other seniors did in 2019.
"I'm super ready and super excited to get back out there and chase another ring with my teammates for my senior year," Caden said. "That'll definitely be special."