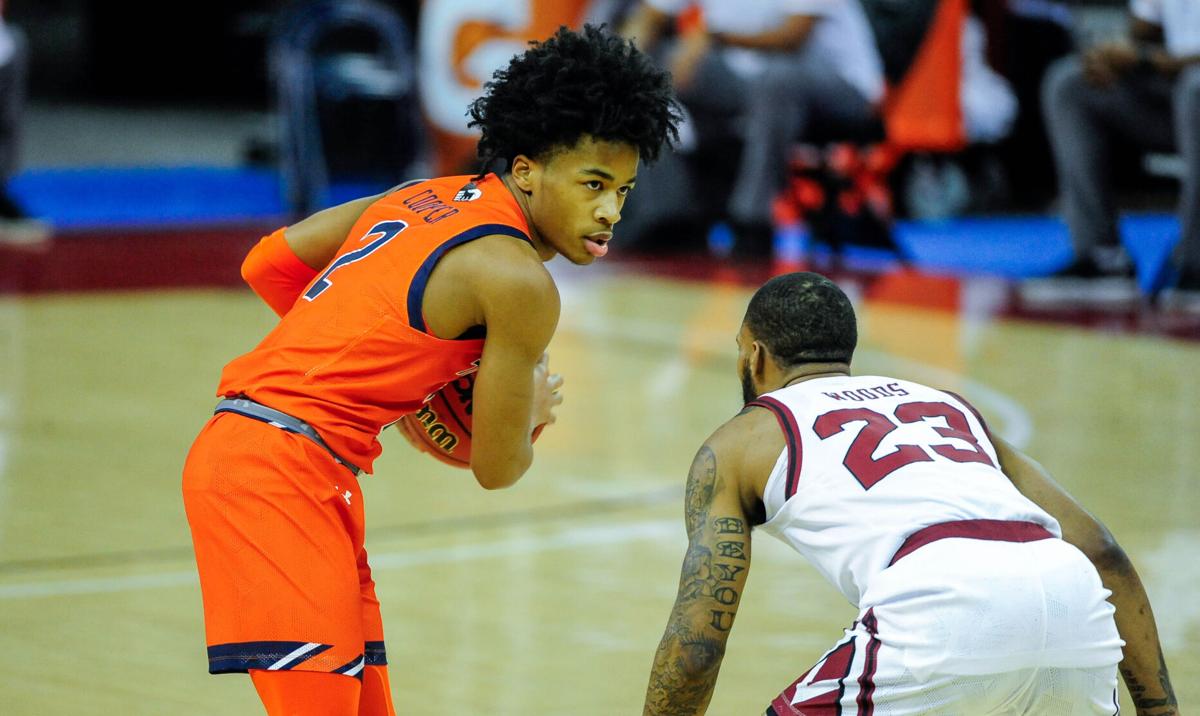 During the first half of Saturday's game against South Carolina, Auburn freshman point guard Sharife Cooper fired a pass to teammate Jaylin Williams and waited.
Williams kept the possession going by passing it off to Allen Flanigan, who promptly sent the ball to Jamal Johnson in the corner. Johnson hit Javon Franklin as he raced down the key before Franklin passed back to Williams, who faked a move toward the basket then passed toward Cooper.
Like clockwork, Cooper caught Williams' pass and fired off a 3-pointer, which swiftly hit the mark.
The possession was just a small dose of how the entire day played out for Cooper and the Tigers against the Gamecocks.
Cooper excelled in his fifth collegiate game by dropping a first-half double-double en route to a 16-point, 12-assist outing as Auburn rolled South Carolina 109-86.
It was a strong showing for Auburn overall, as the Tigers didn't have a turnover in the game's first eight-and-a-half minutes and took control as the South Carolina offense sputtered.
"There's a reason why he's the No. 1 recruit that Auburn's ever signed, right?" Auburn coach Bruce Pearl said of Cooper. "He's a very coachable person. He's very accountable."
Auburn's 109 points was the team's most in an SEC road game in program history and marked the team's most points in a game since scoring 116 against Cal State Northridge in November 2019. It was the Tigers' first SEC game with 100 points or more since beating Alabama 102-61 in February 1999.
Auburn (9-7, 3-5 SEC) and South Carolina (3-5, 1-3 SEC) were neck and neck to open Saturday's action until the Tigers got in a rhythm and the Gamecocks couldn't keep up.
The Tigers held a slim three-point lead just prior to the halfway mark of the first half when the offense took its play to the next level. Franklin and Williams delivered a pair of jumpers in a 30-second span before Franklin came through again with a fast-break dunk set up by Cooper's defensive rebound and well-timed assist.
The Gamecocks struggled as part of an 0-for-12 stretch of shots from the field, which allowed the Tigers to extend their advantage. Williams delivered an alley-oop dunk off a Cooper pass, and after South Carolina's A.J. Lawson briefly stopped the scoring surge with a free throw Johnson buried a 3-pointer to push Auburn's lead to 28-15.
Williams spoke after the victory about how important not forcing bad shots and staying patient was, especially in the first half when the Tigers built a comfortable lead.
"I was glad we were being real patient on that because you don't want no one to play iso ball and then jack up something then we're trailing in transition and they get a bucket or we foul," said Williams, who had 18 points on 8-of-12 shooting.
"Moving the ball around was big, and it saves more energy for the players so you're not attacking all the time. That was good, and they couldn't really stay in front of most of us when the ball was moving, so it was good."
Cooper played well in the opening half – and threatened briefly to drop a triple-double in the game thanks to six rebounds – but he was far from the only Tiger to impress.
Williams again asserted himself as an offensive force in the game's opening 20 minutes by scoring 14 of the Tigers' 57 first-half points, which included a 2-of-3 showing from 3-point range. Flanigan also bounced back after being limited by foul trouble against Arkansas and scored 14 points before halftime.
Flanigan, who had a career-high 24 points in the victory, explained the offense's success was much more important than what his final stat line looked like.
"It's real good to score that well, but I mean it's not about scoring; it's about getting stops and playing defense and us coming out with a win," Flanigan said.
Even though Auburn was in full control by halftime, the Tigers didn't go through the motions by any means after the break.
The Tigers stretched their lead quickly in the second half with Johnson and Flanigan putting up six points in the first minute-and-a-half after the intermission. South Carolina showed signs of life afterward with Lawson's 3-pointer, but it meant little as Auburn stretched its lead to over 20 points and only extended it from there in the time that remained.
Cooper, Flanigan and Williams were joined by Dylan Cardwell and JT Thor as the Tigers' five players who reached double-digit points. Thor finished the game with 14, while Cardwell had 10.
Auburn bounced back strong Saturday after a dismal second half against Arkansas and will look to keep it going Tuesday at home against No. 19 Missouri.
Saturday's victory was an impressive one for Auburn, and for Flanigan, the team's record-setting performance was the essence of why he and his teammates became Tigers in the first place.
"Everybody who comes to Auburn, we come here to make history," Flanigan said. "It's just being able to make history, get out here and play great. We made history tonight."