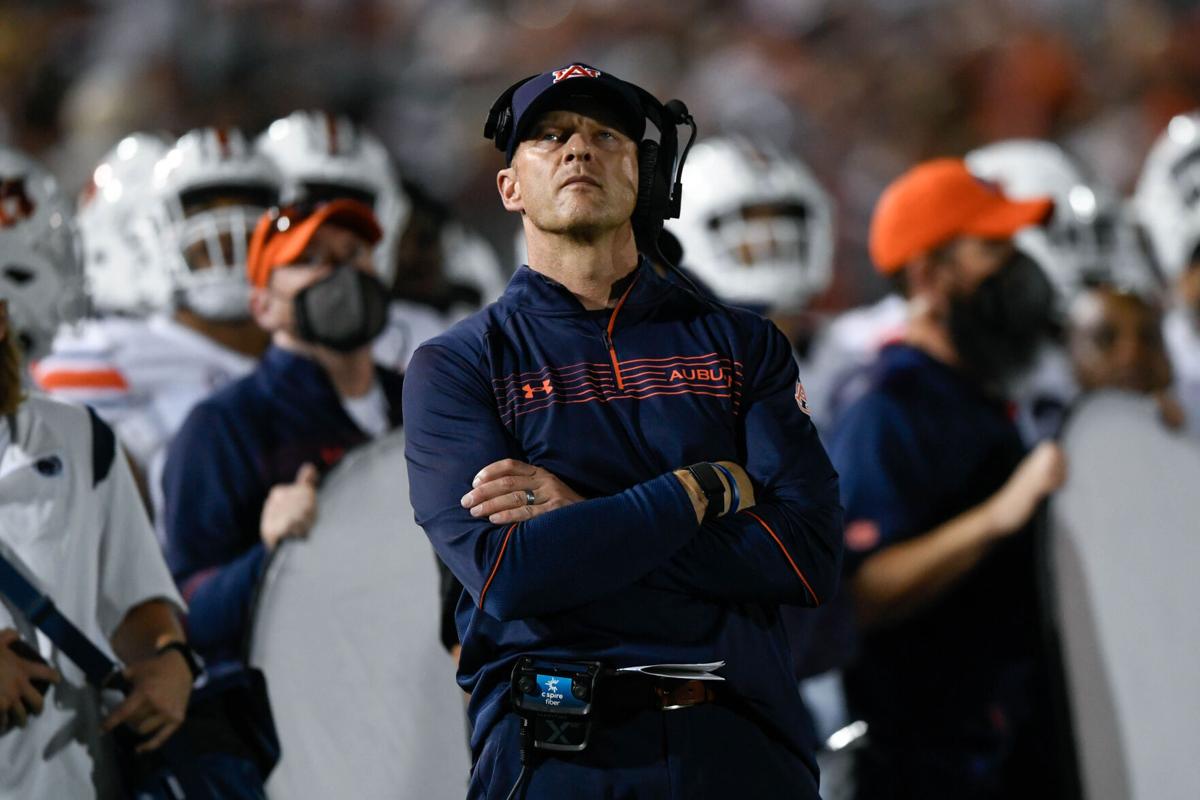 When Bryan Harsin tries to motivate his players for Saturday's game against Georgia State, the Tigers head coach can point to recent history as a reason for his team to bring their A game.
No. 23 Auburn (2-1, 0-0 SEC) is set for a face-off with Georgia State (1-2, 0-0 SBC) that has played spoiler against SEC teams before. Two years ago, the Panthers pulled an improbable upset by beating Tennessee despite being a 26-point underdog.
In Harsin's opinion, an unfocused Tigers team would likely face an opportunistic Panthers squad on Saturday.
"Georgia State is a damn good football team. They will be ready to play," Harsin said Monday. "They will come in here and they will give us their very best. If we don't prepare like that and we decide that's not as important on Tuesday or Wednesday to have ourselves ready, and then by Thursday and Friday is when we really start getting our minds right, then watch out because Saturday's going to be a tough day at the end of the day."
Harsin highlighted the Georgia State offense as one that gives its opponents a lot of problems.
Harsin spoke highly of new starting quarterback Darren Grainger, who took over the role in last week's victory over Charlotte and delivered 203 total yards and two touchdowns. The first-year Auburn coach also named Georgia State running back Destin Coates and wide receivers Jamari Thrash and Sam Pinckney as Panthers on who stood out on offense.
On defense, Harsin named linebacker Blake Carroll, nose tackle Dontae Wilson and cornerback Quavian White as players who stood out.
On the other side, Georgia State head coach Shawn Elliott acknowledged the challenge his players will face on Saturday is a sizeable one.
"They're big, they're physical, they're talented. They've got kind of the pick of the litter. They are Auburn, and just, they're athletic. It's just who they are," Elliott said Monday. "In the SEC, if you look at their interior d-line, there's some mammoth men in there. But across the board, you know, they're talented.
"I'm not going to sit here and lie: they're bigger and they're stronger and they're faster, but we're still going to go out there and push them, you know, and see what we can do."
Elliott's Panthers are coming off their biggest win of the young 2021 season, a 20-9 victory over Charlotte that saw Furman transfer Darren Grainger take over as starting quarterback. Elliott praised the junior for his play, saying he missed a couple deep shots early against the 49ers before settling in and performing well.
Saturday's game looks like ideal timing for Georgia State, which reached an early peak offensively last week after being outscored by 85 points in losses to Army and North Carolina. The Panthers don't lack for experience in facing SEC teams in high-pressure situations, though Elliott was quick to dispel the idea that past results will be helpful this time around.
The Panthers are only two years removed from their upset victory in Neyland Stadium. Even though there are multiple players from that team still at Georgia State, Elliott explained there's not much they can take away from that victory when it comes to taking on the Tigers.
"When you watched [Tennessee] on film, you see some obvious holes back then a few years back that we could go establish, and we just felt like we could play with them. That's no different if you're playing Auburn or you're playing Alabama or you're playing Charlotte, you know?" Elliott said. "We felt like we could go in there in Knoxville and knock them off, and we did. We're going to search through this Auburn bunch and see if we can find some creases in that defense and some struggles in that offense where we can control this game and see what happens.
"I don't think just because they've got a big ol' stadium right there and they like to cheer and there's going to be a little eagle fly over us, I don't think we're all going to be just shellshocked and look up there and go, 'Oh my gosh,' you know? It's a football contest, so we'll go play it just like every other football contest."