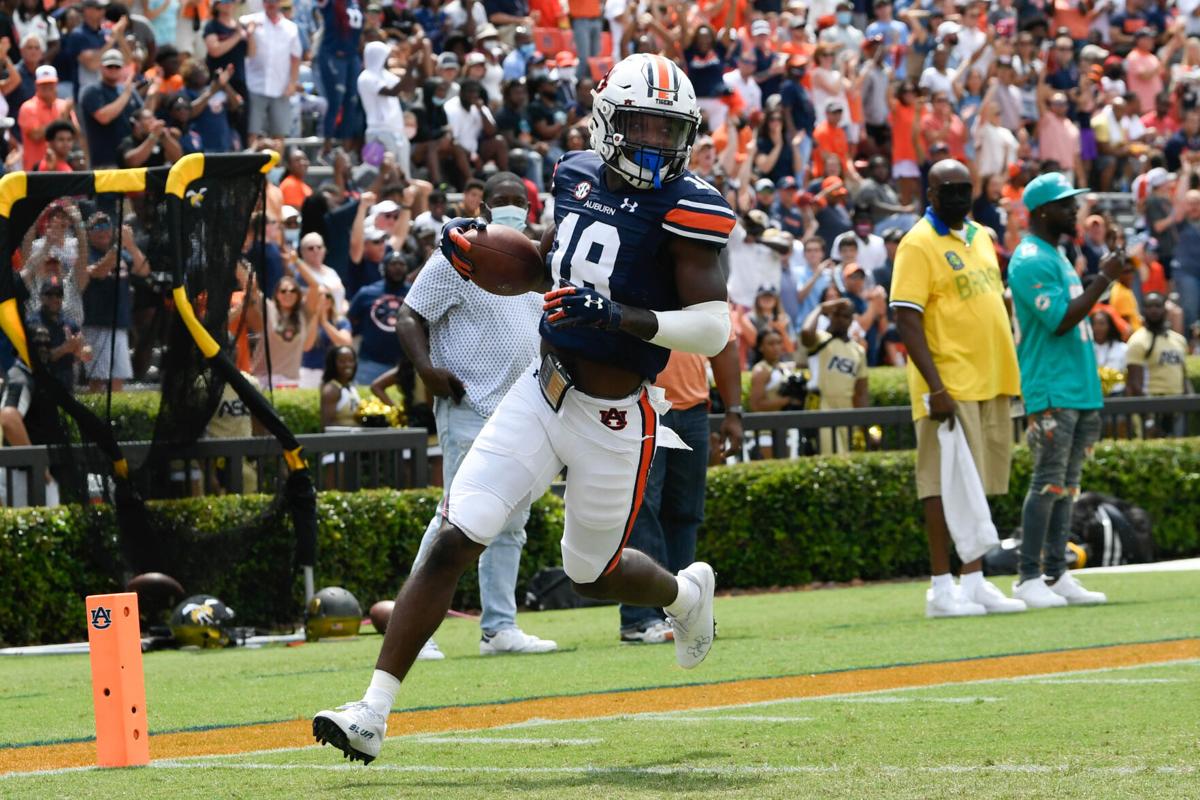 AUBURN --- While several Tigers made big plays in Saturday's victory over Alabama State, five Auburn players delivered moments they likely won't soon forget.
Five Tigers – running back Sean Jackson, wide receivers Demetris Robertson and Malcolm Johnson Jr., and cornerbacks Nehemiah Pritchett and Roger McCreary – found the end zone for the first time in their Auburn careers. Robertson's second-quarter score proved to be just the start, as he had three total touchdowns in the victory.
"It was very satisfying. I'm grateful for my opportunities, for my teammates and for the coaches putting me in these positions to help the team out," Robertson said.
As for the other four Tigers, Pritchett scored on an 80-yard blocked kick return in the second quarter; McCreary had a 35-yard pick six and Johnson scored on a 49-yard reception from TJ Finley in the third. Jackson scored on a 4-yard run in the fourth.
"That play, they did that like three times in the first quarter," McCreary said of his pick six. "The coaches, we talked about it at halftime. It was like, recognize the formation pre-snap, recognize everything. So, when the receiver did the same release like he did the first three times, that's when I knew it was going to come the same distance and everything."
Auburn missing three players in victory
Auburn running back Shaun Shivers, receiver Ja'Varrius Johnson and cornerback Jaylin Simpson did not play against Alabama State. Shivers was not seen during pregame warm-ups, while Johnson and Simpson were on hand but were in street clothes.
Shivers, a senior, entered the season as the Tigers' No. 2 running back behind sophomore Tank Bigsby. Shivers rushed for 24 yards and one touchdown and also had 19-yard touchdown reception in the team's season-opening victory over Akron on Sept. 4.
Auburn true freshman Jarquez Hunter stepped in as the team's No. 2 tailback and rushed for 147 yards and one touchdown.
Johnson was one of the breakout players during spring practice and followed that up with a strong fall camp that cemented him as the team's starting "H' receiver. He had three receptions for 51 yards and also served as the team's starting punt returner against Akron.
Sophomore Kobe Hudson started in Johnson's place and had two receptions for 14 yards.
Simpson played in Auburn's season opener but limped off the field during the first half of the 60-10 victory.
Bigsby breaks 1,000 yards
While Auburn running back Tank Bigsby is only in his second season, the sophomore has delivered a number of big plays.
Those big plays have allowed him to generate a lot of yards, which culminated in him passing a significant career mark Saturday.
Bigsby surpassed the 1,000-yard career rushing mark in the second quarter of Auburn's victory Saturday. He became the 48th player in program history to reach or surpass that mark.
Bigsby ended the afternoon with 122 rushing yards to leave him with 1,075 career yards in a little over one season. It also marked his second straight game in which he's eclipsed 100 rushing yards.
Council avoids injury scare
Auburn left guard Brandon Council avoided an injury scare on Saturday.
Council left the game Saturday with 5:04 remaining in the first half after sustaining an apparent right leg injury. Council headed to the sideline and was briefly examined in the Tigers' medical tent, and after sitting out a few drives he returned before halftime.
Fellow senior Alec Jackson filled in for Council during his absence.