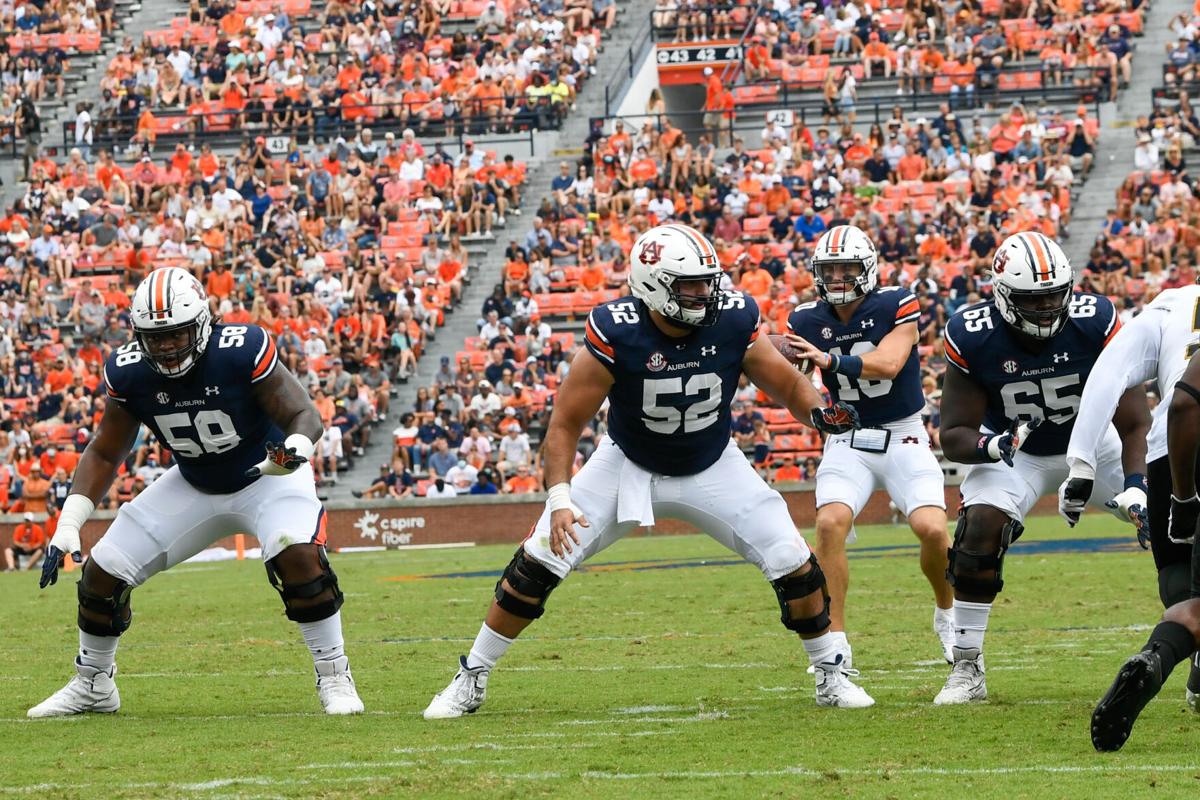 AUBURN—Through two games, the Auburn offensive line has held its own and set the path for the Tigers to be the top-scoring offense in the nation.
If the Tigers are able to have even somewhat similar success this week, it won't come without another solid showing from the big men up front.
Auburn's starting line of left tackle Austin Troxell, left guard Brandon Council, center Nick Brahms, right guard Keiondre Jones and right tackle Brodarious Hamm held up well through two weeks and opened the door for the Tigers' offense to compile 680 rushing yards and 471 passing yards in blowout victories over Akron and Alabama State.
Brahms applauded his unit's work so far this season, though he pointed out how the competition level is about to reach a entirely different level.
"As an offensive line, I feel like we had two tune-up games I felt like that were against really good opponents," Brahms said Tuesday. "The real test comes this week with our offensive line and being in a loud stadium like that and making sure everybody's on the same page."
While Auburn head coach Bryan Harsin said on Monday he was pleased with how the line has come together to start the season, he understands there's still room for improvement.
"I think the O-line has done a good job. I think they've been solid. I think we've improved in some areas. I think we need to continue to be consistent," Harsin said.
"There's still one or two guys in there we need to lock in even more and get a little bit better so we can be stronger with those five. And then the seven guys that kind of rotate in and out, and we can be really strong with those seven guys.
"We're developing that really each and every day. I think we've improved. This week is another opportunity for them to keep developing and hopefully shining when we get a chance to go out there and play Saturday."
The line's consistent play to start the season has opened the door for relative balance given the circumstances.
Auburn has run the ball 71 times through two games compared to 45 pass attempts, though that number is a bit misleading. Auburn only ran five more times (32) than it passed against Akron, and Auburn's 17 carries compared to one pass attempt in the fourth quarter of the Alabama State game certainly tipped the scales further on the run side than had the game been more competitive.
With the line holding its own, Auburn has averaged 9.58 yards per carry – the best average in the country – and only allowed one sack so far.
That effective play, of course, came against a MAC team and a SWAC team, which aren't quite to the level of the Big Ten squad that awaits the Tigers on Saturday.
Harsin commended Penn State's defensive front and said the Nittany Lions do a very good job. He spoke highly of the team's linebackers – a position that has traditionally been a strength for Penn State – and added their defensive line plays hard.
The Nittany Lions don't lack for production among a defense that held Wisconsin to 10 points then surrendered 13 to Ball State one week later. Junior linebacker Ellis Brooks leads Penn State with 15 tackles this season, and on the line defensive end Arnold Ebiketie has registered 11 tackles, three tackles for loss and one sack.
As a defense, Penn State is tied for third in the Big Ten by forcing five turnovers through two games.
Brahms said communication will be an important key to the line's success Saturday. The senior center explained the communication between the linemen – especially the interior players – has been good so far and the area he is looking to improve will be communicating with the quarterback and the running back.
That challenge will be especially difficult given the 106,572-person capacity crowd that will flood into Beaver Stadium on Saturday night.
Harsin acknowledged the threat the Nittany Lions will present on Saturday and explained the Penn State coaches create challenges schematically with their defensive front. The first-year coach said his offensive linemen understand what awaits them in State College, and he knows it will take a total team effort for the group to be adequately prepared.
"We need a great look from our scout team," Harsin said. "The guys that are on the scout team and all that, they can't go out there and be lazy and give us cruddy looks and not go hard and not care about their importance of getting our offensive line ready."