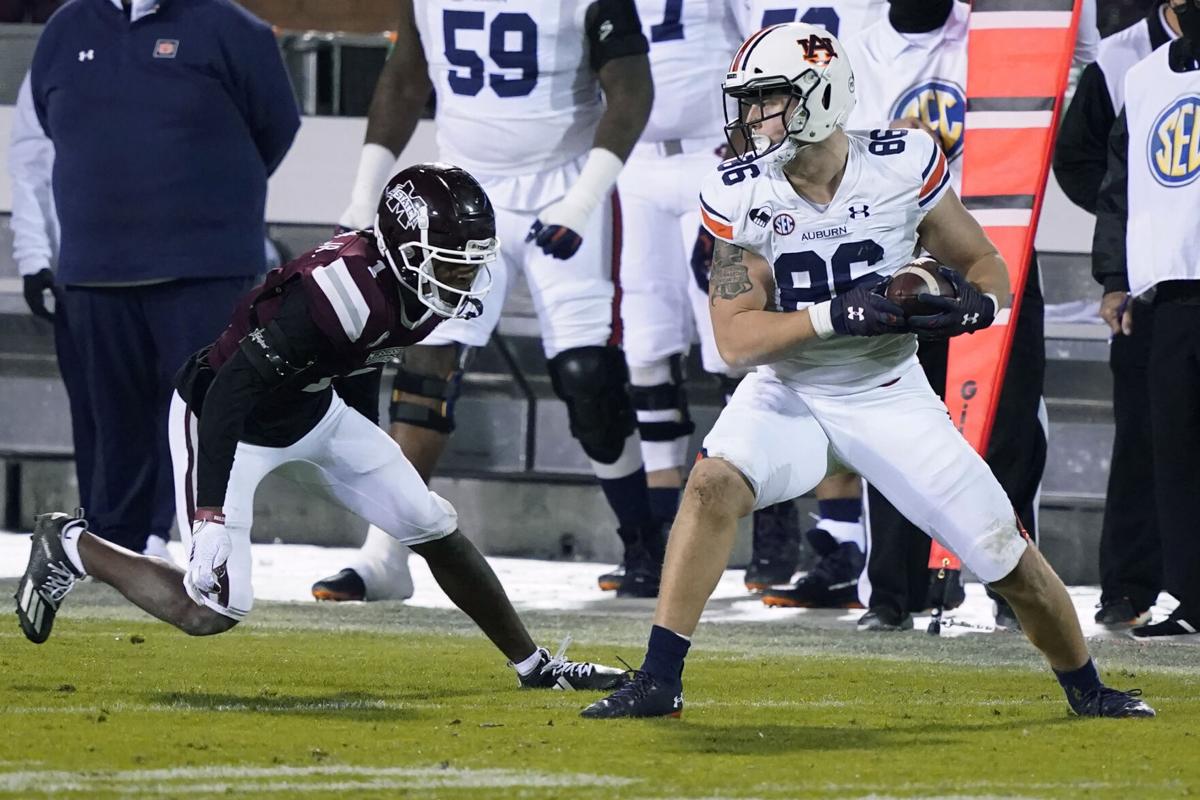 AUBURN—When it comes to the Auburn offense this spring, it's a whole new world for rising sophomore Luke Deal and his fellow tight ends.
Deal was among the Auburn tight ends who were used sparingly in the passing game in 2020 – Deal only had two receptions for 11 yards – but appear likely to play bigger roles with the arrivals of head coach Bryan Harsin and offensive coordinator Mike Bobo.
The change of pace is a welcomed one for Deal, who understands he has to work diligently in order to adjust but is willing to do everything he can to make it happen.
"It's definitely different," Deal said on Monday. "We're all having a good time right now. It's definitely difficult. It's more of a pro-style offense, and we're having to learn a lot of different things which was — early on it was tough. We're starting to get used to things. Now it's a little more fun and a little more advanced, and we're enjoying it. We're a big part of the offense right now, so that's something that everybody's looking forward to for this season."
Deal is part of what promises to be a deep group at tight end for the Tigers even after rising sophomore JJ Pegues moved to defensive tackle.
Rising senior John Samuel Shenker has had limited work this spring since he also plays on the Tigers' baseball team, but Deal said the team sees him about once a week and that both of them want to be leaders at the position. Rising sophomore Tyler Fromm has turned heads this winter – and even got some looks at first-team tight end in some early practices – leading Deal to credit Fromm for his commitment to the weight room and for the way he fit into the offense.
Brandon Frazier was the other true freshman tight end alongside Pegues last season. Deal shared that his 6-foot-7 teammate is thriving in the new offense and has improved his physicality along with his work with his hands and feet.
Then there's true freshman Landen King, who is one of the team's five early enrollees this spring. Deal commended King for how he's handled the initial shock that all freshmen face when they reach the college level and said he was proud of how King has taken in all the information thrown his way.
"The whole tight end group, we're excited to be in a physical, downhill offense, and it kind of fits us better," Deal said.
As for Deal, he said his main focus this spring is developing into a full tight end after spending last year more concerned with improving his blocking and his physicality. He said one of his primary goals is to get a little faster every day this spring, and he added the competition at the position helps drive him on a daily basis.
Deal and the other tight ends were just a few of numerous Auburn players who are learning under a new position coach this spring, but Deal had nothing but positives to say about former Boise State assistant Brad Bedell.
Deal explained Bedell is energetic but more importantly has carefully engrained every aspect of their responsibilities and their techniques into the players. Bedell is in his first year as a tight ends coach – the former NFL offensive tackle previously coached offensive line – but Deal praised his approach and added that it's been a good match given Bedell's energy and coaching style.
Deal and his fellow tight ends are going to be asked to take on new roles in Bobo's offense – including playing fullback from time to time – but Deal sounded nothing but excited about the challenge. Deal explained he has limited experience with playing tight end in this kind of offense but that the keys are to be physical, let loose and just play.
Auburn's tight ends have practically been a missing piece in the passing game the last few years, but the coaching staff overhaul opens the door for that to change. Deal is among the people who see it happening, and for him the chance to show out in a new way is a welcomed sight.
"It's a pro-style offense, and with pro-style offenses what you're going to get is a downhill, physical run game, and off of that you're going to get explosive passes. So everything kind of sets up everything, which is really cool – especially for a hybrid-type player like a tight end," Deal said. "I think we're really thriving in that part of the offense, and we're excited about it."