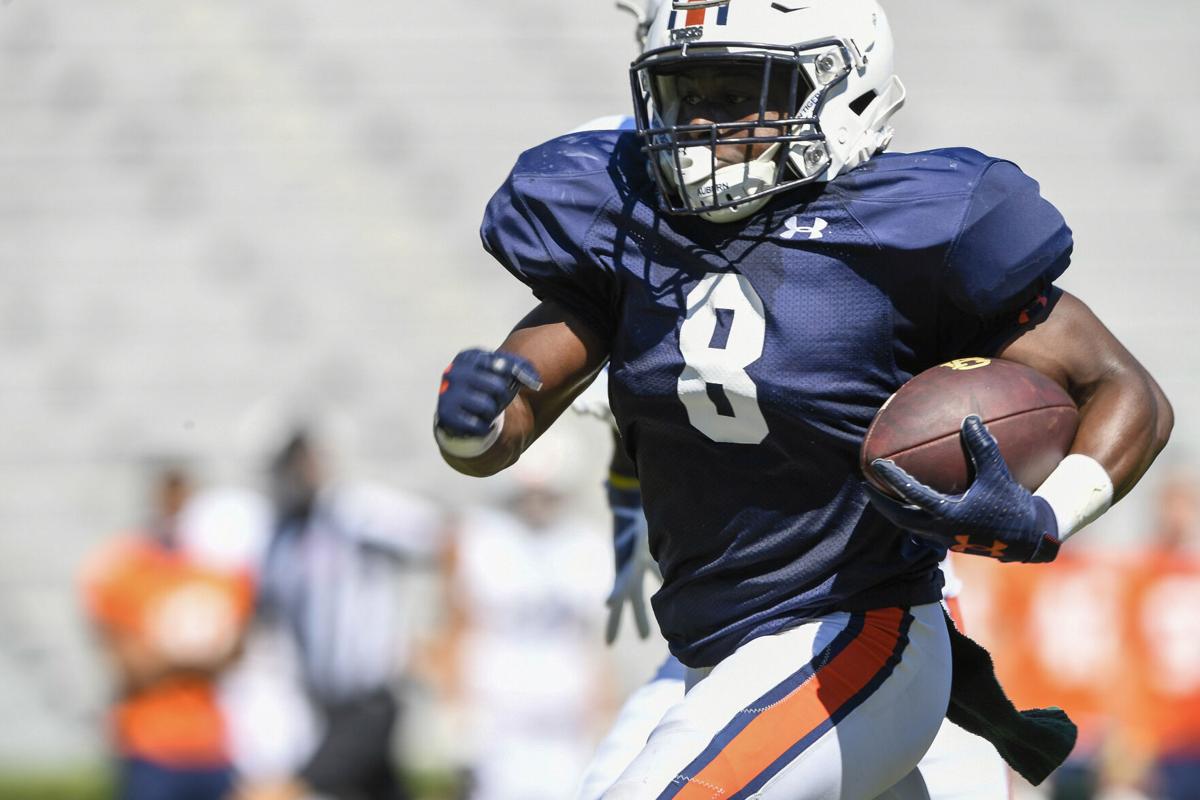 AUBURN - Chad Morris looked like a natural fit back out there on the sidelines.
Morris clapped his hands, barked coaching, celebrated touchdowns and surely smiled behind his face mask during Auburn football's scrimmage in Jordan-Hare Stadium last Saturday — now standing less than three weeks away from his debut as the Tigers' offensive coordinator in the same stadium.
It won't be full up to capacity like Morris might have expected when he first signed on with Auburn last December. Really, nothing's gone exactly as planned for Morris in the last few years. Even without the coronavirus, the fact that he's here and he's back as an assistant in coaching isn't something he would have predicted just a few seasons ago.
But out on the field, the man who has gone from rising star to down-on-his-luck now simply seems like a football coach again, in videos released by Auburn from the team's closed practices in the bubble, and the Auburn players are plenty glad to have him at work.
"Let's go do this, man," Morris says, excitedly smacking a player's helmet in a video Auburn posted to social media. "Let's go have some fun today."
Then in another moment he's fired up — shouting "Hit it, Worm! Let's go, Worm!" — during Shaun Shivers' long touchdown during the scrimmage.
No microphone was needed on Shivers to know he was having just as good of a time.
"It's everything about an offense that I like," Shivers said in a virtual press conference back in August, when he was first starting camp under Morris. This was back even before that touchdown, but proof Shivers saw good times coming.
"Basically: Get your playmakers the football, and it's explosive plays," he said. "That's what Auburn does. We're here for explosive plays and to get the playmakers the football."
All Auburn's press conferences have been conducted through Zoom, and, as expected during the coronavirus pandemic, practices have been closed to the media as a way to limit non-essential contact.
But the words coming out camp have been excited ones — and what has been seen from Morris depicts a coach in his element again at work.
"I feel like we're a completely different offense," receiver Anthony Schwartz said last week, with a smile. "I can't go into detail, but it's not going to be a normal Auburn offense. It's going to be something different."
Auburn opens the season Sept. 26 against Kentucky at home.
The school has announced that current students only will be permitted in the general seating area, with attendance limited for fear of spreading COVID-19.
Due to the virus, Auburn and teams across the country missed spring practice, making workouts crucial to preparation — especially contact scrimmages like Auburn's last Saturday, and especially at places like Auburn welcoming new coaches like Morris.
Auburn plans to scrimmage again next Saturday.
"It's very important, especially after missing a whole spring," Schwartz said of getting those live repetitions. "It's hard to just say what we missed. If we had a spring, I feel like it would be kind of easier for us, but now it's important to just go hard and do as much as we can and do as many reps as we can so we're able to come out that first game guns blazing."
'Guns blazing' would get Morris and the Tigers excited in Jordan-Hare all over again.
Be the first to know
Get local news delivered to your inbox!