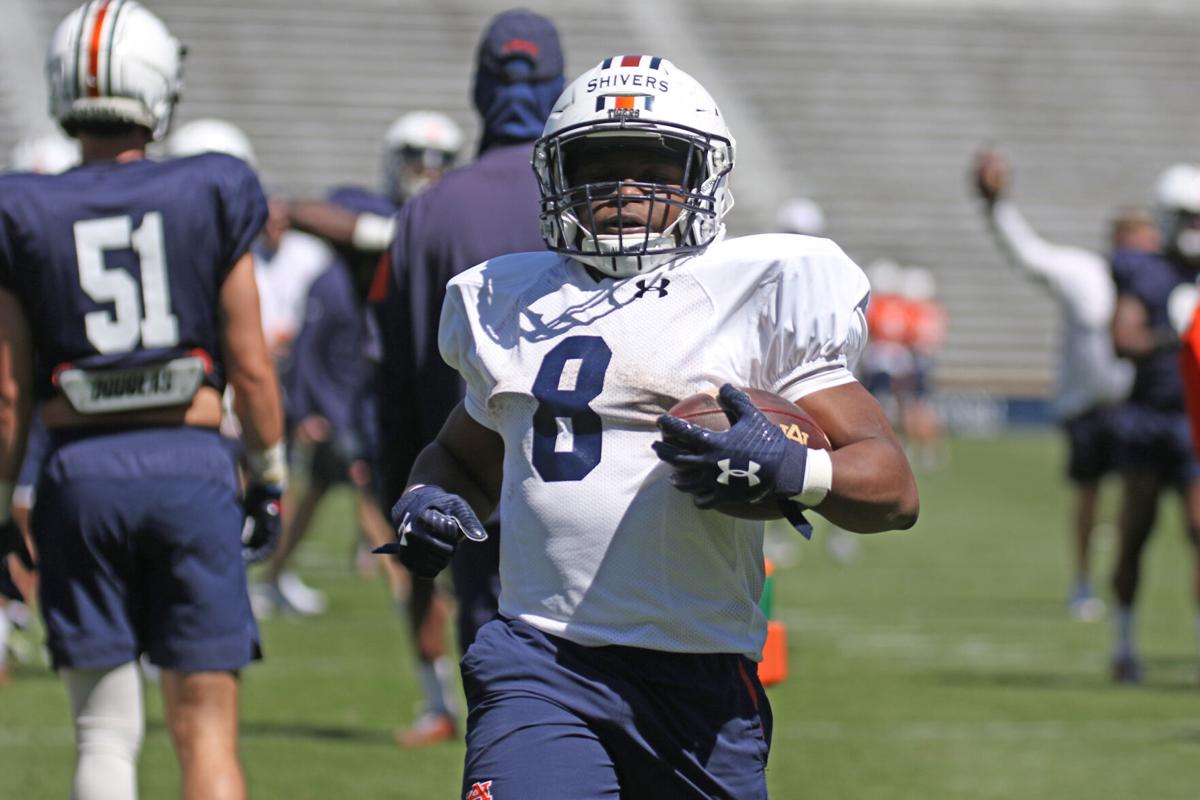 AUBURN—Saturday's spring practice for the Auburn Tigers offered a truly unique experience for the team and their fanbase.
The Tigers held an open practice in Jordan-Hare Stadium for a crowd of roughly 3,500 on Saturday, which marked the first time Auburn has held an open spring practice since 2007. The afternoon's session stood as the Tigers' third spring practice so far — one practice was canceled earlier this week due to weather — and offered the fans a glimpse at what the Tigers are working with this season.
Above all else, Auburn head coach Bryan Harsin said the idea of the open practice was to allow the fanbase to get a closer look at the team and the new coaching staff.
"There really hasn't been a lot that we've been able to do to get out in the community. If you think about it, as this transition came about, we have a new staff, a lot of people that are new faces, we haven't had a chance to really get out and do anything," Harsin said.
"Talking with some of the guys on our staff, [chief of staff] Brad Larrondo and some other people the idea. But we've done this before, an open practice, and this was the time to do it.
"This was a chance for us to be able to get people out, get around our players, get around people in our community — which we haven't had a chance to do — let them see some of the coaches, some of the new faces and just really show an appreciation."
Saturday's practice featured 19 different periods during which the players moved throughout the field and between individual drills and sessions alongside their teammates. There was plenty of moments that drew considerable fan reaction throughout the day — including when sophomore running back Tank Bigsby took a carry for a big run to his left — and there were performances that undoubtedly made impressions for the onlookers with the Tigers' A-Day scrimmage less than one month away.
Saturday gave Harsin and his staff another valuable barometer on the team as a whole, but he realizes as much as anyone else that Auburn is still only getting started.
"We've got to execute the plan, and I would say right now that's solid, but we're working on it every day. It's still something we haven't done to our standard yet," Harsin said.
"We'll just keep building, and we'll go back and evaluate what do we do as a staff, what do we do as a team? Are we making the type of progress that we're hoping for, or what are the mistakes we're making and how do we fix them? But overall, solid for our guys and our coaches right now."
Saturday's various drills gave those in attendance a look at the possible depth chart as the spring game draws closer, and on the whole there weren't too many surprises.
Auburn's first-string offensive line looked much like it did last season: left tackle Alec Jackson, left guard Tashawn Manning, center Nick Brahms, right guard Keiondre Jones and right tackle Brodarious Hamm. The second-string working behind them through the early positional drills was left tackle Austin Troxell, left guard Tate Johnson, center Jalil Irvin, right guard Kameron Stutts and right tackle Brenden Coffey.
Auburn's early offensive sets featured the first-string line, junior quarterback Bo Nix and sophomore running back Tank Bigsby. The Tigers worked with two tight ends in sophomores J.J. Pegues and Brandon Frazier and two wide receivers in sophomores Kobe Hudson and Elijah Canion.
Defensively, the Tigers operated out of a 3-4 front with the first team consisting of Colby Wooden, Jeremiah Wright and Tyrone Truesdell on the line; Derick Hall, Owen Pappoe, Zakoby McClain and TD Moultry in the second level; Roger McCreary and Jaylin Simpson at cornerback and Smoke Monday and Ladarius Tennison manning the two safety spots.
On Monday, Harsin rattled off seven players — offensive guard Brandon Council, wide receivers ZeVian Capers and Shedrick Jackson, linebacker Desmond Tisdol, cornerback Marco Domio and safeties Zion Puckett and Ahmari Harvey — who were banged up and at the very least limited entering the first full week of practice.
Although some were more limited than others, all seven were at least at Saturday's practice.