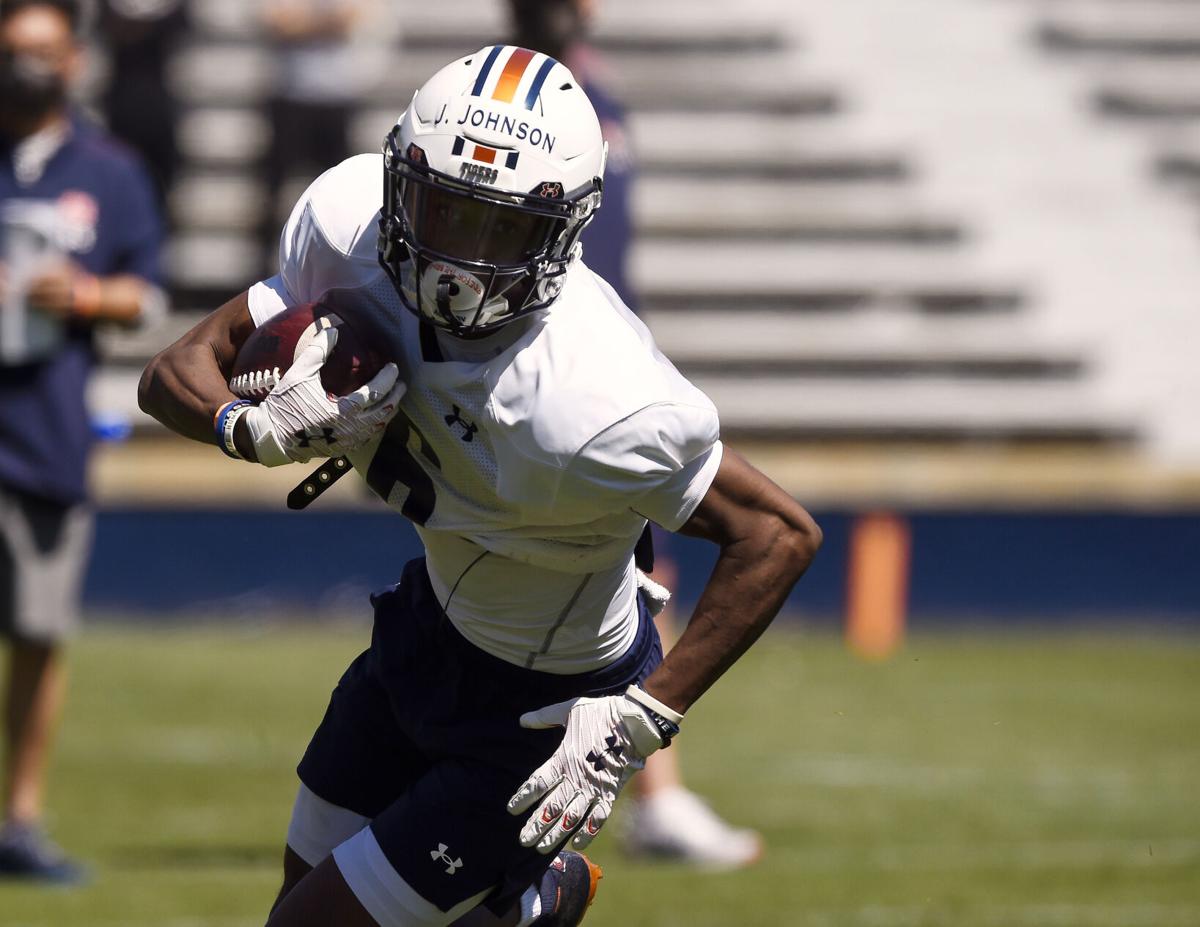 AUBURN —- After Auburn's top three pass-catchers from 2020 decided to leave for the NFL, it was apparent the door was open for a less-heralded wide receiver to seize the moment and earn more playing time.
It's still early in spring practice, but sophomore wide receiver Ja'Varrius Johnson seems primed to be that player.
Johnson, a 5-foot-10, 159-pound player from Trussville, entered the year having played in only one game during his first two seasons with the Tigers but is already making an impression with the new Auburn coaching staff. Johnson handled first-team slot receiver duties during Thursday's practice – fellow sophomores Kobe Hudson and Elijah Canion were lined up out wide – and also fielded a few punts as he works to potentially be the Tigers' punt returner, too.
Johnson has a long way to go before the season opener on Sept. 4 arrives, but head coach Bryan Harsin has been impressed by what he's seen from No. 6 on offense.
"I think Ja'Varrius has done a good job. He's been one of the more consistent players day in and day out just as far as his execution, his preparation," Harsin said after Thursday's practice. "He's played faster and he's done it more consistently. His execution today, I think there were a few plays he was in on – I don't know if it was on him necessarily – if he lined up or was misaligned.
"We had a few things in there with the group he was in on and several other players at that position where our alignment and assignments need to improve."
The start of Johnson's career has been one hampered by early injuries and the challenge of a loaded depth chart.
A former-four star wide receiver from Hewitt-Trussville High School, Johnson was limited in 2019 due to a sports hernia and did not appear in any games that fall. His 2020 season saw him avoid health issues but struggle to break out among a talented receiving corps featuring upperclassmen Seth Williams, Anthony Schwartz and Eli Stove.
Johnson ended last season having only played in Auburn's showdown with Georgia on Oct. 3. He did not accrue any stats in the game.
As disappointing as Johnson's first two years at Auburn might have been, this spring has provided plenty of opportunities that Johnson appears set on making the most of.
Johnson's path for playing time was made considerably easier after Williams, Schwartz and Stove decided to enter the NFL Draft, and the team's offseason coaching change meant all positions were likely up for grabs. Several of Auburn's receivers have also started the spring in limited capacity, as Shedrick Jackson, Ze'Vian Capers and JJ Evans are all dealing with injuries at the end of the first week of practice.
Auburn offensive coordinator Mike Bobo talked up Johnson's early efforts during a media session on Monday.
"Day 2 and 3 [of practice], he showed up. The bottom line is that you get out there, you notice guys on tape – are they coming off the ball, creating space making plays?" Bobo said. "He has made plays for two days. His ability to get off the ball with speed and urgency has put pressure on the defense."
Harsin explained one of the big draws of playing Johnson is how he doesn't seem to let up no matter how long he's out on the field.
"We get into a team drill of 7-on-7 or whatever it is, and you see a guy that can still come off the ball. After that time in practice, that last team period comes in there and the guy is still getting off the ball," Harsin said. "He's still exploding off the ball. He's still getting vertical or doing what he has to do at the right tempo and with the right urgency. And I've seen that from him. He seems to be one of the more consistent guys that does that."
Johnson's talent was apparent during his high school days, but through two years of injuries and a lack of playing time has prevented him from proving himself. This spring, however, has given him a window to show what he can bring to a receiving corps that desperate needs players to step up, and his work may even earn him a valuable role in special teams.
Harsin understood the Tigers have plenty of work to accomplish this spring – Auburn has nine practices left including the A-Day scrimmage on April 17 – but he didn't hesitate to praise what Johnson has done so far. He stressed the importance of receivers lining up properly, exploding off the ball, being physical while blocking on run plays and being electric while out running routes, which are all aspects Johnson brings to the table.
Johnson is still proving himself to Harsin and the Tigers' assistant coaches, but it's been so far, so good for the sophomore.
"We'll find out kind of what that looks like after today, but up to this point I've seen that from him. He's made some plays in practice," Harsin said.