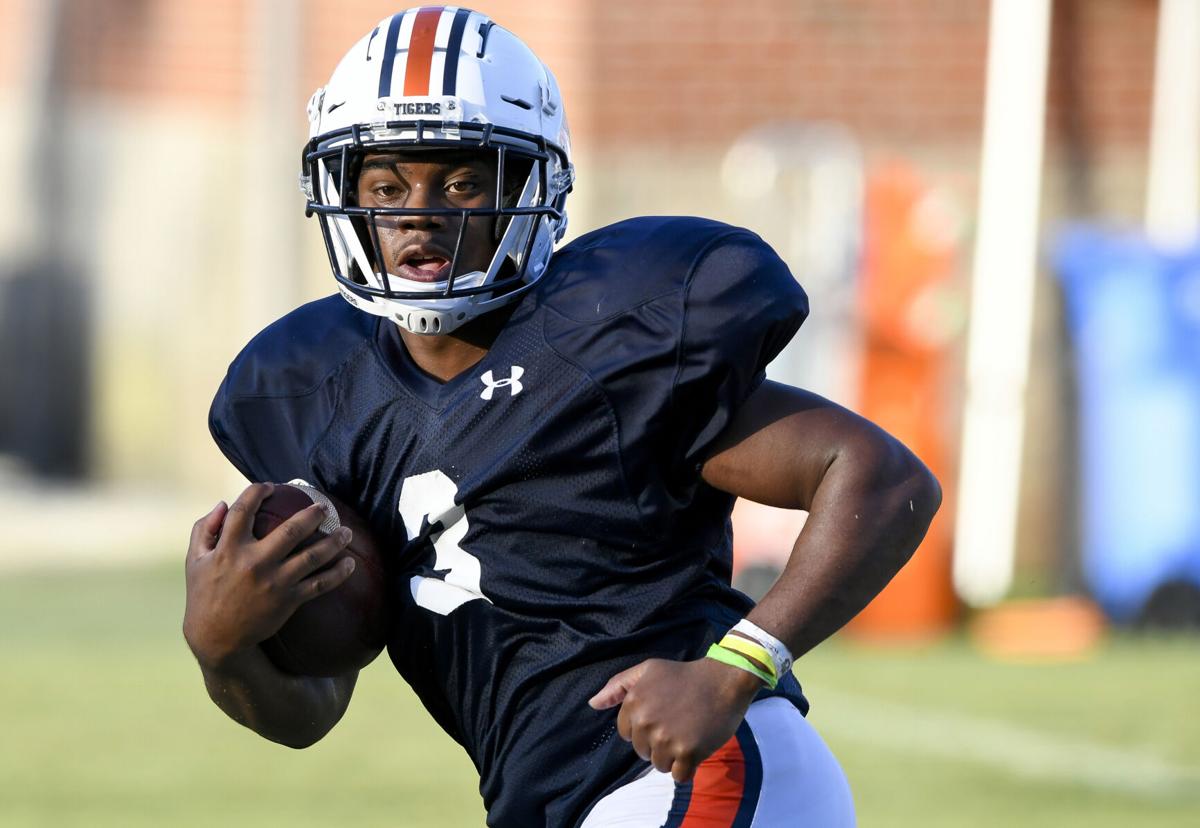 It wasn't the size of the players or the speed of the game that first came to mind for D.J. Williams, when he thought back to his adjustment to college football last fall.
It wasn't even the fact that he was playing a different position, after the former quarterback in high school stepped into the backfield as a running back at Auburn.
There are physical strains and mental tests that hit any freshman jumping into SEC football in their rookie year, but Williams seemed fine with all those.
Instead, it was something different.
Instead, it was the butterflies.
"Really, I'm just looking forward to calming down," Williams said with a shrug during a virtual press conference Wednesday. "My freshman year it was a lot of jitters and stuff like that — but just calming down and just running the ball."
Williams was asked about how he is better prepared for his second season on campus as opposed to his first. He said he feels like he has improved "tremendously."
The word is just about the same coming from teammates and coaches from inside the Auburn practice bubble. Williams showed flashes of breakout potential last season as a freshman behind JaTarvious Whitlow, but this year figures to be on even footing with the rest in Auburn's stable of backs bent on taking carries once kickoff comes.
Auburn offensive coordinator Chad Morris has said he thinks the Tigers need four dependable running backs to get through the grind of 10 SEC games, and for their part, Williams said the running backs are all excited to contribute in their own ways.
"I think we're all pretty valuable," Williams explained. "Everybody has their own style."
There's speedster junior Shaun Shivers, touted freshman Tank Bigsby, sophomore Mark-Antony Richards who is now back at full speed, and junior Harold Joiner who has shown versatility catching passes out of the backfield.
Williams broke loose last year in the LSU game, rolling up 130 yards with the help of a long 70-yard dash against the eventual national champions.
"Of course, I feel like my style is more downhill," Williams went on. "You know, Worm (Shivers), he gets on the outside and he is gone. Tank is the same way, but he can also run inside. I feel like Mark's the same way too. He can run inside and he also has speed too. And Harold, he can catch out of the backfield so it's pretty good.
Williams missed part of preseason practice but is practicing with the team now and he says he's at full speed.
Auburn kicks off the season Sept. 26 against Kentucky at home.
Be the first to know
Get local news delivered to your inbox!