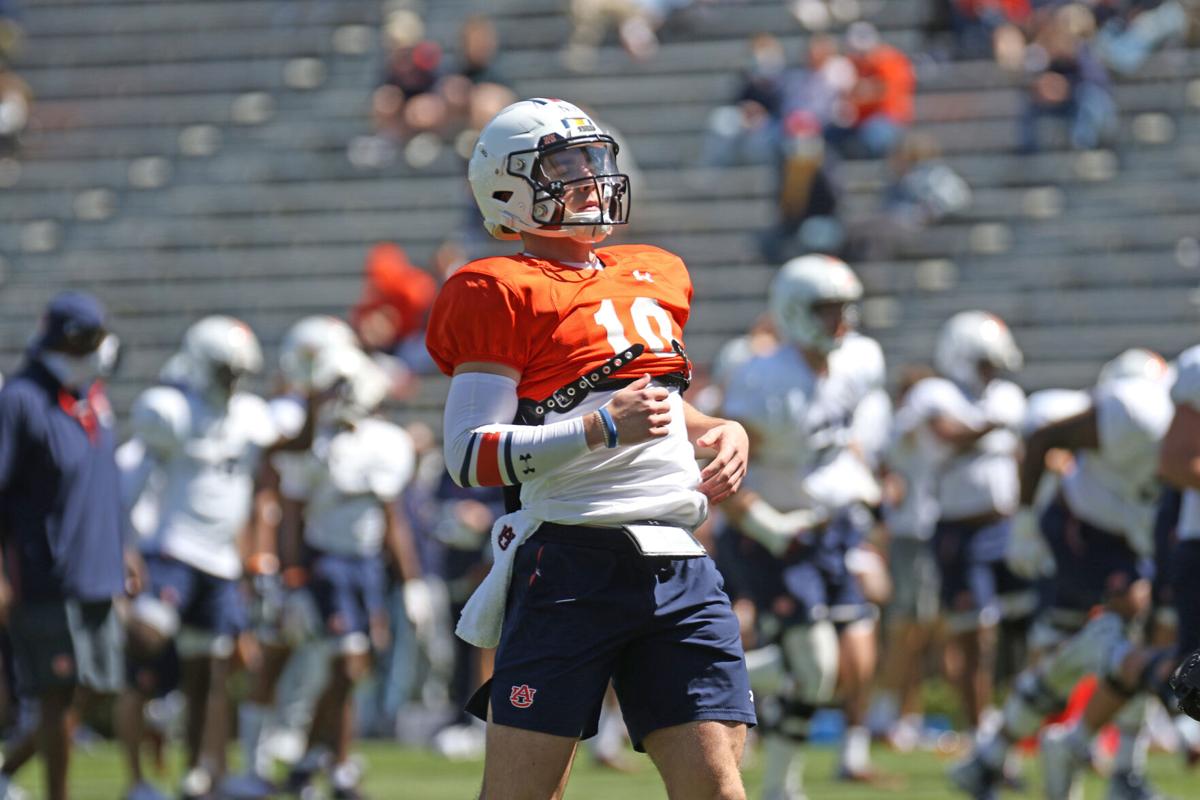 AUBURN —- Auburn quarterback Bo Nix and head coach Bryan Harsin are still getting to know each other during their first spring together, but in the last two weeks both gave nearly identical answers on a very important topic.
Nix's development has been one of the primary concerns for Auburn during spring practice, and Harsin and offensive coordinator Mike Bobo's backgrounds playing and coaching the quarterback position undoubtedly made the head coach-play caller an attractive pairing.
Nix and Harsin were asked over a series of days about what aspects of the game Nix needs to concentrate on the most, and both the quarterback and his head coach explained there's no shortage of ways Nix can up his game.
"Obviously, as a quarterback and as a competitor, really everything," Nix said on March 17. "Every part of my game I want to get better. I want to be consistent, especially from the pocket. Gauging my receivers … getting on the same page as those guys, sticking in the pocket and making throws."
"I feel like this spring is going to be really good because last year we didn't have one. So this year, there's extra practice time to sharpen some things like feet – having quick feet – and just the little things that play a part in playing quarterback."
"For the quarterback, it's everything, A to Z," Harsin said on Thursday about Nix. "That's the point of focus for him. Nothing in particular, everything in general; that's really what it is at the quarterback position. So, from the time you start a team meeting and how you go into your position meeting, and how you prepare and take notes and what you do, or when you leave that position meeting and get on the field, how you warm up, how you start practice, how you operate through practice, how you get through drills, team, seven-on-seven, finish practice — all those things.
"That's just the quarterback position, every single day."
Harsin explained all those aspects of Nix's game are being considered by Bobo, who's spent 15 years as an assistant coach in the SEC along with five years as the head coach at Colorado State.
Bobo lauded the early work by Nix, saying the junior is controlling what he can control in order to make 2021 his most productive season yet. The first-year Auburn offensive coordinator said Nix is making it a point to clean up his footwork – which has been a recurring issue in his first two years with the Tigers – as well as managing his progressions and making on-time passes.
Bobo is just getting started with Nix, but the veteran assistant coach has liked what he's seen from his athletic quarterback through the early portion of spring ball.
"I've been really proud with how he's worked and how he's progressed," Bobo said Monday. "We've only had three practices, but I can truly say he's come in every day and tried to get a little bit better every single day."
Nix and the Tigers went through their first scrimmage Thursday, and Harsin sounded pleased with how his presumptive starting quarterback handled it. He said the Auburn offense had a couple turnovers during the scrimmage but noted they weren't committed by Nix, which was another notable plus after Bobo said Nix has handled going under center better than any of the Tigers' other quarterbacks.
Nix's consistency has been a looming issue since he arrived at Auburn, and now the Tigers have him surrounded by two coaches who can lead his position as well as anyone. There have been early positives from Nix so far this spring, but in Harsin's mind there's even more for Nix to get done in the weeks ahead.
"Bo was good. Bo operated the offense and did that well (Thursday)," Harsin said. "Plenty of things at that position with him and everybody else that we've got to continue to keep developing and focusing on. It just goes back to preparation. How much have you prepared? How much of that preparation can you go out and put in practice? Especially at the quarterback position, you apply it by putting yourself, really, in that mindset of the game at practice."