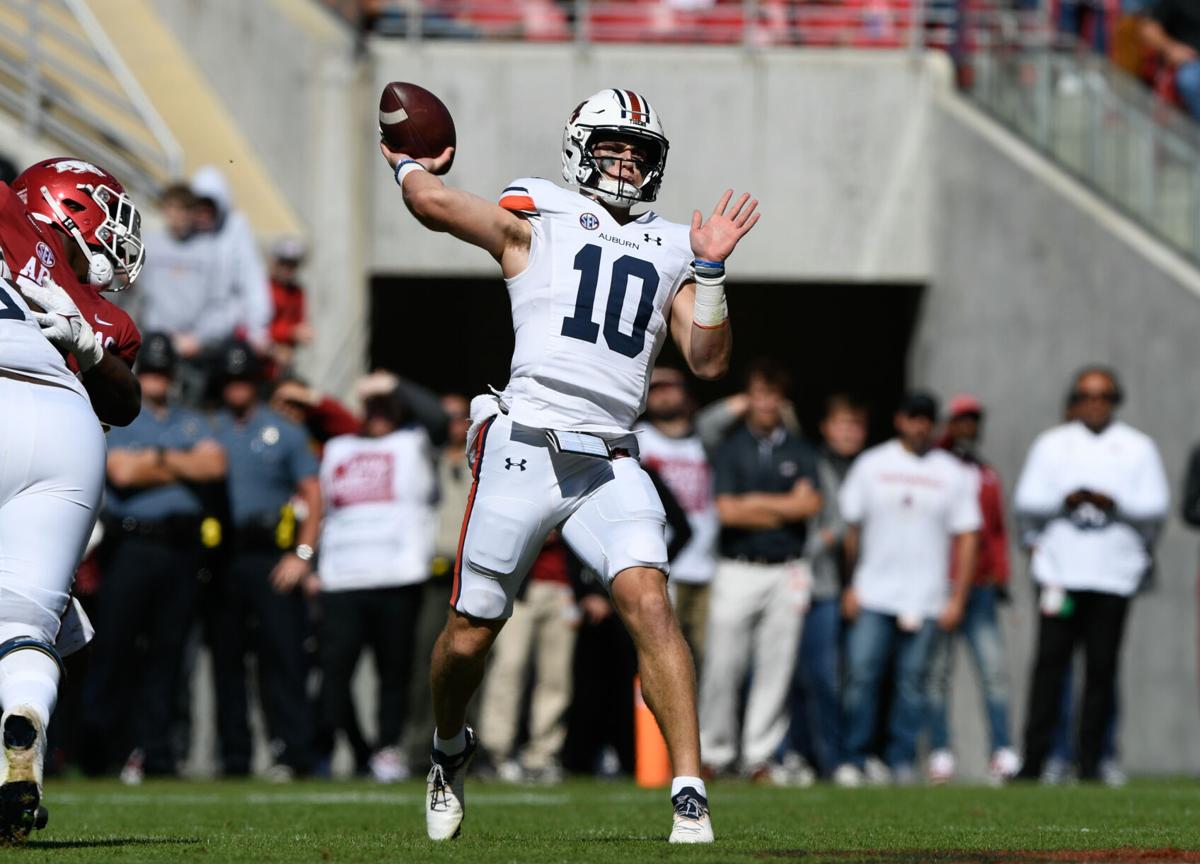 AUBURN —- Auburn quarterback Bo Nix's progress has not been lost on his first-year head coach.
Tigers head coach Bryan Harsin spoke about Nix on Wednesday, four days after Nix's impressive performance against Arkansas. Harsin explained that while several players have taken steps forward this fall, his junior quarterback is absolutely a part of that group.
"There's guys in all three phases that are making progress. Bo is certainly one of them," Harsin said. "That was a very good game for him. I thought he threw the ball well, I thought he made good decisions and he ran the ball effectively. He was able to help us put points on the board by being able to run and then close out the game."
Harsin said Nix has learned from each game, and he credited his starting quarterback for being a true student of the game. Harsin added improving in areas such as throwing the ball or running effectively are factors Nix has worked on throughout the 2021 season.
Nix's play against Arkansas on Saturday stood as one of the most impressive starts of his time with the Tigers. He completed 80.8 percent of his passes – by far his best completion percentage in a road game ever – for 292 yards with two touchdowns and one interception and also rushed for 42 yards and the game's final touchdown.
Nix's efforts were certainly a welcomed sight for Harsin, though he made sure to credit the players around the quarterback as well.
Following a lackluster showing against Georgia, Auburn's receiving corps stepped up against the Razorbacks. Ten different targets caught at least one pass against Arkansas, and by the time the game was said and done a group that committed seven drops against the Bulldogs the week before only had two.
"I also thought the guys around him played better," Harsin said. "It was good to see just some execution from more guys on the offensive side than we had in the previous game leading up into Arkansas."
With seven games in the books, Nix has completed 128 passes for 1,488 yards with eight touchdowns and two interceptions while also rushing for 526 yards and six touchdowns. Nix's 60.7 completion percentage is on pace to be the highest of his collegiate career, and his 131.5 average quarterback rating stands as a career best.
Nix's play has been crucial for an Auburn team that got off to a slow start this fall before answering with the start of conference play. While Nix is showing real strides in the Tigers' new offense, Harsin made it clear he can continue to improve.
"I think he's progressing. He needs to continue to do that. That's the whole identity of what we're trying to accomplish every week is just make improvements and get better, and he's no different. I think he's in that same frame of mind of just, 'How do I do that? What are the things I need to focus on?' He's willing to go out there and work on them."