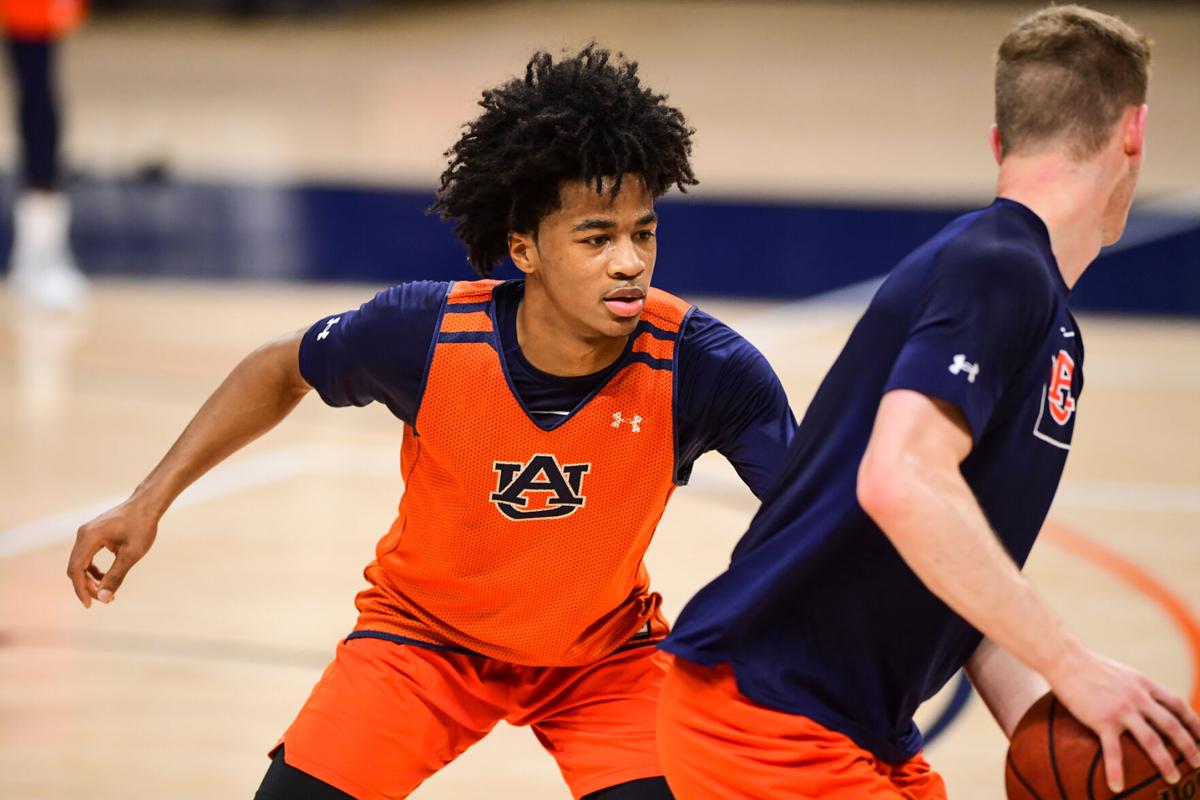 AUBURN - Shortly after Bruce Pearl sat down for his postgame press conference Tuesday, the Auburn coach summarized Auburn's 2020-21 season in six words.
"This team's been through a lot," Pearl said as he settled in to answer questions after Auburn's 74-57 loss to the Gators.
Pearl wasn't exaggerating, either.
The Tigers have faced several considerable obstacles this season, which all began in November when the team announced it was self-imposing a postseason ban as a result of the Chuck Person scandal that occurred in 2017. Auburn opened the season four days after that announcement but not without five-star freshman point guard Sharife Cooper, whose eligibility was being reviewed by the NCAA.
That review led to Cooper missing 72 days of practice and Auburn's first 11 games, a stretch in which the Tigers went 6-5 – which included an 0-3 start in conference play. The second of those three SEC losses saw freshman guard Justin Powell – who played point guard several times while Cooper was out – leave with a concussion, an injury he has yet to return from.
Cooper was finally cleared on Jan. 8 and quickly became a driving force offensively over the next 12 games before hitting a major snag Sunday, when he suffered a left-ankle injury.
There was no sense of Cooper's status until pregame warm-ups on Tuesday, when the freshman was nowhere in sight. He eventually walked out just minutes before the opening tip wearing a walking boot, which made it clear he would not join the Tigers against the Gators.
Cooper's absence was a huge one against a talented Florida team, and the Gators quickly took advantage. Florida jumped out to a 24-point lead in the first half, and while Auburn did outpace Florida in the second half the Tigers never came close to making things interesting.
For Pearl, the performance against the Gators sans Cooper was an understandable one given the circumstances.
"Obviously we struggled tonight, and Sunday we lost Sharife. He got hurt in practice and turned his ankle pretty good. You know, we'll see how the week progresses. Obviously, we never rush guys back. He's working to try and get back but just don't know," Pearl said.
"So when you're down two point guards and you're playing in the SEC – playing a Florida team that presses and turns people over – we turned it over 14 times in the first half and gave up 44 points."
The Tigers had a quick turnaround from Cooper's injury Sunday to Tuesday's game, and more than anything Pearl said the challenge of replacing him brought the feeling of here we go again.
Pearl rattled through everything the Tigers have been through this year – especially the postseason ban, which he said was a "tough shot" for the players – as they've tried to break in an inexperienced team tasked with replacing the top five players from the previous season. Cooper was one of the major bright spots during an otherwise trying season, and now his status is uncertain as the Tigers do what they can to finish strong.
"I just think it's sort of a culmination of, 'How many times am I going to get hit in the gut,' you know?" Pearl said.
To the Tigers' credit, the second half proved there was no interest in mailing in the final 20 minutes. Auburn needed a miracle to close the gap on the Gators, and although the Tigers didn't make that happen they did outscore Florida in the second half in a stretch that saw several Auburn players step up.
Jamal Johnson battled flu-like symptoms on Monday, but with the Tigers already short on guards he battled through and contributed 10 points and four rebounds in 31 minutes of action. Devan Cambridge helped Auburn get going offensively as Florida pulled away in the first half and continued that play in the second half to finish with 14 points on 5-of-13 shooting.
Jaylin Williams added to his strong sophomore campaign with a 11-point, three-block night, and JT Thor – who had 10 points and four rebounds – impressed Pearl which his ability to deflect the ball and make plays. Allen Flanigan stepped up in a major way by taking on most of the point-guard duties and played a game-high 35 minutes while contributing six points, nine rebounds and four assists.
Thor spoke about how difficult Tuesday was, saying it was hard playing without Cooper because the point guard makes things so much easier for his teammates. He added not having Cooper forced players like Flanigan to play out of position, which led to everyone adjusting their game plan accordingly.
Thor outlined what his mindset has been during a freshman season that has been anything but typical given the hurdles Auburn has faced.
"I just come in and just keep my head high," Thor said. "[I] focus on what's at task and try to not let anything outside – just block everything out, stay in a little cocoon and try the best we can."
It's become borderline cliché to say, but throughout Auburn's up-and-down season there's been no sense of quit from the Tigers who have remained on the floor. That was obvious Tuesday, as several players pushed themselves physically in the second half of a game that by that point had long been decided.
In Thor's opinion, the Tigers' shared mentality of refusing to give in will pay dividends in due time.
"I feel like it's going to make us really good," Thor said. "I think you got to go through adversity. To succeed, you got to fail. Everybody knows that. So we're just going to keep pushing."