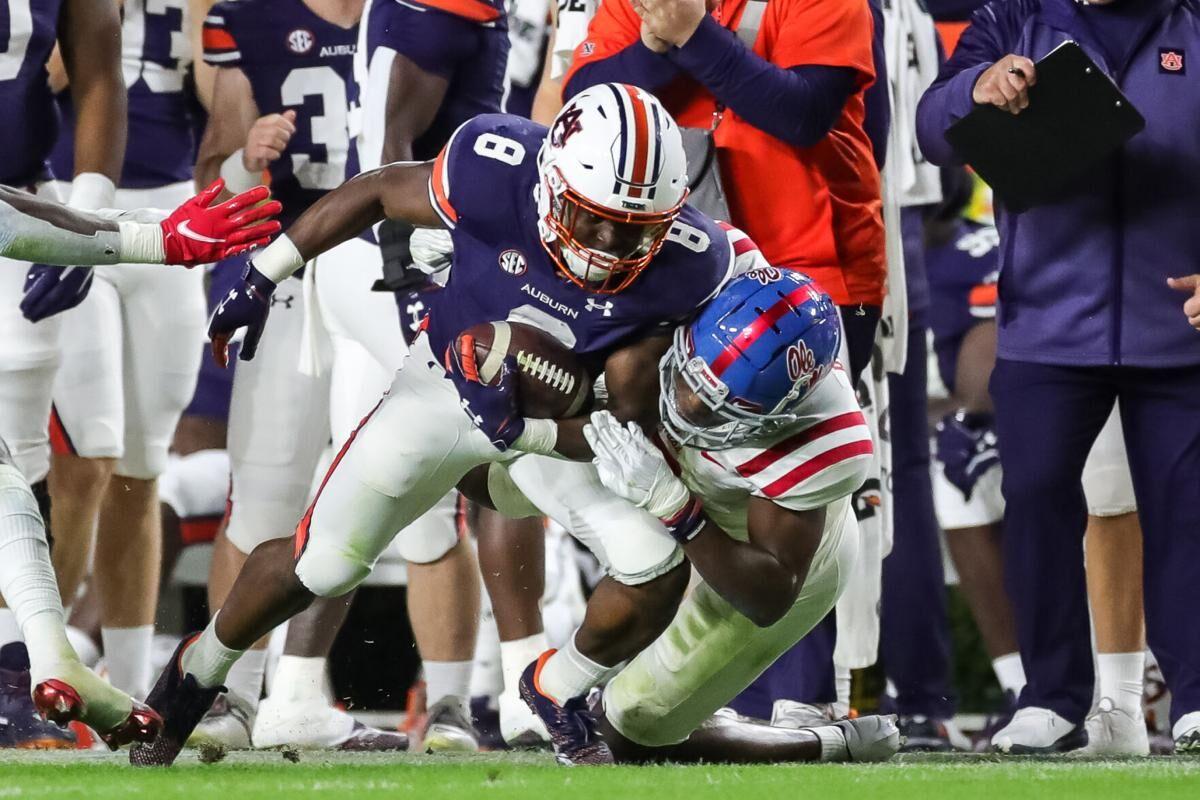 Five Auburn Tigers are preparing to play elsewhere in 2022.
Auburn running back Shaun Shivers, offensive guard Tashawn Manning, wide receiver Elijah Canion, EDGE rusher Caleb Johnson and defensive back Ladarius Tennison have entered the transfer portal. Shivers and Manning have one year of eligibility left due to the additional year granted by the NCAA, Canion and Tennison have three years and Johnson has two.
Shivers entered 2021 as Auburn's perceived second running back behind sophomore Tank Bigsby before missing the Tigers' second and third games of the season due to coronavirus protocol. Shivers' absence opened the door for true freshman Jarquez Hunter, who became the Tigers' second-string tailback for the majority of the season.
As the season went along, Shivers became a threat in the passing game, which included catching a game-high six passes for 40 yards against Texas A&M on Nov. 6. He ended his senior season with 14 carries for 87 yards and one touchdown and 22 receptions for 163 yards and another score.
"Thank you Auburn for everything War Eagle," Shivers wrote on social media Tuesday.
After starting all 11 games for Auburn at left guard in 2020, Manning became a rotational lineman for the Tigers this season. He played in 11 of the Tigers' 12 games this fall and started the last three games at left guard in place of an injured Brandon Council.
"To the Auburn Community [sic] and fans, teammates and especially my o-line brothers; I will miss you all, and thank each of you for being a part of my life!" Manning wrote in part on social media.
Canion entered fall camp with a chance to step up as one of Auburn's go-to receivers but ultimately did not do so. He only played in four games this fall and ended his sophomore campaign with four receptions for 46 yards.
Canion did not play in Auburn's final three games of the regular season.
"I appreciate the Auburn family for the love and support you all have showed me over the past 2 years, War Eagle!" Canion wrote on social media.
Tennison played in 11 games this fall. He recorded 21 tackles and had a career-high 4.5 tackles for loss. His most productive game came on Nov. 6 at Texas A&M, when Tennison started at nickel and recorded eight tackles, including one for loss.
"I think he had an awesome game tonight, stepping in with some injuries in the backfield," linebacker Chandler Wooten said after the game. "You know, he came out tonight and had a tremendous game – flying around the field, like you said – just making big-time plays in the open field. He just played lights out tonight. He'll continue to be a force for us."
Johnson, meanwhile, worked his way into the mix at the EDGE position early in the season but did not play in Auburn's final five games due to undisclosed reasons. He ended the year with four tackles, including one for loss.
When asked on Nov. 1 about the statuses of Johnson and EDGE Romello Height – who both missed the Ole Miss game on Oct. 30 – Auburn head coach Bryan Harsin said, "I really don't [have an update] right now. We'll see how this week goes and the next few weeks."
Height returned to the team of its game against South Carolina on Nov. 20.