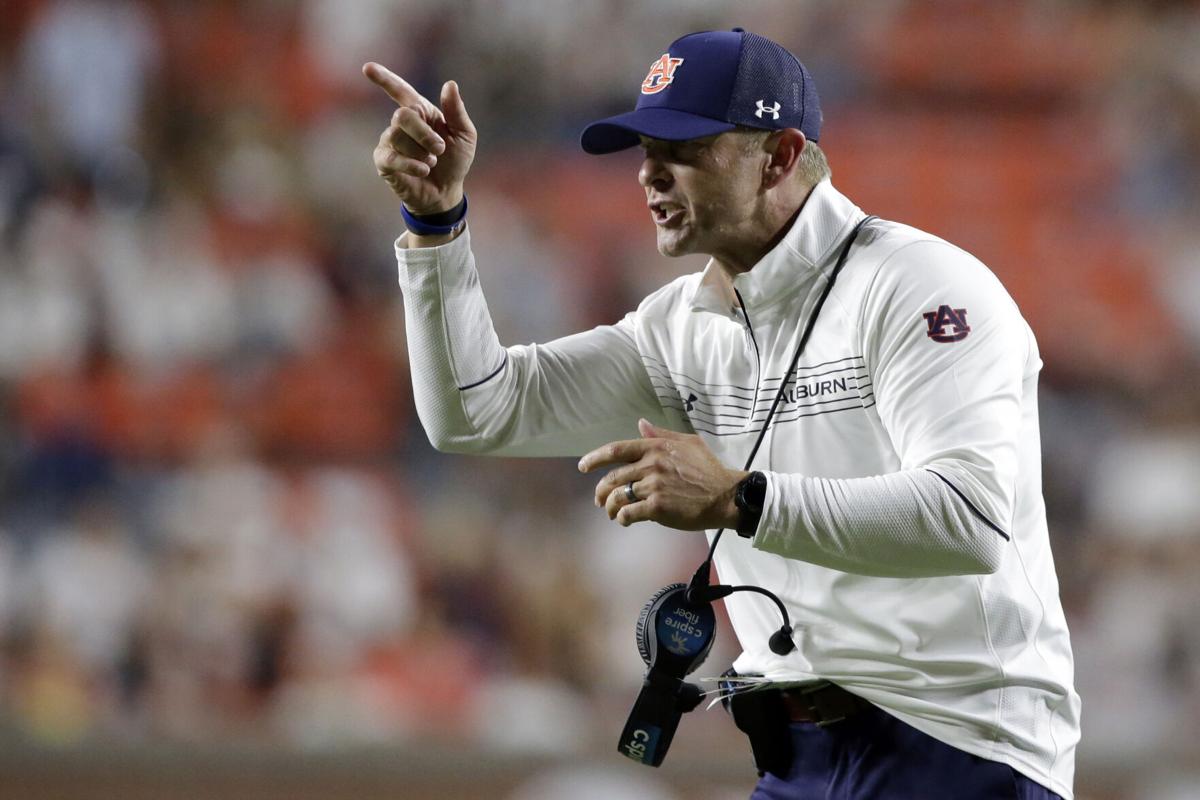 Now that Auburn's first loss of the Bryan Harsin era is in the books, the first-year Tigers head coach wants his team to accomplish one objective: grow from the experience.
Harsin spoke Monday about making the most of Auburn's 28-20 loss to Penn State. He explained even though he wants his team to reflect on their play after victories, a loss like the one the Tigers suffered in State College sets the stage for all involved to reflect on what needs to be different.
"What a loss does is not so much exposes but gives you the understanding of just how important everything we do is. And the time that you have to spend to really have yourself prepared to play the way you want to play for four quarters of football — that's the reality," Harsin said.
"With a loss, that sting, that drive, that motivation — whatever you want to call it — you've got to move on and you can't let the last game beat you twice. You've got to move on, but you've got to let some of that sting and understanding that you didn't do well enough – you don't go out there and do the same thing."
Harsin said what Auburn did Saturday wasn't good enough especially given the quality of the opponent, though he noted there were opportunities in the game that could have swayed the final outcome. He pointed to the value in the coaches and the players asking themselves a multitude of questions in the aftermath: What did we do? What can we control? What do we have to get better at? What did we not execute well?
Harsin explained some players need that sort of chip on their shoulders in order to grow, but he wants that attitude of always looking to get better to persist regardless of the results.
"Where we want to go is that, regardless of whether we win or lose, we operate like that every day, every practice, every opportunity we get to prepare ourselves," Harsin said.
"That's the type of discipline we have on this team; that's the type of toughness we display on this team every single week. Because if you don't, you don't want to find that out in a three-and-a-half hour game."
Harsin emphasized not letting one game beat you twice, a point he brought back up when discussing what's next.
Harsin pointed out how the majority of the talk surrounding Auburn was still centered on Penn State with the Tigers now gearing up to play Georgia State, which beat Tennessee at home two years ago. He discussed how important preparation will be against the Panthers and described how those who spend time thinking about what happened last week will be playing catch-up.
Since the start of the season, Harsin has preached about using the 24-hour rule after wins, meaning the team moves on to what's next after one day.
Now, Harsin's made it clear the same rule applies after losses.
"That's the final message for everyone in our program: we've moved on to Georgia State, so take what you learned and apply it and do it in a fashion where it doesn't have to be more on game day," Harsin said.
"[Georgia State] will come in here and they will give us their very best. If we don't prepare like that and we decide that's not as important on Tuesday or Wednesday to have ourselves ready, and then by Thursday and Friday is when we really start getting our minds right, then watch out because Saturday's going to be a tough day at the end of the day.
"The sooner we learn that and do it every day, the better off we're going to be. And for our team and this program, we need to learn that, and we need to do it each and every day consistently."
Optimistic about Pappoe: It's still early in the week, but Harsin is hopeful junior linebacker Owen Pappoe won't be limited to the sidelines when the Tigers play on Saturday.
Harsin spoke optimistically about Pappoe on Monday after the junior linebacker left the Penn State loss in the second half with an apparent leg injury. Harsin explained he'll know more Tuesday as far as whether or not Pappoe will be limited, but on the whole the injury doesn't appear to be a serious one.
"Owen's doing good. He obviously came out of the game, but he's a tough guy and he's ready to go back and get after it. So I feel good about his progress throughout this week," Harsin said. "We'll know more on Tuesday of where he's at, how many reps he gets. And that's part of where we are in the season. It's not just our team. There's going to be guys that get nicked up in games and you're going to have to manage that throughout the week.
"You're going to have some guys that have got to get in that training room and really spend time in there and really be a pro – just taking care of their body, getting themselves back into practice and then obviously preparing for the game."
Pappoe left Saturday's game against Penn State early but did have five tackles during his time on the field. Through three games, the former five-star recruit has 15 tackles, two tackles for loss and two quarterback hurries.