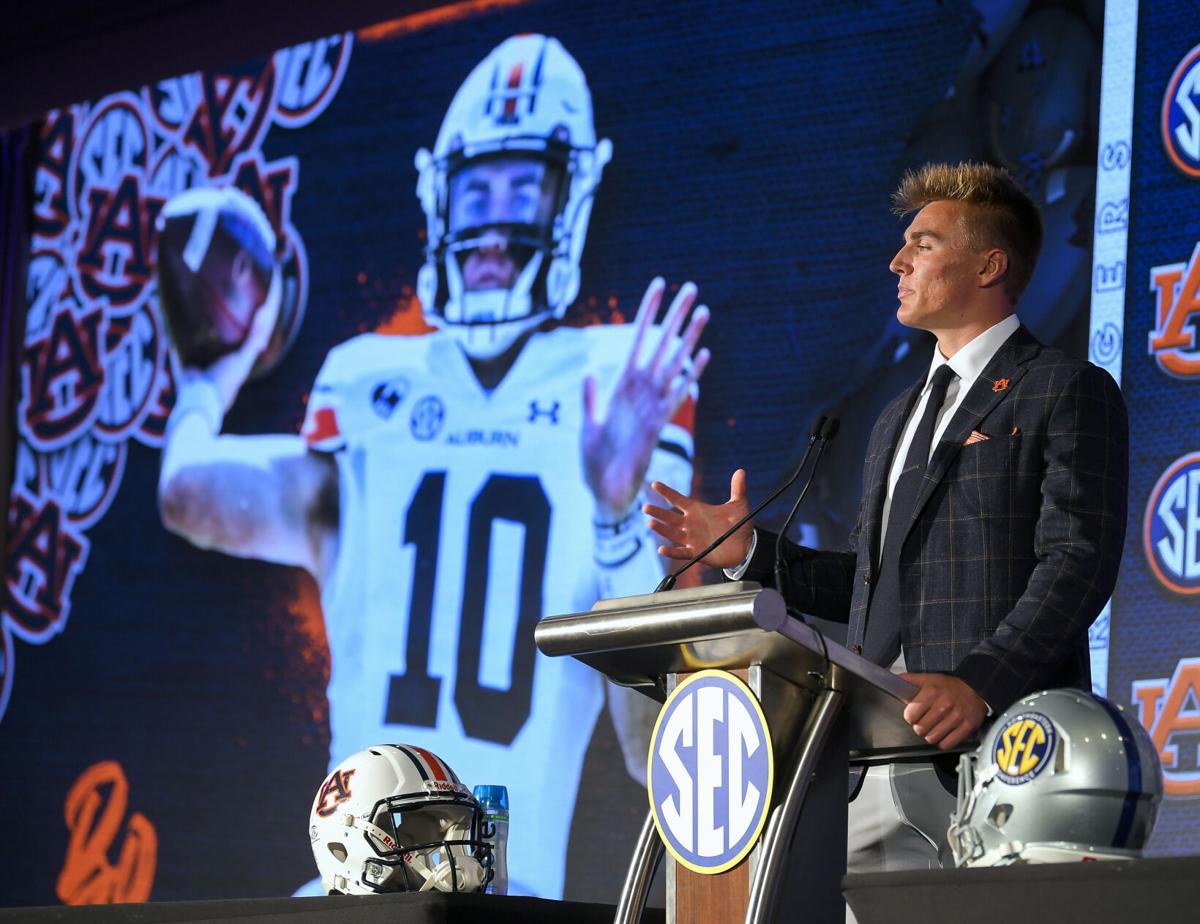 AUBURN — Bo Nix knows better than anyone his place in Auburn football history.
He isn't just a player. He's a lifer.
The son of an Auburn man who wears his father's number on his jersey, Nix could rattle off every Auburn coach since Shug Jordan if you asked him. So he knows what a pivotal time it is on the Plains as Auburn enters a new era under Bryan Harsin.
He also knows he could play better. And if being his own biggest critic wasn't enough, he hears the outside criticism, too.
Still, he's unflappable going into his junior season. And after lessons learned the hard way at Auburn, he could be a better player for the way he deals with the pressure — and a better Auburn man, too.
"I know who I am, and that's important," Nix said at last week's SEC Media Days.
Nix stood up in the spotlight Thursday at SEC Media Days with all the poise of the Auburn football quarterback he's always wanted to be. He put his teammates first like a leader, he deferred to his coaching like a listener, and he made it clear to everyone in the room that he isn't scared of Alabama.
And when he said he knew he was, he showed his mind is made up as he enters a new season of challenges: He isn't afraid of the moment, because he isn't afraid of making mistakes.
"Tomorrow the sun will come up," Nix said, pointing to his faith. "Especially after games, I can get up and I can go to church and kind of reset my life and know that, no matter what happens, football will end one day, and it's just all about what kind of impact I can have on the lives of others."
It isn't passive. That's not Nix. Auburn football is in the young man's blood.
Nix has always dreamed of being the quarterback of the Auburn football team. It hasn't always played out like he envisioned throwing the football around in the backyard. He didn't imagine throwing three interceptions in The Swamp as a freshman, and he sure didn't want to lose like he did in Tuscaloosa last fall. A coaching change happened this offseason that he didn't expect when he signed, and Auburn brought in T.J. Finley to put the pressure on him at practice.
But criticism is inevitable, Nix has learned. He's convinced that even if he was having that dream career, there'd still be negativity like what comes up when people talk about his play on the Plains.
"The biggest thing I've learned is, no matter what you do in life — you could be the most influential person in the country, you could change so many lives — but there's always going to be that one person, more than one person, that doesn't like what you're doing or disagrees or thinks that you can do something better," Nix said into the microphone in Hoover, speaking like a kid who's gone through battles and learned from them.
"In high school, you don't really go through that kind of stuff," he explained. " ... In college, I feel like no matter what side you're on, you could get bad-mouthed and criticized. It goes with the territory. I knew coming to Auburn what I was going to face. I knew it was going to be difficult. You have to deal with certain fans across the state. So each and every time, every moment of criticism, you've just got to reflect on where you are and what I'm doing.
"I'm just thankful to be at Auburn."
It's a freeing perspective. If he can master it, he can get back to dreaming and throwing every pass without worrying about the nightmare.
Bryan Harsin in his own career on the other side of the country has picked up the same perspective — and he said in some months of knowing Nix, that Nix has responded to criticism well.
"I coached the winningest quarterback in college football, Kellen Moore, and he was criticized. He was 50-3, you know?" Harsin said. "He lost three games by seven points or less, but he still wasn't good enough — just on and on and on with this guy. ... It's amazing what he was able to do but still at the same time had to be extremely tough and took a lot of criticism for things that he didn't do well because the expectations were so high.
"You're going to be criticized," he went on, "and you better understand how to handle that, and if it's something that just eats you up and you can't, it's going to be hard for you to play at this level. He has handled it well."