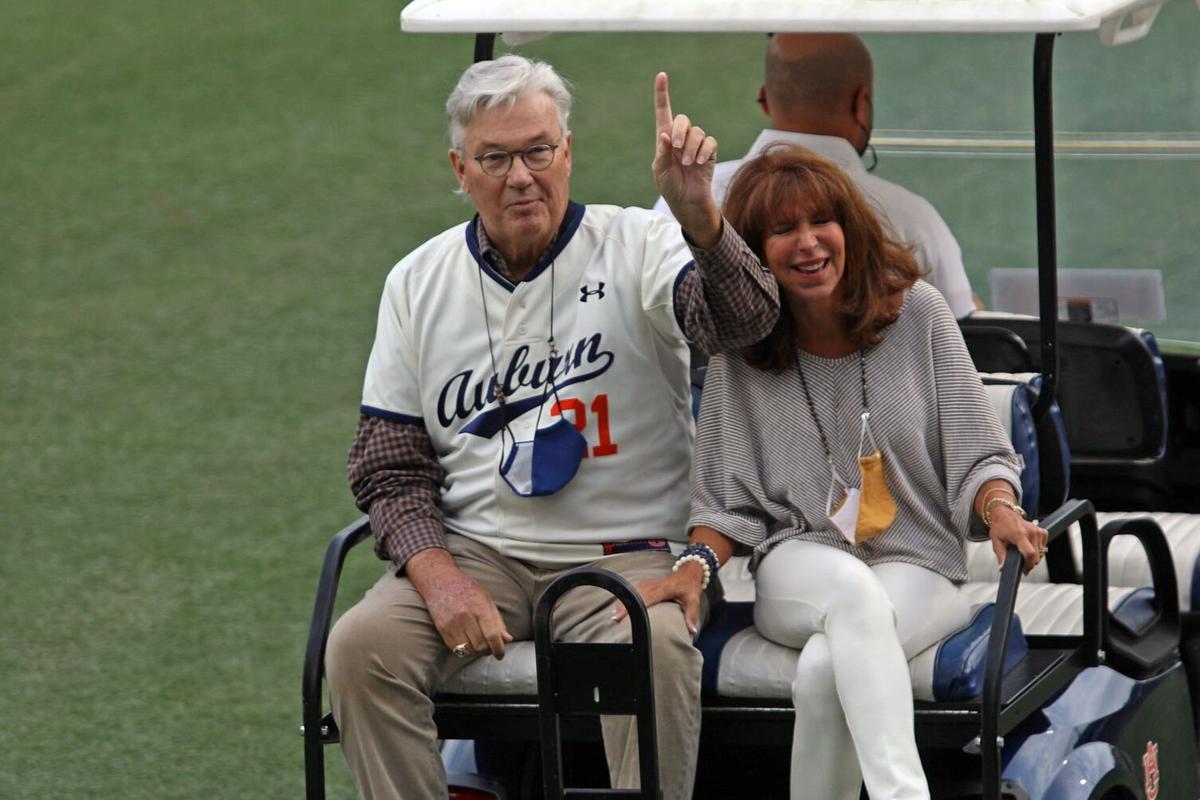 Remembered and revered as an all-Auburn man who showed how far Auburn people can go, local sports hero Joe Beckwith died Saturday after a battle with colon cancer.
Beckwith pitched for Auburn High School and then for Auburn University before winning two World Series with the Los Angeles Dodgers in 1981 and with the Kansas City Royals in 1985. He leaves the legacy of a hometown legend who made it to the biggest stage then gave it all back to his community and more.
More importantly to others, he was a loving husband and father, a wise coach and a dear friend.
Beckwith was born in Opelika and grew up in Auburn and became the first Auburn High alum inducted into the Alabama Sports Hall of Fame in 2004. The streets he grew up playing in now bear his name, as he was inducted into Auburn University's Tiger Trail walk of fame in 2006 and an engraved square honoring him rests in the sidewalk downtown.
Auburn High held a ceremony honoring him in April as his battle with cancer wore on, with the mayor declaring April 21, 2021, to be Joe Beckwith Day in the city of Auburn. Auburn University followed that weekend celebrating its own Joe Beckwith Day at Plainsman Park, where he was once the starting pitcher in the stadium's first-ever night game under the lights in the 1970s.
He was a trailblazer then, and an illustrious player with a talented arm. He pitched a perfect game in the playoffs for Auburn High to lead the team to an appearance in the state championship series, then at Auburn University he helped lead the program to its second-ever appearance at the College World Series in 1976. He was Auburn through and through, the son of Bill Beckwith, who worked with university athletics for more than 40 years as sports publicist and director of ticket sales.
Beckwith's moment in the sun came when he took to the mound on the grandest stage in the 1985 World Series. With his father in the stands in St. Louis, he pitched in Game 4 for the Royals, recalling recently how nervous he was when he gave up a leadoff double. But Beckwith soon settled in and rose to the massive occasion, retiring three straight batters to get out of the inning then giving up no hits in the next for two strong innings pitched — and Kansas City went on to win the series in seven games.
"It was the biggest thrill of my life," he said.
He experienced plenty more thrills through the sport, pitching on his way up in the Cape Cod League, the Alaska League and in the Dominican Republic, while also traveling with the Team USA All-Star team to stops in Japan, Taiwan and South Korea.
Pitching took him all over the world. But he always came back home to Auburn.
After his retirement from playing, he coached youth baseball and softball in the area, with one of his teams winning the Dixie Youth state championship in 2004. It was in those ways that he gave back to the sport and gave back to his hometown that Beckwith touched the lives of many more.
He is survived by his wife Lee and children Allie Fuller Selman, Reynolds Fuller Tatum, Bailey Beckwith Divers, Tyler Beckwith and Merrill Beckwith Jordan.
Beckwith's name hangs on banners and plaques at the high school and on the college's campus, but his legacy lives on at every ballfield in the city, where kids here play and dream of making the big leagues.
Beckwith proved those dreams can come true.
Donations can be made to the Joe Beckwith memorial scholarship fund at cfeastalabama.org.
Beckwith's visitation will take place at 9:30 a.m. Monday at Auburn United Methodist Church with funeral services following at 11:30 a.m.