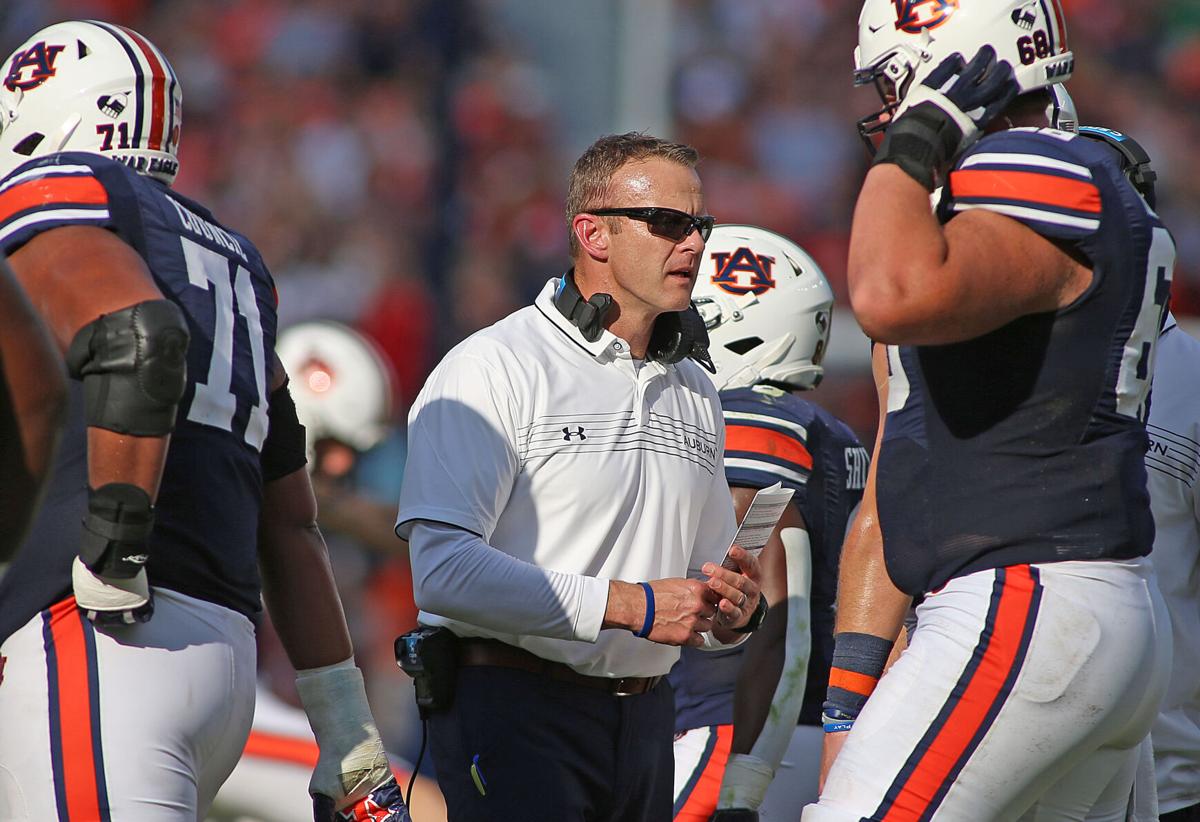 AUBURN —- When it comes to life as an SEC coach, Auburn's Bryan Harsin is learning on the job this fall.
Harsin spoke Wednesday about the lessons he's absorbed in the middle of his first season as Tigers head coach. He explained he understood before taking over at Auburn how every week in the SEC presents a new challenge; stepping into that arena and facing them, however, is an entirely different ballgame.
"Every week there's good players on the field. Every single week you better be ready. That is more true now actually doing it," Harsin said. "There is no practice, there is no meeting, there is nothing where you feel like it was done at a low level that you feel comfortable coming out of it like, 'We're going to be OK.'"
For Harsin, the main takeaway to this point in his Auburn tenure is that everything matters.
Harsin broke down that idea further, saying every aspect of preparation for a game has to be focused on by every single team member. He listed intensity, keeping the players' attention and having the details from the coaches as factors that can determine whether any given week in conference play will be a good one or bad one.
Harsin also applauded the efforts of the opposing fans, saying their intensity has been hard to ignore.
"It's enjoyable in a way to go into a stadium that's packed and the people are passionate. I think that's part of college football," Harsin said. "That's one of the things that the SEC really provides. You're going to be in really challenging environments, but I also think it's enjoyable as a competitor to be in those situations."
Harsin has maintained that competition edge going back to his playing days. Whether it's a key factor in Auburn's success or not remains to be seen; what is clear is how the Tigers have stepped up their play as of late.
Auburn bounced back after its Week 3 loss to Penn State and a dreadful showing against Georgia State the following week by winning two of its next three games, the lone loss coming against a Georgia team that is now ranked No. 1.
The Tigers' recent success — the latest example being a 38-23 victory over Arkansas last Saturday — adds to what's been a promising start to the Harsin era. Auburn is 5-2 entering its bye week, leaving Harsin with the best record among first-year head coaches in college football.
Harsin came to Auburn understanding the challenge awaiting him was difficult. While he has learned firsthand how hard certain aspects of his job can be, he made it clear he embraces those challenges in order to help the Tigers reach their full potential.
"I've enjoyed preparing for the teams that we've played and certainly got a lot of respect for them, too," Harsin said. "You can learn from every single game. It springboards you into the next one. You should always have that mentality, going into each and every week, like, 'I need to have myself ready to go.'
"So let's maximize the day. Come game day, we know we're going to have to play well in order to win."