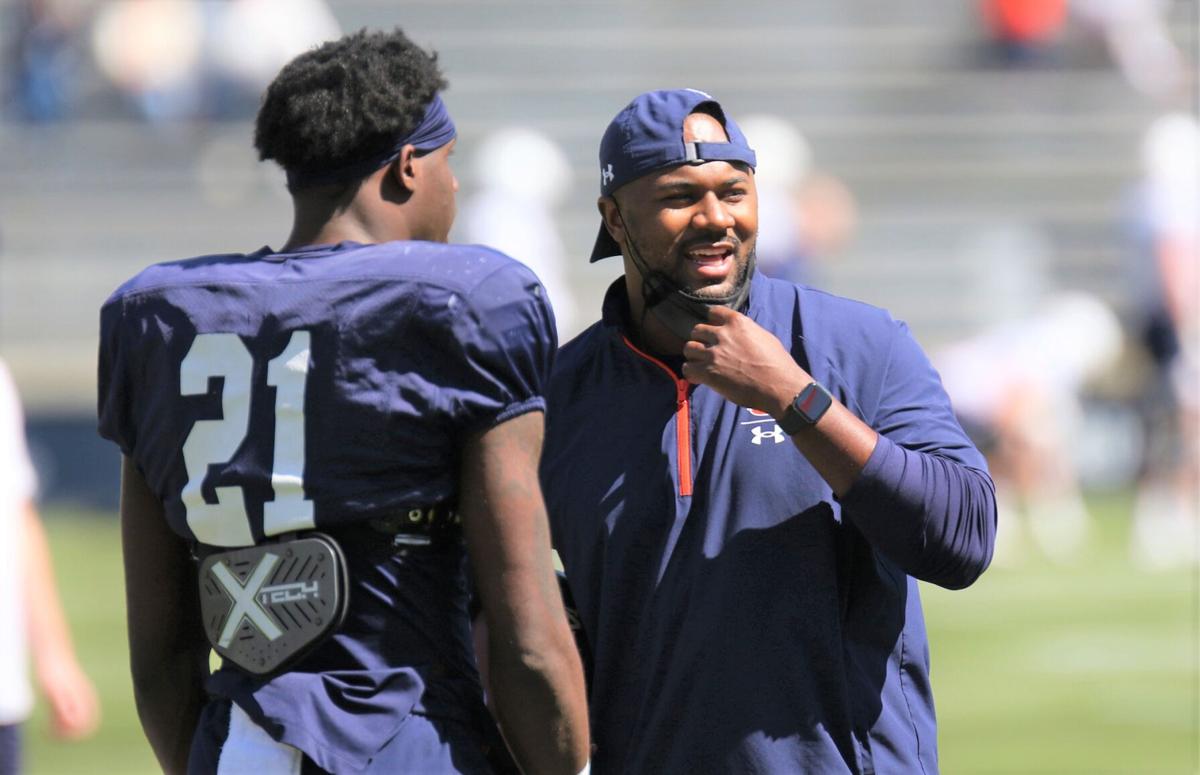 AUBURN—With spring practice fully underway, the Auburn Tigers' new coaching staff is eager to build the program into a national title contender. While many of the new faces around the team have winning backgrounds, only one has already experienced what it takes for Auburn to win it all.
Auburn cornerbacks coach Zac Etheridge has returned to his alma mater after starring as a captain at defensive back a little over a decade ago. His senior season in 2010 was a special one, as he returned from a broken neck suffered the previous season and recorded 69 tackles and three interceptions as part of the Tigers' first national title-winning team in 43 years.
Etheridge reached the mountain top at Auburn as a player, and now he's eager to lead the next generation of Tigers back to that heralded summit.
"Coming back was just like, I get an opportunity to serve guys that probably watched me play in the past. Having an opportunity to give them knowledge and awareness of what this place is about and what it means to be an Auburn man was the most important thing," Etheridge said on Wednesday.
"I was fired up for the opportunity because I know this place can win championships. I know this place can have great players; we just have to find that identity and that culture to put in the work. Just having that opportunity to come back and serve was the most important thing."
Etheridge is finally back at Auburn, but it took plenty of work to get there.
Etheridge began his coaching career as a graduate assistant at Penn State under the guidance of former Auburn defensive coordinator Ted Roof, who Etheridge credited as his inspiration for joining the coaching ranks. Etheridge went to Georgia Tech for two seasons followed by two years at Western Carolina, one year at UL-Lafayette and two years at Houston.
Etheridge's final season at Houston featured plenty of production from his cornerbacks. Houston's Marcus Jones was named an All-American in 2020 by Pro Football Focus and was an All-American selection as a punt return specialist by the FWAA, CBS/247 Sports and the Phil Steele Magazine. Damarion Williams, meanwhile, became an all-conference player for the Cougars and started 19 consecutive games for the team.
Etheridge was working his way up the coaching ladder at Houston, and before too long Bryan Harsin came calling. Etheridge admitted he was shocked when the new Auburn head coach expressed interest, but it wasn't long after the two sides started talking that Etheridge could see himself returning to coach the Tigers.
"Just hearing what coach Harsin – his plan and his vision for the program – it felt like that he knew exactly what the Auburn creed stood for, and he hadn't stepped a day on campus yet to figure out what it is," Etheridge said. "[Coming back] means the world. I've told the coaches all the time, 'I could be biased about this, but I've been all over the country, man. There's no place like Auburn.'"
Etheridge explained the SEC has changed a good bit since his playing days, but at the end of the day it still boils down to sticking with your fundamentals play after play. The first-year cornerbacks coach benefits from having a full cupboard at the position highlighted by rising senior Roger McCreary, who Etheridge believes has the talent to play in the NFL.
While McCreary is one of several Tigers set to turn heads this fall, Etheridge was more concerned about the here and now. He explained his position group is taking care of business early on, but the goal is to keep that going through what's left of spring ball and into the summer.
"We've been focusing as a group [on] just being disciplined, really focused on the fundamentals of where our eyes should be every snap, and just playing with relentless effort," Etheridge said. "The biggest thing is just trying to establish that culture that we're trying to play with and making sure that the guys are really disciplined in their technique and fundamentals and making sure their eyes are in the right spot.
"My group, led by Roger and a couple of guys like Nehemiah [Pritchett] and [Jaylin Simpson] and those guys, they've been showing up every single day, coming in and doing what I'm asking them to do and just loving exactly what they've been doing."
Etheridge is one of two Auburn assistants who played for the Tigers – the other being running backs coach Carnell "Cadillac" Williams – and Etheridge said the other assistants often ask for his insight given his experience within the program. He also embraced the chance to pitch the program to recruits, saying he doesn't really have to sell anything given what Auburn has to offer.
Etheridge came into his own as a football player at Auburn, and shortly after he and the Tigers won it all he turned to coaching and began working his way through the ranks. His many triumphs have led him back to Auburn, where he's now tasked with teaching the Tigers to follow in the footsteps he and his teammates put down during that 2010 season.
"All the guys, they ask that question, like what it takes? And we breathe it every single day," Etheridge said. "[I] have that opportunity to share with those guys is like, look, every day is not going to be a great day. I mean, there's going to be obstacles along the way, but one thing you can't do is never let a stump in the road define the journey.
"At the end of the day, you're going to stumble along the way, but you've got to continue to push through. If you continue to fight through it and you overcome the adversity, then the prize is all the way at the top."