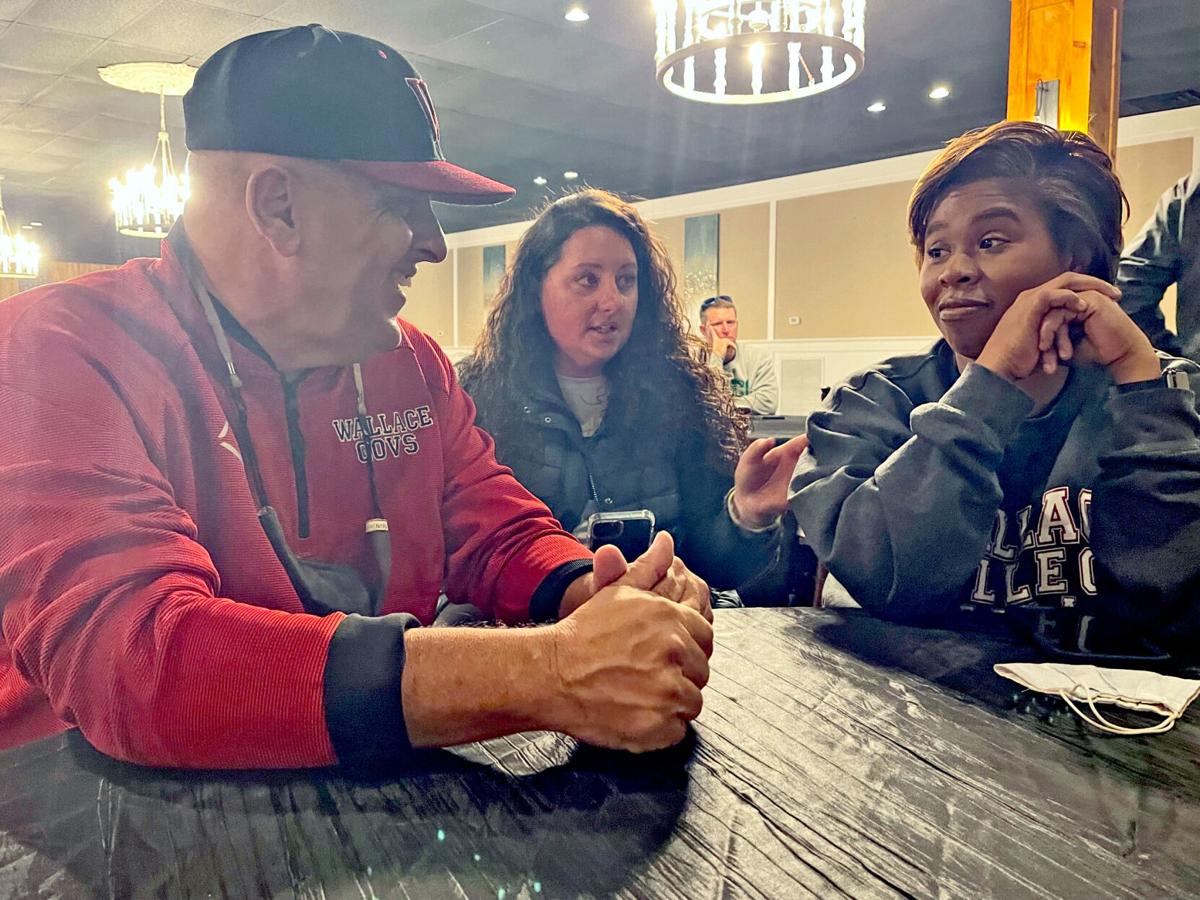 HARTFORD – They were back together for a media function Wednesday, but will be in opposing dugouts once the junior college softball season begins.
Wallace College head softball coach David Russo and new Enterprise State coach Clair Goodson have the dates of April 21 and April 23 circled on their calendars when the two teams meet in doubleheaders.
"If you're around the Wiregrass, you might want to come to one of those," Goodson said." That's going to be exciting. He's a great friend, but it's going to be fun to coach against him."
Goodson, who spent seven years as an assistant for Russo, was hired in early December to take over the Enterprise State program.
Russo will be rooting for her to succeed – most of the time.
"Coach Goodson was with me seven years and it's no secret that she knows how we run our program," Russo said. "We've had unparalleled success … went to a World Series (2019) … so when we play it's going to be a lot of fun.
"I hope she wins every game except on April 21 and April 23. I wish her nothing but the best and she's going to do a great job."
The two coaches were among those previewing their teams during a junior college media day luncheon sponsored by Encore Rehabilitation held at Ketchum's Restaurant.
Teams began regular-season practice sessions on Monday. For Goodson, it was a different feeling being in charge as a head coach for the first time.
"I will say, after doing this for so long, you're like, 'This is just another day,' but when you're the head coach, it was a different feeling," Goodson said. "I was very nervous, but as soon as I saw the girls, instantly the nerves went away.
"I knew what I needed to do and I know how to do it, so I just had to go and put it into action and trust that the Lord had me in the right spot."
Goodson believes she is well prepared for the duties ahead.
"After being at Wallace the last seven years under coach Russo, I've learned a lot about how the junior college system works," Goodson said. "I'm really excited to kind of do my own thing.
"The expectations are definitely high. I've been to the state tournament with Wallace for many years and so I expect to do the same with my girls."
At Wallace, Russo will have a team with a good mix of veterans and newcomers. He also has a new assistant in former Ariton player Chelsie McLendon.
"We have 10 sophomores and 10 freshmen, so it's really going to be competitive the next couple of weeks as we look for our starting lineup before we open up on Jan. 29," Russo said.
"At any time we could probably start five or six freshmen, it just depends on who is performing. I like our depth. I won't say this is the most talented team that I've ever had, but I like our depth.
"If someone is in a slump, we're not going to have to stick through someone going through a 0 for 20 (hitting slump). There will be someone who will jump up and take their spot.
"I think we have pretty good pitchers. We're not going to strike out a lot of people, so we have to play defense to have success."
Russo expects the competition to be tough in the South Division, which also includes local clubs Enterprise State and Lurleen B. Wallace of Andalusia.
"I don't think anybody in our conference can just show up and say, 'Gosh, we're going to win that game," Russo said. "I think everyone is competitive up and down the line. It's going to be really interesting every game out, and that's the way it should be."
Kaitlynn Wiggins is in her second year at LBW, which finished fourth in the state tournament a year ago.
"Unfortunately, I only have four sophomores returning, so I have a lot of freshmen, and it shows," Wiggins said. "They have to learn to play together and they come from different schools, so it's a lot of individuality that we have to become one and learn to play together.
"We worked on it all fall. When we played well, we played really well, and when we didn't it was really bad. I think just finding that happy medium is what we need to continue working on.
"Our first game is Feb. 5, so we don't have much time to get ready, but I cannot complain about our first two days (of practice), so that's a positive. I just hope these young girls put it together."