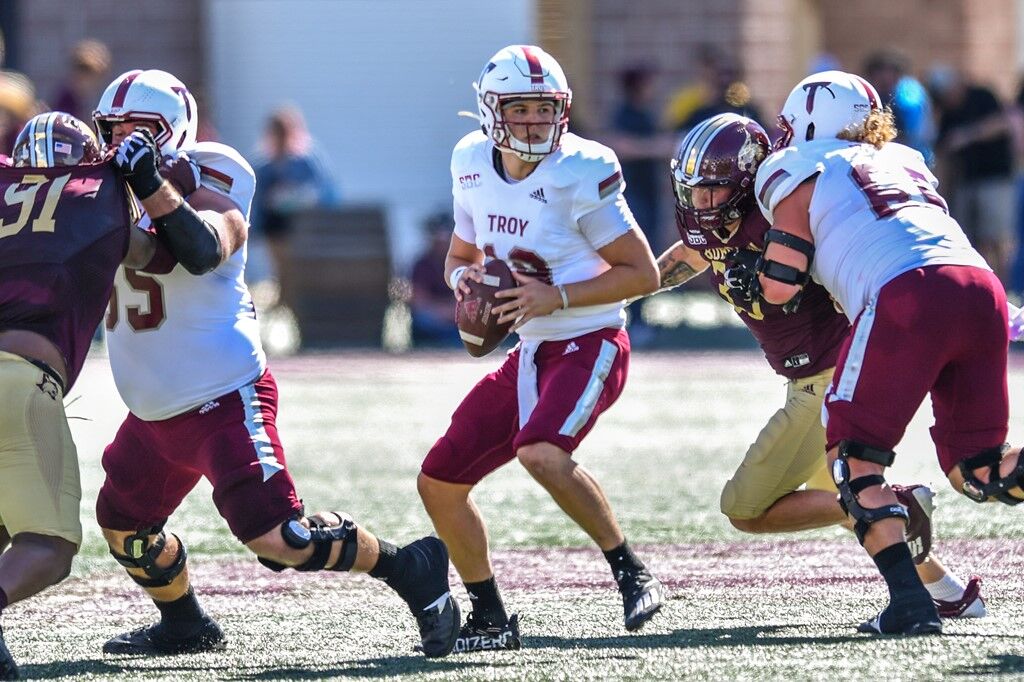 Troy's Keyshawn Swanson returned an interception 33 yards for a go-ahead touchdown with 8:18 left and the Trojans made the pick hold up in a 31-28 win Saturday over Texas State at Bobcat Stadium in San Marcos, Texas.
Troy improved to 4-3 overall and 2-1 in Sun Belt Conference play with the victory. Texas State feel to 2-4 and 1-1.
It was Troy's 10th straight win over Texas State and seventh straight win for Troy in the state of Texas (four at North Texas, 3 at Texas State).
Troy led for most of the day, but Texas State took its first – and only lead – of the game with 1:09 left in the third quarter on a Brady McBride 21-yard touchdown pass to Travis Graham Jr. that made it 28-24 Bobcats.
Swanson, a walk-on transfer from Akron, changed that with his interception return. Facing 3rd-and-2 at the 27, Texas State's McBride tried to pass over the middle to a receiver on a crossing pattern, but overthrew it and Swanson picked it off and ran it back for a score, shrugging off a tackle effort by McBride at the 9-yard line.
Texas State moved to the Troy 44 on the ensuing series, but the Trojans' Elijah Cupp intercepted McBride, giving the ball back to the Trojans with 6:26. It was Troy's third interception of the day. Talyon Palmer also had a fourth-quarter interception.
The Trojan offense then earned four first downs, including one off 3rd-and-9 on a 13-yard run by BJ Smith, to burn out the remaining clock.
Troy's running game came to life in Saturday's win as the Trojans racked up a season-high 205 rushing yards, including a 162 yards off 25 carries by Kimani Vidal, who scored two touchdowns. Smith added 56 yards on 11 carries. The 162 yards and two TDs by Vidal were both a career-high.
Gunnar Watson, making his second straight start at quarterback, threw for 182 yards off 22-of-29 with one touchdown and no interceptions. Tez Johnson was the go-to receiver with nine catches for 81 yards and a touchdown. Reginald Todd, AJ Lewis and Vidal all had three receptions with Todd earning 26 yards in receptions, Lewis 16 and Vidal nine.
Defensively, Carlton Martial recorded 18 tackles to lead the Trojans, marking his 15th career game with double-digit tackles.
Troy grabbed a 10-0 first-quarter lead off a Brooks Buce 34-yard field goal and a 45-yard run by Vidal before Texas State scored on a 2-yard run by Brock Sturges. Buce has now made all four field goals he has attempted this season and the TD run by Vital was Troy's largest rush of the season.
Troy answered with a Watson to Johnson 33-yard TD pass with 12:58 left in the second quarter, increasing the Trojan margin to 17-7.
Texas State quickly matched it with 40 seconds later on a 78-yard McBride to Javen Brooks TD strike that cut it to 17-14, which is where it stood at halftime.
Vidal added to the Troy advantage with a 1-yard TD run with 6:19 left in the third quarter but the Bobcats scored twice to seize a 28-24 lead. McBride, who threw for 279 yards off 22-of-32 passes, threw a 2-yard TD pass to Ashtyn Hawkins before throwing the 21-yard go ahead score to Graham.
While Troy gave up 279 yards through the air, the Trojan defense allowed only 91 yards rushing on 39 carries to the Bobcats. Sturges led Texas State with 49 yards on 11 carries.
Troy has a week off before returning to action on Thursday, Oct. 28 at unbeaten and 15th ranked Coastal Carolina