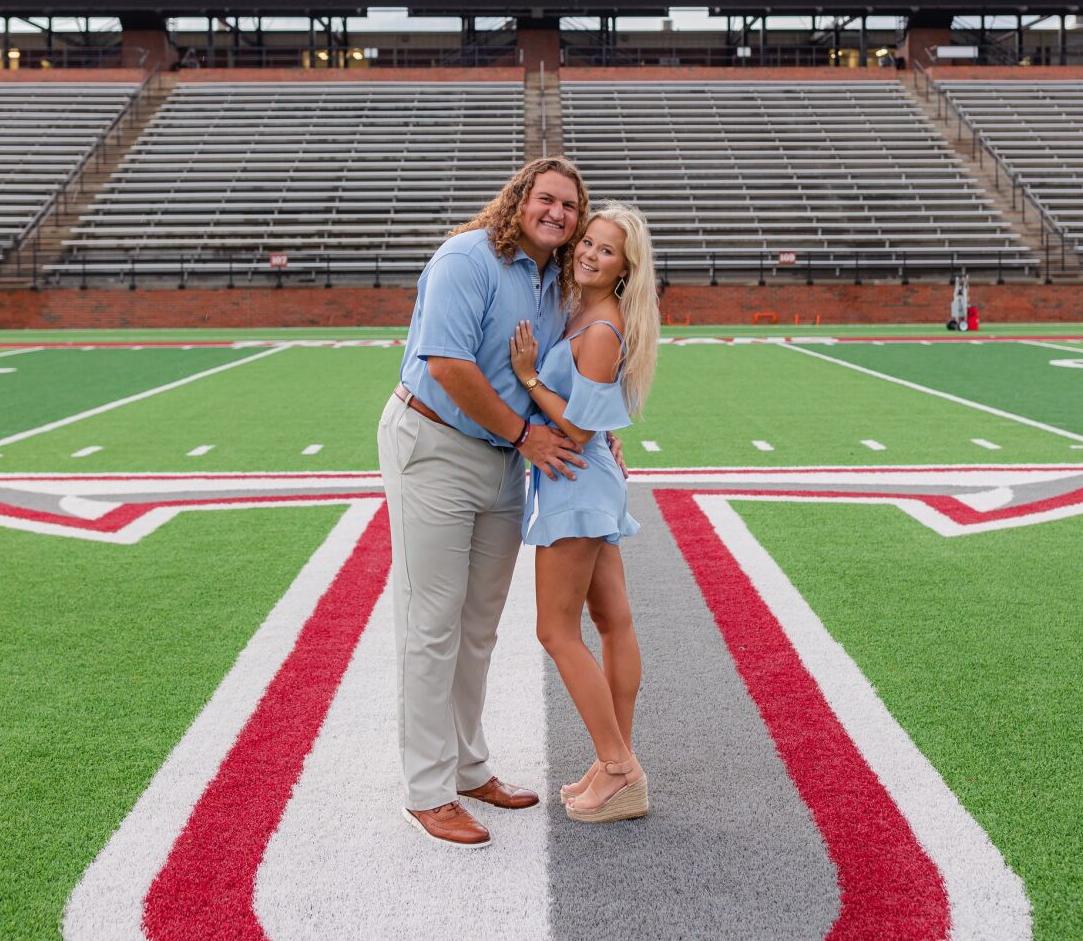 TROY – Troy University football player and Enterprise native Dylan Bradshaw had his game face on inside Veterans Memorial Stadium on July 25.
Though the rugged senior center wasn't squaring off against a 300-pound defensive lineman in front of thousands of fans, the jitters were present.
"Man, I was shaking in my knees," Bradshaw said following a practice on Thursday. "I've never been more nervous in any football game I've ever played."
Across from Bradshaw was his girlfriend, Elisabeth Hipps, a recent Troy graduate.
Bradshaw got down in his stance – well on one knee to be exact – and popped the question of marriage.
"So many emotions overcame me in that moment," Hipps said. "I was so excited and happy. Being in Troy's Veterans Memorial Stadium was just the icing on the cake. So much of our relationship has revolved around Troy football, so being in the place where it all started was so special."
Troy sports information director Adam Prendergast ran interference before the proposal.
Hipps had been told by Bradshaw that Prendergast needed him on the field that afternoon to shoot a promotional video.
"We had a graduation party we were going to in Enterprise and we were already dressed up," Bradshaw said. "So I had Adam there, I had a photographer and a videographer. We played it off like we were going to start the promo video and that's when I looked at her and I said, 'I told you that you were here for a promotional video, but the truth is that's not what it really is.' I got down on my knee and gave her my spill and here we are."
There were others in attendance, unbeknownst to Hipps at the time.
"Both of our families and my dog, Stella, were hiding in the bleachers and watching and waiting to celebrate with us," Hipps said.
The two met in 2017 after Troy's upset win over LSU in Baton Rouge, La.
"We started out as friends then, and look where we are now," Hipps said.
Bradshaw said he felt it was time to take that step in life.
"Me and her have been dating two and a half years, so we're comfortable with the decision," Bradshaw said. "It takes my mind off other things so I can focus on football. That's part of the reason I did it before the season."
Hipps, a Troy native, is a 2015 graduate of Pike Liberal Arts. She graduated college this past spring from Troy's Sorrell College of Business and currently works for New York Life Insurance Company in Troy.
While Bradshaw is a senior this season, it may not be his last at Troy. He's considering coming back for another year following the recent ruling by the NCAA that all players involved in fall sports this year are eligible for an extra year due to the situation with the coronavirus pandemic.
"I think there are a lot of moving pieces for that argument," Bradshaw said. "I'm in the position to go out and play better than I ever have.
"If I have a successful year, I'm definitely looking at it (coming back). There's more of a chance that I come back than I wouldn't, at this point.
"I'm not quite ready to let go of the game yet. It's something I've done my whole life. I'm a leader on this team and to be able to lead for two years in a row would be an honor.
"To be honest, I'm not trying to look at it a whole lot right now. Just play 12 games and win a conference championship this year."
As far as a wedding date, Bradshaw's decision on whether to return for an extra year may play into that as well.
"If I come back for another year we'll push it back," Bradshaw said. "We're not in any hurry to get married because we already know and we're still young.
"We can be engaged for two years if we have to. It just depends on how football plays out. Football is the key piece to both of our lives right now, especially since it could be my future.
"I'm really hoping I have great years and give NFL a shot after this. That's where we're at."
Be the first to know
Get local news delivered to your inbox!