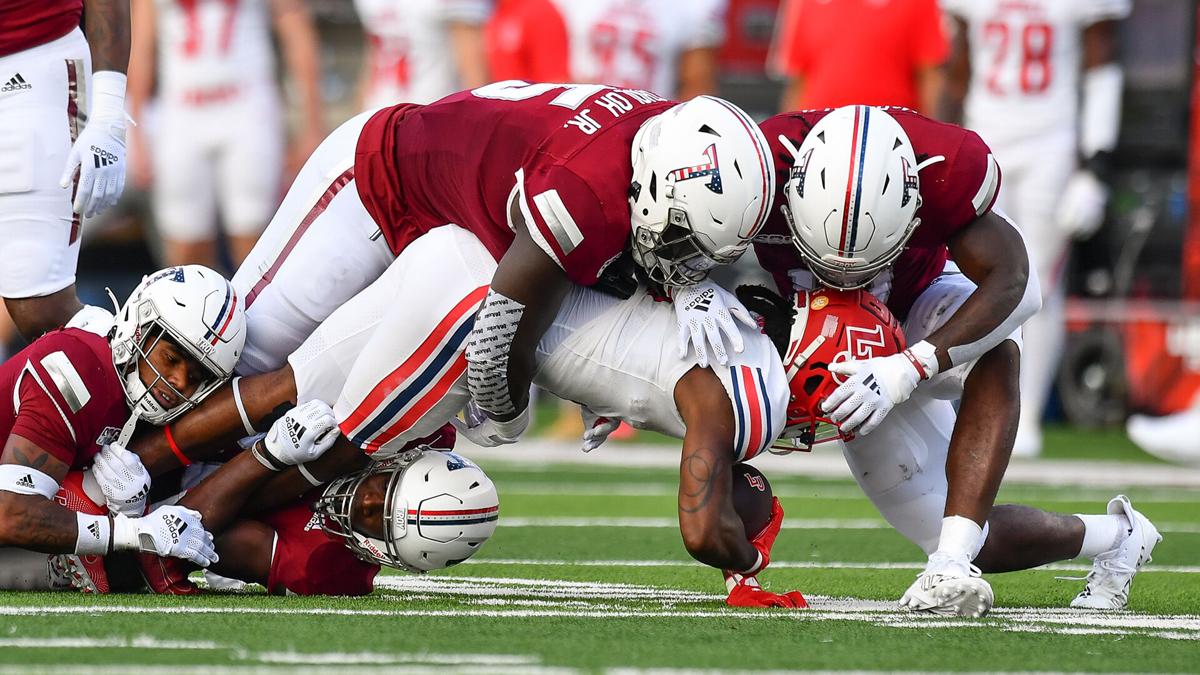 Troy coach Chip Lindsey addressed the team's run game struggles on Tuesday, basically saying the solution is rather simple to correct.
"It just comes down to being more consistent and finishing blocks," Lindsey said. "At the end of the day, the game is still about blocking and tackling.
"That's something we have to improve on up front – do a better job of maintaining our blocks and finishing blocks. I think when we start doing that consistently; you'll see some big runs."
Troy was held to just 21 net yards rushing during a 21-13 home loss to Liberty on Saturday. The Trojans did gain 63 yards on the ground, but were pushed back for 42 yards in losses, which included five quarterback sacks.
"The other side had a lot to do with it," Lindsey said of Liberty. "We lost some one-on-one battles in blocking up front – couldn't maintain our blocks all of the time as the game carried on. We've got to do better job up front of getting all five on the same page every snap.
"There were some big runs there that we didn't get because of that. When you look back at explosive plays, we want 10 in the game, and we had six in the passing game and none in the run game, so that was kind of the story of the night for us."
Troy has its first road game of the season this Saturday night at Southern Mississippi and Lindsey knows it will be another challenge for the rushing attack.
"They have a really good front," Lindsey said of the Southern Miss defense. "I think their front four are guys are really active and good football players. We've really seen that the first two weeks as well.
"Even Southern's (opening opponent) front was big and athletic. Obviously last week Liberty was tremendous up front as well. I think for us, it's not about what we're doing; we've just got to do it better."
Defense rising: Lindsey was proud for the most part with the play of the Trojans' defense against an explosive Liberty offense led by dual-threat quarterback Malik Willis.
"I think we held Malik Willis in check probably about as good as we possibly could," Lindsey said. "He made big-time conversions on fourth down and third down with his legs, which we knew he would make his share of plays. But I really liked the way we adjusted and we gave ourselves an opportunity.
"There were some things early on we didn't handle well, but some of that goes along with the speed of the game, you know? You go against scouts (team) all week and get ready for that opponent and then, boom, the speed is so much quicker and you have to get adjusted to it. I think we did that.
"I think when you look at us on defense we run and tackle in space pretty well. We did miss a few on Malik Willis, but a lot are going to miss on him some."
PAT woes: For the second time in as many games, Troy had an extra point kick blocked on Saturday. Troy had scored a touchdown with 1:10 left in the game to pull within 21-13, but the PAT by Brooks Buce was blocked.
Lindsey said a change will be made.
"The blocked extra points are a personnel thing that we've got to get changed," Lindsey said. "We thought we had it fixed, and now we're going to change personnel. Same exact spot as the first one (blocked PAT against Southern), so that's something we've got to fix with somebody else there."
Choloh honored: Troy junior defensive tackle Will Choloh was named to the Pro Football Focus National Team of the Week after registering eight tackles, 2.5 sacks and four tackles for loss against the Flames on Saturday.
"It means a lot," Choloh said of the recognition. "I've been putting in a lot of work since I got on campus."
He credits the coaches for having him in the right positions on Saturday.
"We switched up our scheme a little bit," Choloh said. "I feel like I'm versatile and they put me on the edge a bunch and it paid off. I was kind of playing all over the place and it was fun to be used like that."