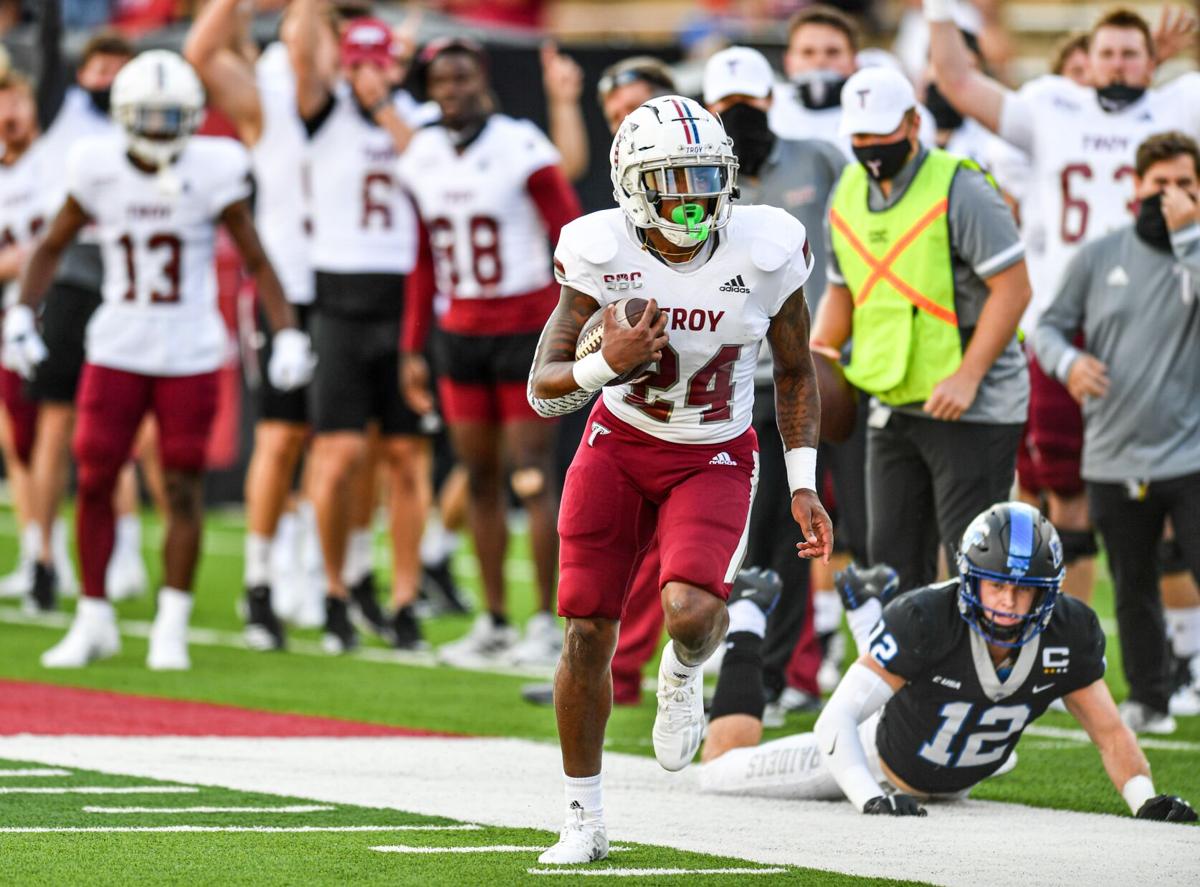 TROY – The Troy running game, explosive at times early in the season, has really struggled in recent games and things didn't change during a 20-17 loss to Middle Tennessee on Saturday.
The Trojans rushed for just 92 yards on 23 attempts, though senior B.J. Smith did show some positive signs late in the third quarter when he carried the ball six straight times to begin a drive – getting runs of 2, 24, 3, 13, 14 and 1 as the Trojans moved to the 22 of Middle Tennessee.
But two plays later, quarterback Gunnar Watson was intercepted in the end zone to halt what had been a promising drive to that point.
Smith led the Trojans with 62 yards on 10 attempts, while Jamontez Woods rushed for 38 yards on six carries. The net yards total wasn't helped by the fact Watson was sacked several times for 25 yards in losses.
"It just hasn't been good enough," Smith said. "I feel like as the leader of the running back room, that falls on me. We've just got to correct that as a unit.
"It's definitely frustrating, but you can't get rattled. Things are never as good as they seem and they're never as bad as they seem, either. We started off the season running the football pretty effectively, but we've hit a hump and it's kind of been downhill since. There's some things we've got to correct."
Martin punts: Former Northview standout Jack Martin appears to have overtaken Kyle Coale as the No. 1 punter on the team. Martin was the only punter used in the game, kicking four times for a 44.2 average.
The first three times, he was backed up inside the Troy 5.
His first punt came after quarterback Gunnar Watson was sacked and fumbled the ball, which was recovered by Troy at the 17 after a 14-yard loss. Standing at the Troy 3, Martin got off a booming, high 54-yard punt that was fair caught at the MTSU 29.
On his second punt early in the second half, Martin was backed up to the 1 when he got off a 44-yard punt which was also fair caught.
On his third punt, Martin was backed into the end zone, caught a high snap and got off a 40-yard kick under heavy pressure that was fair caught at the Middle Tennessee 49. Midway through the fourth quarter, Martin got off a 39-yarder that was fair caught. Martin also continues to handle the kickoff duties.
"You know, Jack hasn't been a punter by trade, he's been a kickoff guy," said Brian Blackmon, the special teams coach who served as interim head coach on Saturday in the absence of Chip Lindsey, who tested positive for COVID-19. "As the quarantine stuff started, he started punting. Early in the season his operation times were a little slow, so we weren't quite comfortable getting him out there.
"But he has worked really hard on that. Obviously his leg is extremely strong, but he has done so much work to get his operations times down to where you feel comfortable putting him out there."
Missing in action: Troy head coach Chip Lindsey wasn't the only missing Trojan on Saturday. Ten players and two other coaches were listed on the inactive list for reasons including, but not limited, to injury, COVID-19 and/or coach's discretion
It was reported on Friday that Lindsey had tested positive for COVID-19 and would miss the game. Players out on Saturday were: Kimani Vidal (RB), Dylan Armstrong (OL), Rondell Cole (WR), Elgin Griffin (DT), Hamilton Hawthorne (OL), Javon Solomon (DE), Austin Stidham (OL), Malik Pertee (DT), Tye Pouncey (CB) and Douglas Thompson (OL). Also missing were assistant coaches John Carr (inside receivers) and Davern Williams (defensive line).
Play-calling: With Lindsey, who normally handles the main play-calling duties on offense, out for the game, offensive coordinator/offensive line coach Ryan Pugh and running backs coach Cole Weeks shared the duties.
"I think Cole was the primary play-caller, but I believe they worked in unison together to do that," said Blackmon, who served as interim head coach on Saturday. "When I was clicking over to the offensive side listening, there was a lot of communication going on between them."
Career-long: Freshman wide receiver Tez Johnson turned a screen pass into a 58-yard gain to the MTSU 2 late in the first half. It marked the longest reception this season for Johnson, whose previous long catch was for 33 yards.
Honoring fallen Trojan: Players wore helmets with a No. 12 sticker on them Saturday in remembrance of Troy legendary quarterback Sim Byrd, who passed away on Wednesday at the age of 75. There was also a No. 12 jersey set up in a locker in his honor.
The Montgomery native ranks second all-time in Troy history with 79 career touchdown passes. He is third in total offensive yards and passing yards per game and fourth in passing yards, completions and attempts.
Be the first to know
Get local news delivered to your inbox!