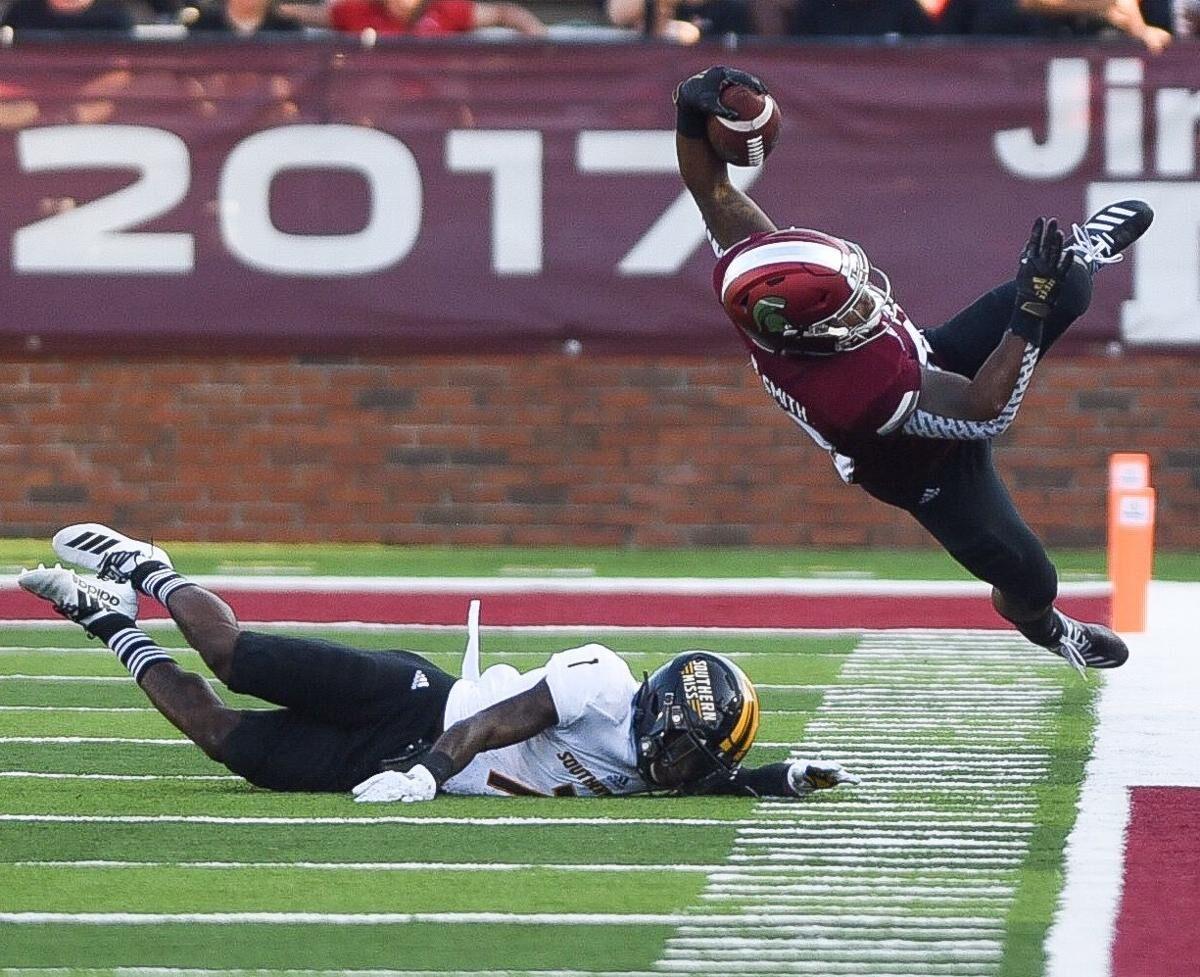 Perhaps no player on the Troy football team is more eager to return to the field Saturday in the season opener at Middle Tennessee than B.J. Smith.
"I went probably about a year, you know, waking up every morning wondering when I'd be 100 percent – when my body would feel the same," Smith said during a Zoom conference call Tuesday. "I truly can say that day has come and I feel good."
It was a year ago this week the star Troy running back went down with a season-ending knee injury while trying to catch a pass.
"It was just a regular play that I probably did probably my whole career here," Smith recalled.
Early in the second game of the season against Southern Mississippi, quarterback Kaleb Barker threw downfield as Smith streaked down the sideline on the Troy side of the field.
"Kaleb made a good throw to try and position me away from getting hit," Smith said. "I tried to make a back shoulder (catch) and try to plant on my right knee. I just felt it and heard it snap."
At the time, Smith was only concerned with having to leave the game.
"My first instincts were to just be mad because I couldn't help the team out at the moment and I had to take a couple of days out," Smith said.
Several days later, team physician Dr. Jeffrey Dugas revealed to Smith that surgery would be needed and his season was over.
"When Dr. Dugas told me what happened and that I was going to have to probably be here another year because I was going to be out, I got emotional," Smith said.
It was devastating news for Smith and the Trojans.
Smith had been named the Preseason Sun Belt Conference Offensive Player of the Year in what was supposed to be his final college season. He had only one carry against Southern Miss for a 2-yard loss before the injury. In the season opener against Campbell, Smith had 10 carries for 108 yards.
Being a fourth-year senior, Smith was eligible to take a medical redshirt and return for another season.
"I pushed myself every single day, going back to probably the day after surgery," Smith said. "It's been hard, but nothing worth having is easy. Looking back, it was an emotional part of my career, but I think I came out better on the other side."
Troy head coach Chip Lindsey is glad to have Smith back for more reasons than just his running ability.
"Obviously, B.J. is a guy that is one of the leaders of our football team, so just to have him back from that standpoint is huge," Lindsey said.
With the return of Smith leading the way, Lindsey believes the Troy running back situation is solid. DK Billingsley, who took over the No. 1 role when Smith was injured, returns as the top backup. But there's also talented freshman Kimani Vidal, redshirt freshman Jamontez Woods and Texas A&M transfer Charles Strong among others.
"DK filled in last year great for him and almost ran for 1,000 yards himself," Lindsey reminded. "When you talk about Kimani, who is a true freshman that I think you'll really enjoy watching, along with Jamontez Woods and Charles Strong – I think when you look at that room it's a solid group that I think will all play and they'll all get their opportunities to run it and to catch it.
"We're trying to make sure the right guy touches the ball whether it's handed to them or thrown to them. They're all very capable. We feel like right now we have some depth, but we felt that way going into Southern Miss last year, too, and you saw how quickly that happened."
Linebacker KJ Robertson lines up against the talented running backs every day in practice and is impressed.
"The whole running back corps is amazing," Robertson said. "All those guys are downhill runners. The O-line is great led by (Dylan) Bradshaw. He's been taking a great leadership role in that."
Quarterback Gunnar Watson has plenty of confidence in the group as well.
"It's real nice having B.J. back there and DK, too," Watson said. "They've played a lot. I'm real comfortable with both of them back there. Kimani Vidal Has looked really good. Jamontez has looked good and Charles is really good, too. I'm comfortable with all five of those back there."
Be the first to know
Get local news delivered to your inbox!