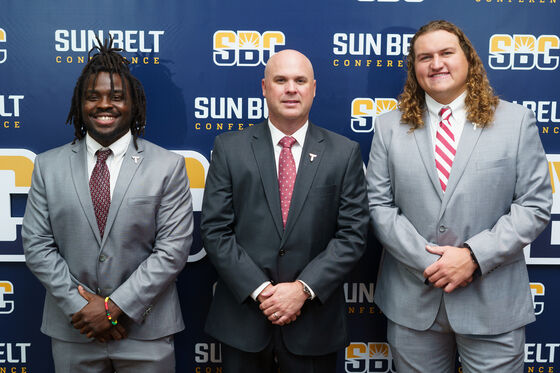 Going into his third year as the Troy head football coach, Chip Lindsey understands there is a sense of urgency to show marked improvement.
"Troy – we have a great tradition here and we expect to compete for championships," Lindsey said. "I understand that, and so does everybody on our team and that's what our goal is to get back into that position that we're competing for the Sun Belt championship every year."
The Trojans finished 5-6 a year ago during a difficult season plagued by COVID-19 and have been placed at the bottom of the five-team Sun Belt East Division in preseason rankings. The Trojans were 5-7 in Lindsey's first season.
Before taking part in an open media session at the Sun Belt Media Day in New Orleans on Thursday, Lindsey and Troy players Dylan Bradshaw and Carlton Martial spoke to the Dothan Eagle via a ZOOM video conference about their thoughts on the upcoming season.
"I think Coastal was picked fifth last year," Lindsey quipped of the defending East Division champs Coastal Carolina, who went 8-0 in league play and 11-1 overall. "You know, at the end of the day we are what we are. Our record was 5-6 and we didn't get the opportunity to play the last game (ULM cancelled due to COVID) to try and get bowl eligible, which we were disappointed in.
"Our team motto this year is 'Our Time.' I've had two recruiting classes of my own now and we fill like we've filled some holes and created more depth than we've ever had, especially up front. We're real excited about this football team. I know I am, and the staff feels the same way."
Bradshaw, a senior center from Enterprise who has been named to the Rimington Trophy Watch List presented annually to the nation's top center, shrugs off the preseason chat.
"I mean, you see it," Bradshaw said. "You can let it make you mad if you want to, but the way I look at it is all winter and all summer nobody else has seen us work.
"If you want to let it eat at you on the inside, that's your own problem. But I know come Sept. 4 (season opener against Southern) what we bring out there is not going to be a talent that the last team in the East would bring out there. Until then we're going to stay quiet about it. The preseason is the preseason. All that matters is the postseason and that's really the way I look at it."
Martial, a junior linebacker who has been tabbed the Sun Belt preseason Defensive Player of the Year, uses it as motivation.
"After our year last year, I understand why we're picked last, but that's just fuel to the fire," Martial said. "We're just ready to get guys out on the field and show what we've got."
QB competition: With Jacob Free recently electing to end his playing career and become an assistant football coach and teacher at Straughn High School, what was mostly a three-way battle for the starting job between Free, last year's primary starter Gunnar Watson and Missouri transfer Taylor Powell has certainly been narrowed heading into fall camp.
"I think Gunnar and Taylor both understand where we are at from a competition standpoint and that's going to make everybody better and I'm excited to see how this thing plays out," Lindsey said.
"I haven't really been a guy who's played two quarterbacks ever, so in my mind I want a guy who will really step out front and be the guy. Obviously once he does that and becomes the starter, you've got to play well to continue to be the starter. We've definitely got a sense of urgency at that position."
Kicking additions: Troy has added a placekicker in Georgia transfer Brooks Buce, a back-up for the Bulldogs last season, and a punter in UConn transfer Luke Magliozzi, an Australian who averaged 42.2 yards per punt two years ago. UConn didn't field a football team last year due to COVID-19. Both will be juniors.
It helps fill the void left when Dothan native Jack Martin, who handled the kickoff and punting chores last year, transferred to Alabama. Incoming freshman Scott Taylor Renfroe from Pike Liberal Arts and senior Kyle Coale will also compete for the kicking chores.
Money matters: Bradshaw and Martial continue to learn more about the ruling in which players can now be compensated for their name, image and likeness.
What they don't want is for it to distract from getting prepared for play on the field.
"Of course the generation under us, or the new wave, they're going to look at it as, 'OK now I can get paid for my likeness and all that' but I just don't want it to take anything away from this football game," Martial said. "It's the love of the game that I do this for like every athlete should."
Bradshaw has made some connections for some possible deals, but wants to keep the main focus on the football field.
"I'm working on some things now, but I'm going to keep it disclosed until it is final, which will probably be the end of July," Bradshaw said. "My thing is I don't want the NIL to take away from football."
Starting time: Troy players will report to camp on Aug. 5 with the first preseason practice scheduled for the following day. Lindsey said the practices will likely be held in the afternoon hours.