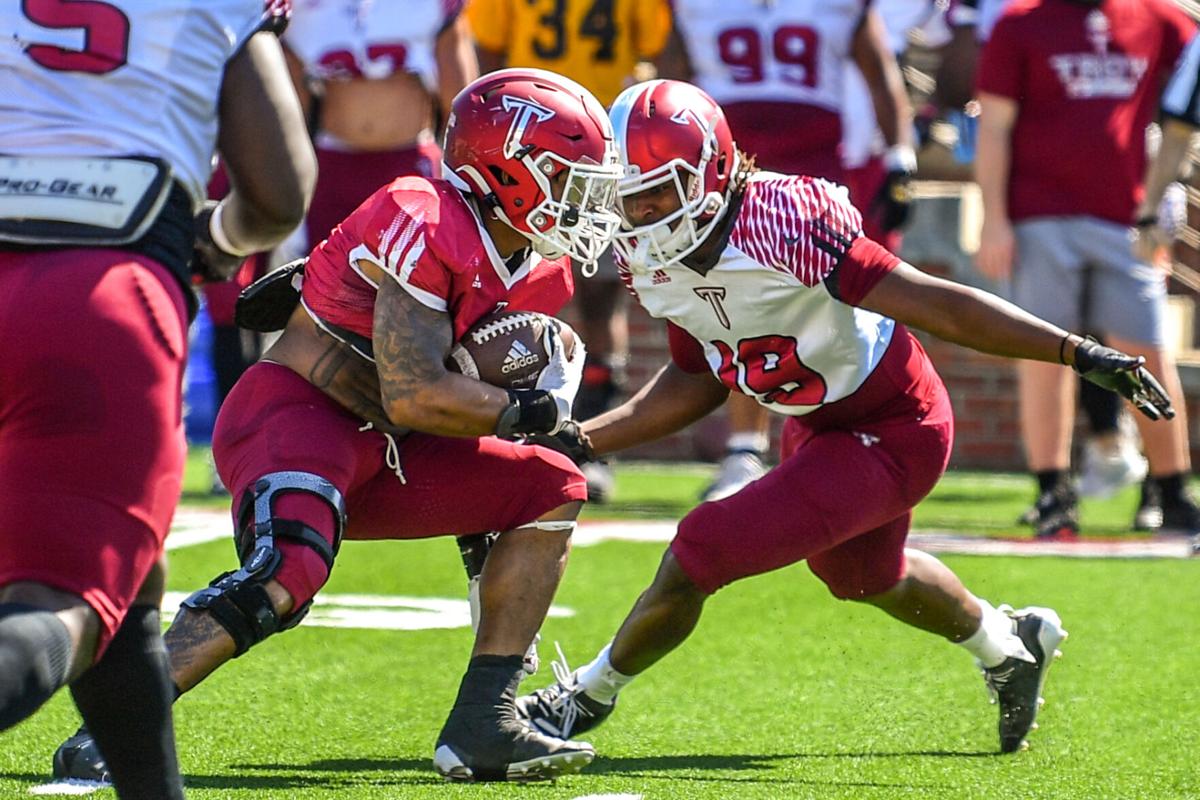 With the majority of starters returning on both sides of the football for Troy, there haven't been as many holes to fill as is usually the case during spring drills.
But the competition has still been fierce.
The Trojans will be on display for the fans on Saturday during the annual T-Day intra-squad scrimmage inside Veterans-Memorial Stadium. Kickoff is slated for 1 p.m. and admission is free.
"It's good actually because you can really focus on creating some competition," Troy coach Chip Lindsey said of the veteran-oriented team. "In other words, moving a guy from left guard to right tackle, or moving a guy from inside receiver to outside, or corner to safety or vice versa.
"You've got some semblance of what you know you have coming back because they've played before. Now you've got eight or nine, 10 guys maybe, we've added at the break that could sprinkle in some competition."
Of course the biggest focal point of the spring has been the three-way quarterback battle between Gunnar Watson, Jacob Free and newcomer Taylor Powell, a transfer from Missouri. Kyle Toole, a true freshman this past season, was also very much in the mix before an arm injury ended his spring.
Lindsey insists there has been little separation between the quarterbacks and the competition will likely continue tight going into preseason practice in August.
No doubt many eyes will be on the three signal-callers on Saturday, with much on the focus on Powell as fans get a chance to see him in game-type action for the first time as a Trojan.
The former Arkansas Prep Player of the Year, Powell sat out last season at Missouri, but played in six games during his redshirt sophomore season. He completed 29-of-62 passes for 297 yards with a touchdown pass and two interceptions.
He made his first career start on the road at Georgia and went 10 for 22 passing for 84 yards. During a game against Troy that season, Powell was 6 of 8 passing for 57 yards. He also played six games as a redshirt freshman in 2018, completing 6 of 14 passes for 134 yards.
Watson was the primary starter last season, but missed several games due to injury. Free played well in his absence as the top back-up quarterback last year.
The offensive line is expected to be a strong suit this year for the Trojans. The unit is led by Enterprise native Dylan Bradshaw, who is taking advantage of the NCAA ruling which granted players an extra year of eligibility due to COVID-19.
Like last season, the Trojans are extremely talented at the skill positions with the likes of Reggie Todd and Kaylon Geiger at wide receiver and Kimani Vidal and B.J. Smith leading the running back room.
The Trojans' defense is once again led by linebacker Carlton Martial, a first team All-Sun Belt selection. Will Choloh anchors the defensive front and Terence Dunlap is among the leaders in a strong secondary.
Former Northview standout Jack Martin is expected to handle the punting and kickoff duties, while he is currently competing with Kyle Coale for the starting placekicking job.
"We've had a great spring so far," Lindsey said. "We've got obviously a few guys with bumps and bruises which is normal during a full spring, but it's been very productive.
"It's been good to see people compete at different positions. I think that's the key to getting better; having enough depth to push each other and I think we've done a better job of that.
"I'm excited about this team and what we have the potential to be. Obviously we've got a long ways to go before we get there.
"Our players are looking forward to getting into the stadium in front of some sort of crowd. Lots of enthusiasm right now as we wind spring practice down."
Jon Johnson is sports editor of the Dothan Eagle and can be reached at jjohnson@dothaneagle.com or 334.712.7965. Support his work and that of other Eagle journalists by purchasing a digital subscription today at dothaneagle.com. Follow Jon Johnson on Twitter @eaglesportsed