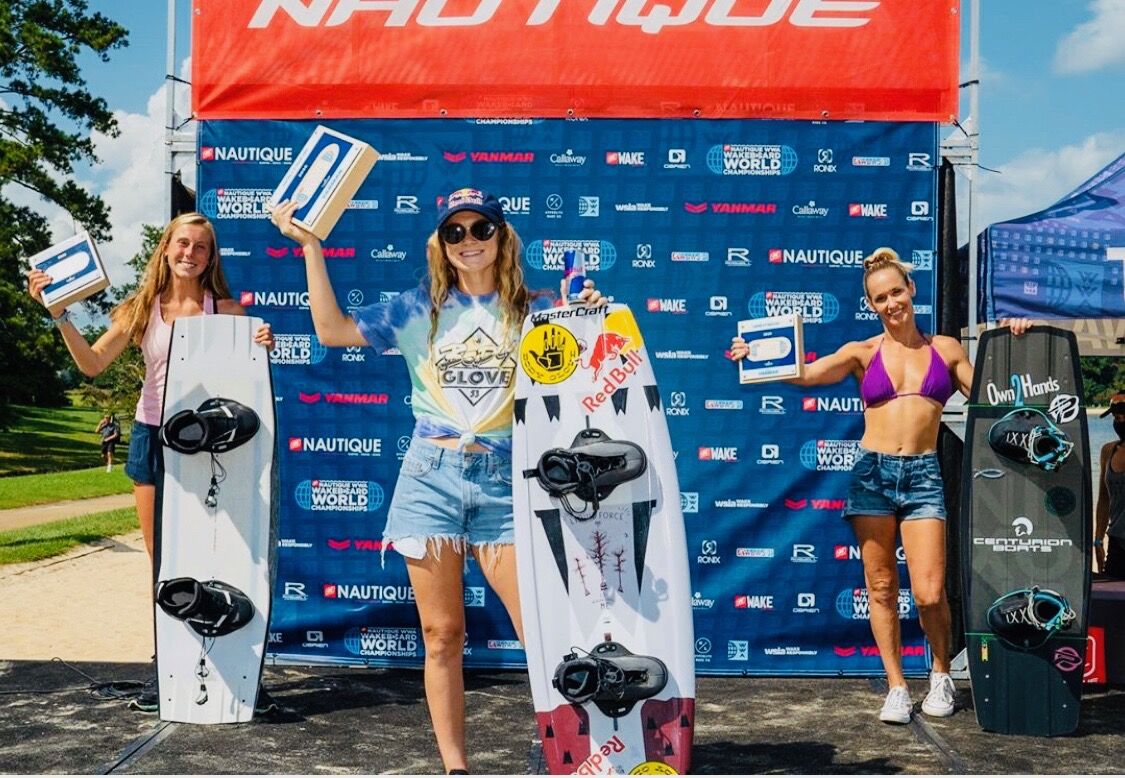 For the first time in her professional career, Dothan's Mary Morgan Howell stood on the podium after finishing runner-up in the Wakeboard World Championships at Pine Mountain, Ga., this past Sunday.
"That was the icing on the cake, obviously," Howell said.
And the end of a topsy-turvy season clouded by COVID-19.
The 17-year-old won national and international titles as an amateur and turned pro three years ago. It's been a little wavy at times.
A highlight was earning a silver medal in the Pan American Games last year in Lima, Peru, after struggling her first year as a pro. She went into this season highly optimistic before it was turned upside down with many events canceled due to the coronavirus pandemic.
"It's been pretty crazy," Howell said.
But last weekend, everything came together for Howell as she competed in the Pro Women's division on Robin Lake within the Callaway Gardens resort.
"The results came out and I ended up getting second, and honestly, I couldn't believe it," Howell said. "I couldn't even breathe."
Her season started back in mid-March in Australia as a competitor in the Moomba Masters International.
"I did not do amazing in that," Howell said. "I believe I placed fourth. We got back to Dothan, thankfully. Right after that the world got crazy."
With COVID-19 causing shutdowns and quarantines, the Howell family retreated to their second home on Compass Lake (Fla.), where Mary Morgan trains.
"I was able to train really hard," Howell said. "Like, I'm talking the hardest I've ever trained in my life. I was able to land so many new tricks."
As events began being canceled, Howell set her sights on qualifying for the Masters Water Ski & Wakeboard Tournament in Pine Mountain, Ga., which is one of her favorite events scheduled for August. Because of COVID-19, qualifying was done by videoing practice sessions with the best efforts being submitted online.
"The way the points went last year, I was going to have to do a qualifier for it," she said. "They were going to take the top two from the qualifier. I mean, every single day I had someone on the boat filming me."
Wakeboard competitors are judged on different tricks and routines while being pulled behind a boat, which creates the wake – or track of turbulence left by the boat moving through the water. A wakeboard is similar to a surfboard, but with boots attached that you slip your feet into, similar to snow skis.
"I tried to perfect this line – it was a four-trick line," Howell said. "I had I believe a month to get it filmed and sent in. I'd land a line, and then I'd say, 'Oh, this trick is a little bit funky. Let me do this trick again.' I mean I did it over and over and over every single day. The time I finally got it perfect I was so excited.
"I sent the video in and I think it maybe took two weeks for the results to come back and it turned out I won the qualifier. I was so excited. I felt like all that hard work and videoing paid off and literally the next day they released that the Masters was canceled.
"Their main reasons for doing that are because some of their international competitors weren't able to get to the U.S., so it would be really hard for them to defend their titles."
The next competition would be the World Wakeboard Association National Championships in Waco, Texas, in early August.
"I trained really, really hard for nationals and I got there and totally blew it," Howell said. "So it was really sad because so much got canceled and this competition I could finally go to and I didn't show what I had actually been training for."
As it would turn out, the World Championships scheduled for October in Mexico were moved up to Pine Mountain this past weekend, giving her a chance to compete at Callaway Gardens after all.
"Coming off nationals I knew something needed to change," Howell said. "I thought and prayed about it a lot and talked to my coach and my dad and I just formulated a plan. That plan was a little bit different than normal in that every single time I get on the water; I'm going to pretend like it's a competition. No falls are allowed.
"I'm going to get out there and do my passes over and over and over again every single time for at least an hour and a half until I can't do any more. That's how we went into training for worlds. We had about two and a half weeks to train, so that's a pretty short amount of time."
Howell made it through the semifinals after rebounding from a fall on her third trick.
"Immediately the thought popped into my head that, 'You blew it,'" Howell said after the fall. "And then a second later, I remembered something my coach said that you can always make up for it.
"I got up and I actually squeezed in one more trick before my ending on my first pass and then the boat turned around and I finished my pass really clean. I got in all the tricks in that I needed to get done, so I was very excited."
Howell made it into the finals against three other competitors, which included four-time world champion Meagan Ethell of Orlando.
"I was like, 'I've got to pull out all of the stops. Like, I can't hold anything back,'" Howell said.
"I actually ended up landing my passes 100 percent perfectly. I was just so thankful that all the work I put in and all the support from the sponsors – I felt I've finally just done what I know I can do. I finally did my best and I was real excited about that."
Howell compiled a score of 82.00 to place behind Ethell, who scored 85.00. Dallas Friday was third at 70.00.
"The big thing for me is that after such a crazy year, finally in competition I performed like I perform in practice," Howell said.
Be the first to know
Get local news delivered to your inbox!