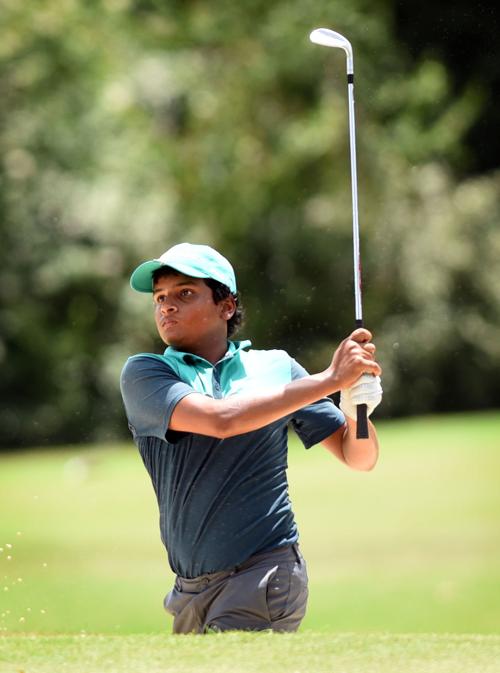 Angelo Joseph got to see the final putt fall. Asher Joseph can tell him the rest.
Asher put the finishing touches on a dominant 9-under-par 201 total and a four-shot victory in the 11-12 age division of the Press Thornton Future Masters at the Dothan Country Club.
His mother, Leena Joseph, was Facetiming with Angelo on the 18th green. The family lives near Melbourne, Fla. A business trip kept Angelo from being in Dothan. He missed a good show.
Joseph shot an even-par 70 in Tuesday's final round. He gave himself some breathing room by opening the tournament with a 65 and following it up with a 66. He started the day with a three-shot lead over Jack Roberts of St. Mary's, Ga. Roberts shot a 1-over 71 Tuesday and finished second at 5-under 205.
Joseph will be an eighth-grader at Edgewood Junior/Senior High School in Merritt Island, Fla. He said he is proud of playing well for all three rounds.
"I think I won a three-day tournament five years ago," Joseph said.
Roberts played in the final group with Joseph, along with Tip Price of Greenville, S.C., and Phillip Dunham of Jacksonville, Fla. Both Price and Dunham ran into trouble early.
Dunham had a double bogey on the par-3 No. 3 and a bogey on the par-5 No. 4. Price had a bogey at No. 1 and a triple-bogey on No. 3.
To their credit, they fought back from those tough starts. Both rallied to finish at even-par 70 for the round. Price shot a 32 on the back nine.
"You never want to be chasing someone then go 4-over through the first three holes," Price said. "I told myself if I could get back to even-par for the day that I'd be happy and I'd feel proud of myself."
"Those (bad) holes hurt me," Dunham said. "I was not nervous. I knew I could come back and win. I was nine down. That's not the easiest. I had four birdies in six holes, but I still left a lot of shots out there."
Roberts said his ball striking wasn't good enough in the final round.
"My short game really helped me," Roberts said. "I was happy with the score I shot (71)."
He was Joseph's only competition after the big early numbers by Price and Dunham. Roberts did a good job of hanging around. He trailed by just two shots after No. 11 when Joseph failed to get up-and-down for par on the par-3.
"That was maybe the only part I was shaky," Joseph said.
Joseph promptly crushed his longest drive of the day on No. 12. He had 39 yards left to the pin on the 300-yard par-4. He hit a wedge to three feet and made the putt for birdie and a three-shot lead.
"I think after 12 I was good," the champion said. "That was real important. If he knew he was closer to me he could have made a run."
Joseph added a birdie on No. 15 and tapped in for bogey on No. 18.
"He wasn't striking the ball very well, but he's got an insane short game where it doesn't matter. He's going to shoot under par every time," playing partner Price said of Joseph.
Leena Joseph said her son has been playing well in the past two months.
"My husband was telling me he had a lot of under-par rounds," she said. "He's been playing AJGA tournaments and he's been doing pretty good there."
But as for a 54-hole event like the Future Masters, well, "It doesn't happen every day," she said.
Joseph, who plays at Duran Golf Club, a public course in Viera, Fla., credited his improvement to his coach, Justin Blazer.
Samuel Duran of Panama City, Panama, surged with a 68 on Tuesday and finished third at 206 – a shot behind Roberts and five behind Joseph.
"I've got a lot of confidence for the upcoming tournaments," Duran said with a smile. "I was hitting greens, putting well. Right now, I think I'm on top of my game. I really had fun.
"This is my second time here. I loved my pairings all week. I played with people I really liked and that helped me in my game."
Price and Dunham tied for fourth at 3-under 207.
The rest of the top 10 included William Hartman (211) of Marvin, N.C.; Sam Udovich (211) of Inver Grove Heights, Minn.; Benjamin Baker (212) of Ashburn, Va.; Trace Carter (213) of Blackshear, Ga.; Jackson Byrd (213) of St. Simons Island, Ga.; Pavel Tsar (213) of Palm Beach Gardens, Fla.; Alex Long (213) of Toronto, Canada; Tyler Mawhinney (213) of Fleming Island, Fla.; and Shawn Coultoff (213) of Winter Garden, Fla.