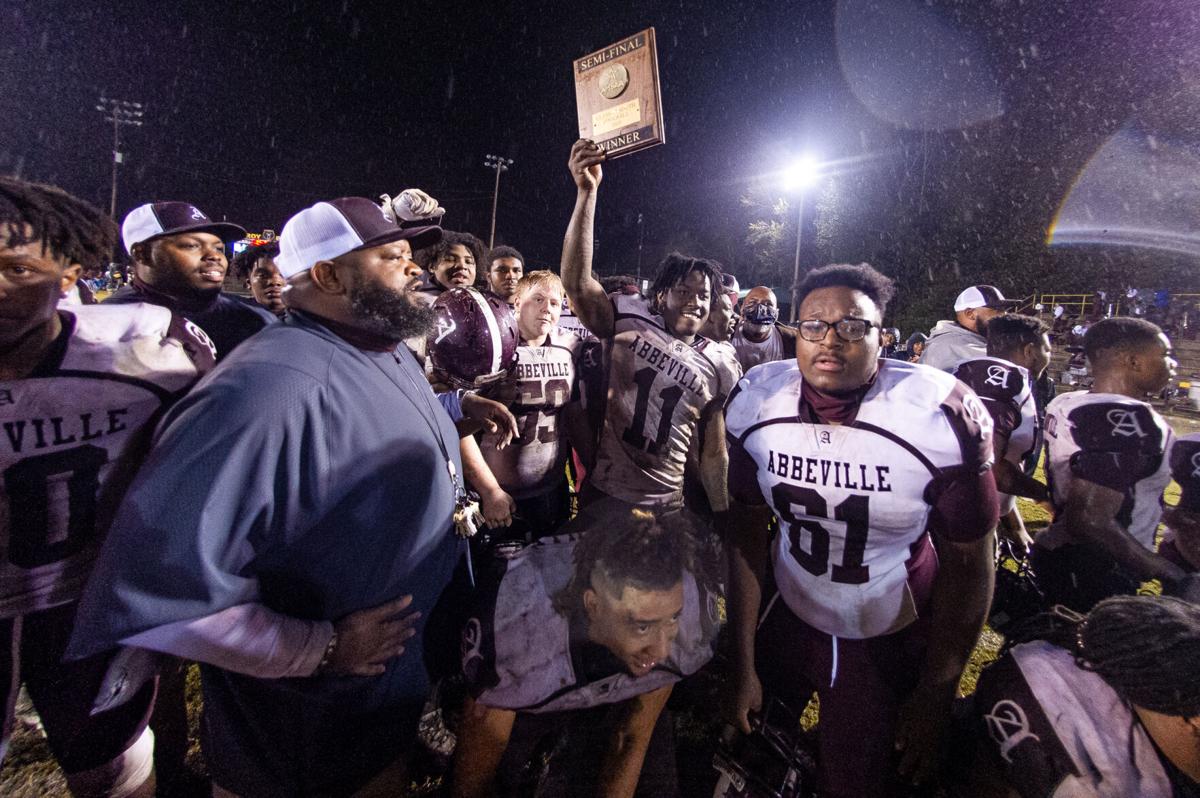 One by one the goals have been checked off for the Abbeville football team.
Friday night, the Yellow Jackets checked off another box – one right next to the words: state championship game.
The Jackets, behind eight touchdowns and six successful two-point attempts in eight tries plus some early defensive success, punched a ticket to the AHSAA Class 2A title game with a 60-45 win over the No. 3 ranked Leroy Bears at rainy Joe Palmer Stadium at Bobby Farish Field in Leroy.
"We wanted to host a playoff game. We wanted to win a playoff game. We definitely wanted to play and eat Thanksgiving dinner together and we were able to do that," Abbeville head coach LaBrian Stewart said in the Jackets' locker room late Friday as the team prepared to head back home. "The ultimate team goal was to play for a state championship.
"We have unfinished business. Now, we have to get back and finish things."
Abbeville (12-1) faces top-ranked Mars Hill Bible (12-2) in the title game Friday at 2:45 p.m. at the University of Alabama's Bryant-Denny Stadium in Tuscaloosa.
Mars Hill Bible, located in Florence, is making a third-straight state finals appearance – its first in Class 2A after winning the Class 1A title two years ago and finishing runner-up last year to Lanett. This season is only the seventh year of football at the school.
The Panthers have gone 40-4 the last three seasons with one of this year's losses a forfeit to 4A semifinalist American Christian. The other loss this year was a season-opening setback to Class 5A Jasper.
Abbeville is playing in its second championship game – the first in 49 years. The Jackets played in the 1971 Class 2A title game, finishing in a 0-0 tie with Oneonta. AHS also won a mythical state title in 1951.
"Our biggest thing is Abbeville getting better to be Abbeville," Stewart said. "Mars Hill is a great football team. They have a lot going on right now (the last few seasons)."
Abbeville enters the championship game after its victory over Leroy in the highest scoring-game in Jacket history. It also tied for fourth most points in an AHSAA state playoff game and was third highest scoring contest in the AHSAA this season, according to the AHSAA webite.
The 60 points by the Jackets was the second most ever on the tradition-rich Bears in the program's 95 years and 974 games. Only Washington County, with 62 in 1971, scored more. In fact, the Bears hadn't given up even 50 points in a game since 1972.
"Most of the year it has been the defense making it easier for the offense. Tonight, the offense being able to score as much and as often was great game planning," Stewart said, giving a shout out to Abbeville's offensive coordinator Alan Capps.
Abbeville was able to exploit an advantage up the middle in the running game. Running back Rico Dozier was the beneficiary of most of that in rolling up 201 yards rushing and three touchdowns. Martavious Glanton, behind several QB sneaks and runs, also earned some yardage in the middle.
Stewart added coaches challenged the Abbeville offensive line, knowing how important its role would be, and said the OL produced.
"Instead of running at the perimeter – they are fast perimeter wise – we wanted to run right at them," Stewart said. "When some of the offensive linemen are calling for certain things, we wanted to go with it even more. We exploited some things we thought we could take up the middle."
Another big key was taking advantage of Leroy's defensive desire to contain the dual-threat Glanton from hurting them on the run. Three times when rolling out to the left, Glanton spotted the safety cheating in for a run and threw over the top to receiver Chris Williams, who was behind the secondary. All three resulted in Abbeville touchdowns. The three TD receptions were the first of the year for Williams, a junior.
"Chris ran his route and Martavious saw that it was open," Stewart said. "It wasn't designed (pregame), 'Hey we are going to roll here and throw it to Chris.' That is what coach Capps saw (during the game) and we took advantage of it."
Williams, who also had a key first-half interception, was one of the stars for Abbeville with TD receptions of 18, 38 and 47 yards.
"Offensively, he has been working and working his way up. He is a smart football player," Stewart said.
Abbeville scored on its first two possessions – a Dozier 12-yard run and an 18-yard Glanton to Williams pass – to go up 16-7 with 3:07 to go in the first quarter. The Jackets would lead by two scores the rest of the night – usually between 15 and 23 points.
"You can be more aggressive play-calling wise," Stewart said of seizing an early lead.
The deficit for Leroy also negated to a degree its senior standout running back Kelston Fikes, who only got 12 carries (133 yards) as the Bears had to pass to try and catch up.
The Jackets were also aided by good starting field position most of the night.  Of the 12 possessions, nine started at the 41 or better, including five in Leroy territory. A couple of those were after defensive stops and punts, but most came late off unsuccessful onside kick tries by the Bears in an effort to get the ball back.
While the offense – and its 60 points – got most of the accolades, the Jacket defense also played a role, especially in the first half. The Bears had seven first-half possessions and Abbeville forced two three-and-outs and punts, stopped a drive on fourth down on one series, earned an interception on another and kept Leroy out of the end zone to prevent a potential momentum gaining drive at the half.
The defense, behind Jayven Anderson's fumble recovery, stopped Leroy on its first series of the third quarter as the Jackets led 36-15.
In addition, the defense made life tough at times for Leroy quarterback Avery Malone. Though Abbeville earned only three sacks, it continually got pressure, forcing the Bear QB to throw several passes away to avoid a sack.
"You have to get him comfortable," Stewart said. "He is a kid that if he sits back there, he is smooth. You have to make him uncomfortable."
The game became a shootout in the fourth quarter as the teams combined for 54 points off seven touchdowns and six two-point conversions in just 10 minutes of playing time.
Leroy, despite scoring 30 points in the final quarter, couldn't make up much ground as Abbeville earned 24 points in the final quarter and stayed two or three scores ahead on way to checking off another box on its seasonal goal list.
Now, one more remains on that list.
"We want to bring home the blue map (first-place trophy) and bring it to Abbeville," Stewart said. "That is what we are striving for, not to just get there."