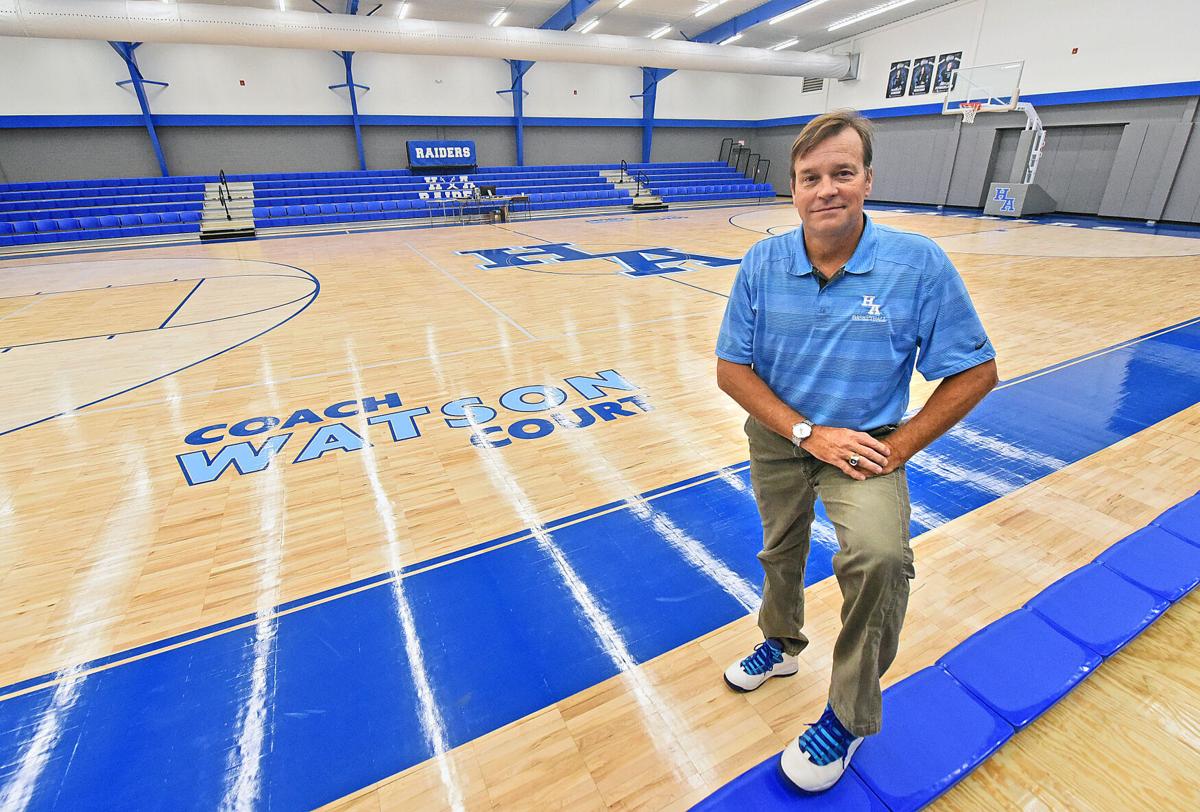 Ron Watson played on the court as a student, coached on it for 16 seasons and watched his three daughters – Sara, Hanna and Rachel – take part as either players or cheerleaders.
Now his name will be on the court going forward.
Coach Watson Court is now written across the floor in the recently-renovated Killingsworth Gym on the Houston Academy campus, which is undergoing a variety of new construction and renovation projects.
"It was a no-brainer that we would honor Ron," said Kristyn Clark, the Director of Advancement at the school. "He's poured so much of his heart and his time into the school, first off, and still does.
"He's been a mentor to so many over the years and made an impact in their lives. It was only fitting that the court was going to be named after him."
Watson is a 1983 graduate of Houston Academy, where he participated in football, basketball, baseball, golf, tennis and track. He was head boys basketball coach from 2004 until 2019, compiling a school-record 255 wins with 186 losses before stepping away from the position. He's a member of the school's athletic Hall of Fame.
The gym re-opened this past Tuesday for a volleyball match between HA and rival Providence Christian.
In what was big upset, the Raiders knocked off the Class 5A, No. 2-ranked Eagles 29-31, 25-22, 25-19, 25-21.
Putting the icing on the cake was Watson's youngest daughter, Rachel, a senior, scoring the final point to finish off the Houston Academy victory.
"That was a special moment for me," the proud father said.
While some sparkling additions are now in place – new bleachers, basketball goals, video board, scoreboard and lighting – the same wooden floor Watson played on remains intact.
Watson describes the type of floor as "a classic thing" that are few and far between and he's glad it remains the same.
"I fouled the guy from Montgomery Academy right there and they didn't call it and we ended up beating them in overtime," Watson said, pointing to a spot under one of the goals.
"These kinds of floors were made from the late 60s up until about 1972 or 73," Watson said. "These blocks of wood are actually about an inch and a half thick."
Watson is proud of the home court advantage the program has developed over the years and believes the updated look will help keep that going for years to come.
He pointed out past coaches such as Lowell Eudy, who he played for, and Johnny Oppert, who he succeeded, helped build an advantage that Watson kept alive.
"Coach Eudy believed this needed to be a tough place to come in and then Johnny Oppert was the same way," Watson said. "I remember when he (Oppert) talked to me about becoming the coach over here he said, 'One thing you've got here is you can make this place tough to play in,'" Watson said.
Watson recalls a situation during a morning basketball pick-up game at the school involving Oppert that influenced him.
"This guy who was playing started cursing," Watson said. "Johnny Oppert had the ball, and he said, 'Listen, you're not doing that in my house. This is where I work and spend most of my time.'
"So that kind of stuck with me when I started coaching, that this is my house. I told my players, that this is your house. Don't let somebody disrespect it. Take pride in that home court.
"When things are growing and you've got new stuff, the players and the fans – everyone respects you a little bit more."
Houston Academy has traditionally been a tough place for the opposition. Some home win streaks well illustrate it.
The Raiders had an 18-game home win streak (2006-2007), which is a school record, a 14-game home win streak (2013-2014) and a 13-game home win streak (2017-2018).
"The last seven years, we're 78-19 at home," Watson said. "After Christmas the last seven years we're 48-7."
A walking Encyclopedia of Houston Academy sports, Watson can quickly rattle off some of the big wins that he believes were impacted by the home court advantage.
"Wicksburg. We were both ranked – we were 7 and they were 8 in 2006 and we beat them 45-43," Watson began. "Montgomery Academy comes in here and we were 10-13 that year and they were ranked No. 7. We beat them 60-56 in overtime and made 23 out of 26 free throws.
"Geneva County in 2007, we were down 16 at halftime and came back and ended up beating them in overtime. Wicksburg in 2008 we were ranked No. 8 and beat them."
And then there was a victory in 2010 against G.W. Long that Watson vividly recalls. The Rebels haven't won at Killingsworth Gym since 2005.
On this night, the Raiders would hand the Rebels another heart-breaker.
"Both teams were slowing the game down and it was tied at 29-29," Watson said. "Ten seconds left we get a rebound and call timeout. We call a play and it goes off G.W. Long with .1 second left.
"We have a play we wanted to run. We throw the ball in and nobody touches it and it goes all the way over there to me. So now it's G.W. Long's ball and they throw it and it hits a light and the horn goes off. We'll it shouldn't have. It should have been our ball.
"So the official goes over there and says I want one second on the clock and wouldn't listen to anybody. So we threw an alley-oop (pass) and laid it in and won 31-29."
And even in defeat, the Raiders put up fights against some teams with a much more talented roster.
"In 2004 Headland came in here the last game of the year," Watson said. "We were 5-20 that year and lost to them 39-38. We scored the last nine points of the game and had a half-court shot to beat them that hit off the back of the rim.
"In 2010, Barbour County came in here. They had won I don't know how many in a row and a state championship in 2009. We were down 23-8 at halftime. We came back and stalled the ball after halftime and with two minutes left we were up 32-28. We turned it over and they beat us 37-33. In 2014 No. 8 Trinity came in here and we lost in overtime 63-60."
Watson said the fans filling the stands definitely made a difference over the years.
During his time as coach, he could depend on Lyn Tucker, who taught him in the eighth grade, and Judy Speed, who is currently an administrative assistant at the school, regularly sitting together at the top of the bleachers opposite the home bench showing their support for Watson and the team.
"When you have people supporting you like that you've known since the eighth grade, I wanted to win for her as much as the kids," Watson said of Tucker. "I knew she was really pulling for me and the same with Judy Speed."
Watson is now one of those sitting in the stands, showing support to the school and for his friend, Scott Whitaker, the current HA basketball coach.
He deems it an honor to have his name on the court within a gym named for Doug Killingsworth, a tremendous athlete who was several years older than Watson and died in an automobile accident at the age of 17.
"I looked up at him and to me he was a hero," Watson said. "For this (Watson's name) to be in Killingsworth gym to me is an honor just because of what Doug meant to me when he was alive."
Jon Johnson is sports editor of the Dothan Eagle and can be reached at jjohnson@dothaneagle.com or 334.712.7965. Support his work and that of other Eagle journalists by purchasing a digital subscription today at dothaneagle.com. Follow Jon Johnson on Twitter @eaglesportsed