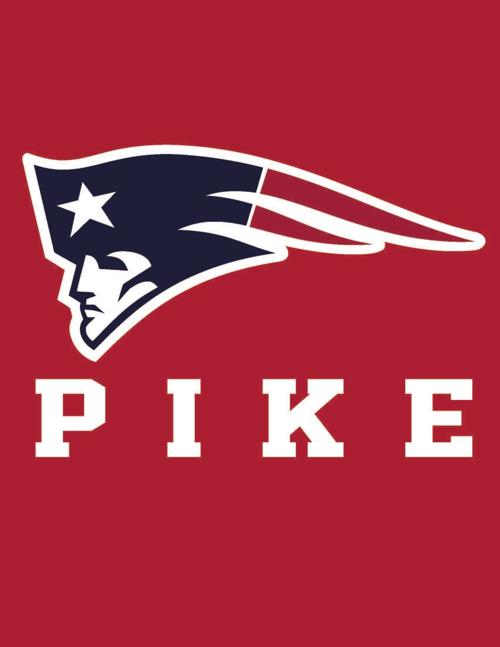 Nine months after winning the AISA Class AAA state title, Pike Liberal Arts coach Mario White has seen benefits of it for his upcoming team.
"The guys have bought into everything that they saw last year," White said. "We have a lot of guys coming back who are showing the new guys the way and our younger guys have fallen in line. It has been blessing that those guys have continued to work like they have and are humbled like they have never won before. That is the positive thing."
The Patriots (10-2 last year) return six starters on both offense and defense and have had a handful of transfers come into the program to help offset the loss of a strong senior class that included six football signees plus a major college baseball signee.
Kicker Scott Taylor Renfroe signed with the most high-profile program, inking with Troy. Wide receiver/defensive back Jay Taylor and offensive lineman Ryan Barnes signed with Fort Scott Community College in Kansas, wide receiver Elijah Caldwell and defensive lineman Derrius Northcutt with Faulkner University in Montgomery and offensive/defensive lineman Caleb Guice with Independence Community College in Kansas.
Quarterback Mayes White, the state championship game MVP and Mario's son, signed to play college baseball at Florida State.
Six of the players were all-state players from the Alabama Sports Writers Association last year—White, Taylor, Renfroe and Guice on the first team and Caldwell and Barnes on the second team. The Patriots also lost first-team all-selection in linebacker Peyton Dicks, another graduated senior.
But Mario White said a good nucleus is back for the Patriots, who are ranked No. 1 in the preseason ASWA state poll. Pike Lib is bidding for its first back-to-back state title in football.
"We had a great senior class, but we also had a lot of young guys too that people didn't know about because they couldn't get on the field because of our seniors," White said.
In addition, at least seven transfers will aid the Patriots, including Pike County star running back Zakevin Pennington, a second-team all-state selection who rushed for a Wiregrass-best 173.4 yards a game and 15 touchdowns last year.
Replacing Mayes White, who helped direct an offense that averaged 37.0 points a game last year, is the biggest drama in the preseason. Three transfers are in the mix, said coach White, adding that it is still an open battle for the spot.
The three are seniors Cason Eubanks (Northside Methodist transfer) and Robert Williams (Bullock County) and junior Ian Foster (Pike County).
"The best player who can command the team and the huddle and knows the offense will be the guy that will lead our team," White said. "We are in a great situation as we have a few dynamic athletes vying for the spot.
"They kind of do the same things Mayes did. Cason can thread the needle and throw the ball with a great touch and accuracy. Robert Williams is a dynamic athlete that can throw the deep ball well. He and Foster are both kind of that wildcat guy."
White said the athleticism of each will allow them to play somewhere else on the field if not at quarterback.
Whoever wins the spot will have plenty of options behind him in the backfield. The Patriots return their top two running backs from last year in seniors Kam Baker and Aaron Greenwood to go along with the transfer of Pennington.
"The running back room is loaded," White said.
An experienced offensive line will provide work up front. The Patriots return four returning line starters in juniors Connor Jones and Davis Menefee and seniors Bubba Dean (Sr.) and Domonick Pennington. Senior Jamarion Fuller is another experienced lineman.
While the Patriots lost the talented Taylor and Caldwell at wide receiver, White feels the Patriots will still be solid there. Mario Davenport, a junior described as a "freak athlete" will replace Taylor and Foster, if not at quarterback, will fill Caldwell's void. Greenwood will slide into the slot spot when not at running back. Jackson Booth is another player the Patriots will count on at receiver.
Defensively, the Patriots allowed only 14.2 points a game last year, and while a lot of standouts are gone, the cupboard is far from bare.
"We should still be formidable," White said. "You have Frankie Jefcoat. He played eight games last year with a broken hand. He is now the undeniable leader on that side of the ball. Kam Baker is coming off a monster season. Gavin Williams really emerged at the end when we moved him off the ground from D-line to outside linebacker. Mario Davenport will command the back end."
Jefcoat, a senior, and Fuller return to anchor the defensive line along with junior Cade Renfroe, a key back-up last year and the younger brother to Pike's all-state kicker now at Troy.
Baker and Gavin Williams return to solidify the linebacker area. Davenport was a second-team defensive back all-state selection last year after earning five interceptions, including two in the state championship game. K.C. Bradford, a junior, returns at safety.
One of the biggest concerns to White is replacing Scott Taylor Renfroe at punter and kicker.
"That is still emerging," White said. "I get that question a lot. It is not every day you get a five-star kicker laying around the school. That spoiled me. There is no replacing him. You just hope someone will emerge that will be consistent. Those are big shoes to fill."
>> Head coach: Mario White (2nd year at Pike Liberal Arts and as a head coach, 10-2)
>> 2020 record: 10-2 overall, 3-1 in AISA AAA Region 2, Class AAA state champions
>> 2020 results: Crenshaw Christian (W, 42-12); Hooper Academy # (W, 49-0); Lee-Scott # (W, 56-0); Edgewood Academy (W by forfeit, COVID); at Chambers Academy (L, 25-44); at Tuscaloosa Academy (W, 34-7); Valiant Cross # (W, 41-6); Glenwood School # (L, 7-26); at Monroe Academy (W, 35-18). STATE PLAYOFFS: Monroe Academy (W, 45-7); at Bessemer Academy (W, 35-15); Glenwood School (Class AAA State Championship at Cramton Bowl, Montgomery) (W, 38-21)
>> Points scored/per game: 407/37.0
>> Points allowed/per game: 156/14.2
>> Returning offensive starters (6): RB Kam Baker (Sr.); OL Connor Jones (Jr.); OL Davis Menefee (Jr.); OL Bubba Dean (Sr.); OL Domonick Pennington (Sr.); WR Mario Davenport (Jr.)
>> Returning defensive starters (6): DL Jamarion Fuller (Sr.); DL Frankie Jefcoat (Sr.); LB Kam Baker (Sr.); LB Gavin Williams (Sr.); DB Mario Davenport (Jr.); S K.C. Bradford (Jr.)
Aug. 27 at Crenshaw Christian
Sept. 3 at Hooper Academy #
Sept. 17 at Edgewood Academy
Sept. 24 Chambers Academy
Oct. 1 Tuscaloosa Academy
Oct. 22 at Glenwood School #
# Denotes region contests